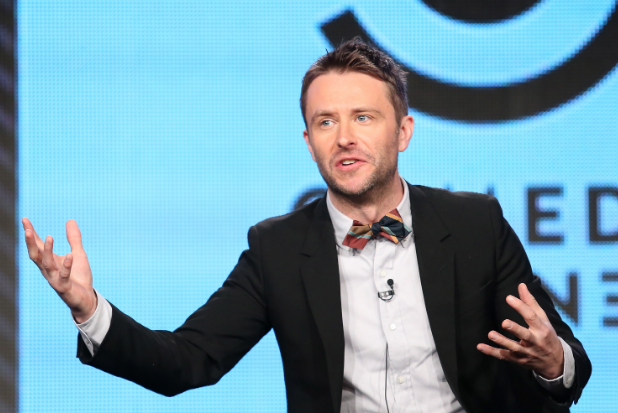 In almost the same breath as he declared BuzzFeed one of the show's favorite websites, "@midnight" host Chris Hardwick called out the pop culture site for not sending any representatives to the Television Critics Association winter press tour and used BuzzFeed writer Kate Aurthur's tweets as comedy fodder for a game show tutorial.
"One of our favorite websites is BuzzFeed. Is anyone from BuzzFeed here in the room?" Hardwick asked, to no response.
"Anyone? Oh, well I'm glad they thought it was important to come to the TCAs."
Also read: Comedy Central Greenlights Ben Stiller-Produced 'Big Time in Hollywood, FL,' 'Moonbeam City'
The show, which follows popular internet culture and often uses and pokes fun of the "listicle" format iconic of BuzzFeed, has built a massive online following thanks to nightly games like #HashtagWars, which invite Twitter users to play along with the comedians on the show.
Hardwick attempted to get the Television Critics Association to play along by presenting three random tweets purportedly from Aurthur and asking the audience to guess which was real. (It turns out, they all were.)
The audience of media laughed, if at times uncomfortably, but Hardwick ended the presentation with a genuine offer for Aurthur to go on the show.
Also read: Chris Hardwick's '@Midnight' Gets Comedy Central Series Order
For her part, Aurthur was quick to respond in quintessentially BuzzFeed fashion.
Other dream guests include actors Hardwick has had on his podcast, called "Nerdist," like Tom Hanks, Jon Hamm, Mel Brooks, and Joan Rivers.
Confirmed for an upcoming episode is actress and comedienne Aisha Tyler, though her co-hosting duties on CBS's "The Talk" and new hosting role on the rebooted "Whose Line Is It Anyway?" on the CW complicate scheduling.