It's not summer without Comic-Con, and this year there's a ton of chances for fans to indulge in their favorite films, TV shows and comic books — among other pop culture phenomenon — at the San Diego Convention Center.
This year's festivities kicks off with Preview Night on July 23. Here's a breakdown of the TV panels and events fans can look forward to (which will be updated as new information becomes available).
Also read: The CW's First Look Trailers: New Shows 'Jane the Virgin,' 'The Flash'
Wednesday, July 23 (Preview Night)
6:00 p.m. — WBTV Pilot Screenings
It's OK, you can peek. WBTV gets Comic-Con off to a dramatic start for the seventh year in a row by hosting a special sneak peek, world-premiere screening event on Preview Night, debuting some of the most hotly anticipated new series of the year. For 2014, WBTV will screen the complete pilot episodes of The Flash, Constantine and iZOMBIE. Additionally, Warner Bros. Animation will unveil a brand-new episode of Teen Titans Go! Ballroom 20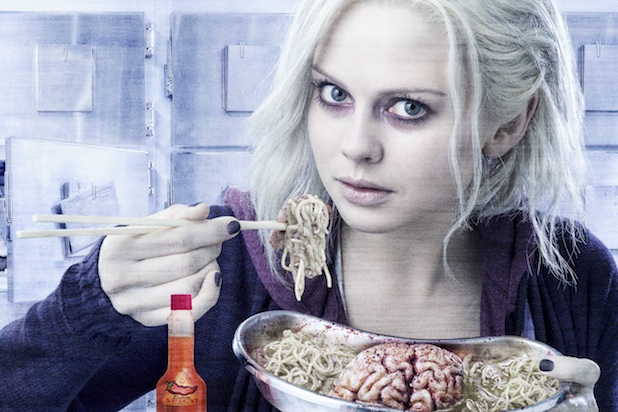 Thursday, July 24
10:00-11:00 a.m. — "24" (Fox)
JACK IS BACK at Comic-Con, DAMN IT! Kiefer Sutherland takes the stage to celebrate 24's most iconic moments and highlights of Jack Bauer's triumphant return in 24: Live Another Day. Catch the exclusive sneak peek at highly-anticipated Blu-ray and DVD featurette, "Worlds Collide," illustrating how the pulse-pounding storytelling was created for this thrilling new season. Screening and discussion moderated by Executive Producer Jon Cassar to be followed by fan Q&A and more. Ballroom 20
11:15-12:00 p.m. — "Under the Dome" (CBS)
Panel & Exclusive Sneak Preview – The hit summer series is back for its second season, with higher stakes and catastrophic developments that leave no one safe under the dome. The inhabitants of Chester's Mill must decide who to rally behind as Big Jim continues to fight for the town's trust and allegiance, all while resources dwindle and the post-apocalyptic conditions continue to intensify. There are new faces, bigger mysteries, betrayed alliances and monumental revelations about the dome, which will lead to a shocking discovery of what is behind it. Follow us on this journey back under the dome, where you can't always believe what you see and nothing is impossible. An exclusive sneak preview at what's to come in season 2 will be followed by a panel discussion with cast members Mike Vogel ("Bates Motel"), Dean Norris ("Breaking Bad"), Rachelle Lefevre ("Twilight"), Alexander Koch, Colin Ford and Eddie Cahill with Executive Producer Neal Baer. Ballroom 20
11:15-12:15 p.m. — "Toy Story that Time Forgot" (ABC)
Go inside the show as the panelists give you an exclusive inside-look at the sketches, storyboards and concepts that went into the making of this Disney•Pixar special! Join producer Galyn Susman ("Toy Story OF TERROR!"), director Steve Purcell ("Brave") and head of story Derek Thompson ("WALL•E") for a moderated Q&A panel from 11:15 a.m.-12:15 p.m. Room 6A
11:30 a.m. — "Dig" (USA)
The cast and show-runners of the highly anticipated international drama series, DIG, will treat Comic-Con attendees to an gripping panel discussion, giving a peek at what viewers can expect when DIG premieres on USA Network in the Fall. The panel will feature series' stars Golden Globe nominee Jason Isaacs ("Harry Potter"), Emmy Award winner Anne Heche ("Hung"), Emmy Award-nominated actress Lauren Ambrose ("Six Feet Under") and Alison Sudol (A Fine Frenzy). Additional panelists include co-creators and executive producers Gideon Raff and Tim Kring.
12:05-1:00 p.m. — "Scorpion" (CBS)
Exclusive Premiere Screening & Panel – Discover the new CBS drama coming this fall, based on the true story of Walter O'Brien, an eccentric genius with the world's fourth-highest I.Q. who has created a company of brilliant misfits who use their mental muscle to defend the planet against complex high-tech threats of the modern age. In this high-octane thrill ride from the makers of "Star Trek," "Transformers," "The Amazing Spider-Man 2" and "The Fast and The Furious," O'Brien's team uses their exceptional brainpower to solve the nation's crises, while also helping each other learn how to fit in. The exclusive screening of the pilot episode will be followed by a panel discussion with the real-life Walter O'Brien and series stars Elyes Gabel ("World War Z"), Robert Patrick ("Terminator 2"), Katharine McPhee ("Smash") and Executive Producers Nick Santora, Nicholas Wootton, Alex Kurtzman, Roberto Orci and Justin Lin. Ballroom 20
12:30-1:30 p.m. — "Legends" (TNT)
From Homeland producers Howard Gordon and Alexander Cary and Fringe co-executive producer David Wilcox, and starring Sean Bean (Game of Thrones), this new suspense-filled drama centers around, an undercover agent working for the FBI's Deep Cover Operations (DCO) division with the uncanny ability to transform himself into a completely different person for each job. But after an encounter with a mysterious stranger, he begins to wonder: Is he the man he believes himself to be? Following the screening, stars and producers will provide fans with an exclusive sneak peek at this new series and an opportunity to hear about the exciting first season. Room 6A
1:15-2:00 p.m. — "Reign" (CW)
Panel & Exclusive Sneak Preview – The saga of Mary, Queen of Scots continues when REIGN returns for its second season this fall. Mary and Francis will rule a nation burning with plague, famine and religious strife. Powerful lords will rise from the ashes, fears and superstitions will take terrifying forms and marriages deemed sacred will be violated, all as Mary tries to save herself and her friends, and Francis learns his true enemy might be his own family. An exclusive sneak preview at what's to come in Season 2 will be followed by a panel discussion with cast members Adelaide Kane ("Teen Wolf"), Megan Follows ("Anne of Green Gables") and Toby Regbo ("Mr. Nobody"), along with Executive Producer Laurie McCarthy. Ballroom 20
1:45-2:45 p.m. — "The Last Ship" (TNT)
Set to feature The Last Ship stars Eric Dane, Rhona Mitra, Adam Baldwin and Charles Parnell and executive producers Hank Steinberg and Steven Kane. The session will include Q&A from the audience and exclusive video clips previewing what's to come during the rest of the first season. Room 6A
2:15 p.m. — "Community" (Yahoo Screen)
Creator Dan Harmon, executive producer Chris McKenna and cast. Ballroom 20
3:30-4:30 p.m. — "Teen Wolf" (MTV)
Tyler Posey, Dylan O'Brien, Tyler Hoechlin, Holland Roden, plus new cast members Shelley Hennig and Dylan Sprayberry, along with Executive Producer Jeff Davis, will once again take Comic-Con by storm, giving fans a can't-miss panel in which they will share season four secrets, debut a new mid-season trailer and answer fan questions. Ballroom 20
4:45 p.m. — "Hannibal" (NBC)
Bryan Fuller, Caroline Dhavernas, Aaron Abrahms, Scott Thompson and more to be announced for the panel. Ballroom 20
5:45 p.m. — "Witches of East End" (Lifetime)
Darkness Is Rising! Get an exclusive look at what's in store as season two unfolds, plus an audience Q&A with the entire star-studded cast – Julia Ormond, Jenna Dewan-Tatum, Rachel Boston, Mädchen Amick, Daniel DiTomasso, and Eric Winter, plus Executive Producers Rich Hatem (Supernatural, Grimm) and Maggie Friedman (Eastwick). Room 6DE
6:00-7:00 p.m. — "Penny Dreadful" (Showtime)
Featured panelists will include series stars Josh Hartnett, Reeve Carney and Harry Treadaway and series creator, writer and executive producer John Logan, and will be moderated by Emmy® Award-nominated actress and host Aisha Tyler (The Talk, Archer). Ballroom 20
6:00-7:00 p.m. — "Childrens Hospital" (Cartoon Network)
Creator and star Rob Corddry will share an exclusive video sneak peek at season six and will be joined onstage by select members of the show's cast for a lively — and medically accurate — Q&A. Room 25ABC
7:15-8:15 p.m. — "Sharknado 2: The Second One" (Syfy)
Ian Ziering, Tara Reid, Vivica A. Fox, Kari Wuhrer, Judah Friedlander and director Anthony C. Ferrante. Room 6BCF
8:30-10 p.m. — "Dr. Horrible's Sing Along"
Room 6BCF
See video: Fox's 'Gotham' Teaser: Ben McKenzie Takes on Young Penguin, Catwoman
Friday, July 25
10:00-11:00 a.m. — "The Big Bang Theory" (CBS)
Back by popular demand! The Big Bang Theory writers are back in San Diego and ready to share secrets behind TV's #1 comedy. Ballroom 20
11:30-12:30 p.m. — "iZOMBIE" (CW)
iZOMBIE makes its Comic-Con debut with a screening of the complete pilot episode, followed by a Q&A with series stars Rose McIver (Once Upon a Time), Malcolm Goodwin (Breakout Kings), newcomer Rahul Kohli and Robert Buckley (One Tree Hill), as well as executive producers Rob Thomas (Veronica Mars) and Diane Ruggiero-Wright (Veronica Mars). Room 6BCF
12:20-1:20 p.m. — "The Walking Dead" (AMC)
Panelists will include cast members Andrew Lincoln, Norman Reedus, Steven Yeun, Lauren Cohan, Danai Gurira, Melissa McBride, Chad Coleman, Michael Cudlitz, executive producer and showrunner Scott Gimple, EPs Gale Anne Hurd, Robert Kirkman, David Alpert and special effects make-up supervisor Greg Nicotero. Hall H
12:30-1:30 p.m. — "Bones" (Fox)
Fan favorites David Boreanaz, Emily Deschanel and Executive Producer Stephen Nathan return to Comic-Con to share secrets from the set, upcoming twists and turns and what's in store for Booth and Brennan as Bones enters its milestone tenth season. Ballroom 20
12:30-1:30 p.m. — "Resurrection" (ABC)
Join moderator Michael Schneider, TV Guide, Executive Editor, on a panel with executive producers Aaron Zelman ("The Killing"), Michele Fazekas ("Marvel's Agent Carter") and Tara Butters ("Marvel's Agent Carter"), along with Omar Epps ("House"), Kurtwood Smith ("That 70's Show"), Frances Fisher ("Titanic") and Devin Kelley ("Chernobyl Diaries"), as they explore the mysterious return of residents of Arcadia, MO. Get an exclusive first look into the new season and join us for a Q&A panel full of surprises. Room 6DE
1:30-2:30 p.m. — "Wayward Pines" (Fox)Based on the bestselling novel Pines by Blake Crouch and brought to life by suspenseful storyteller M. Night Shyamalan, Wayward Pines is the intense new mind-bending 10-episode FOX event thriller evocative of the classic hit Twin Peaks. The episode is directed by M. Night Shyamalan and written by Chad Hodge. Scheduled to participate are cast members Matt Dillon (Crash), Melissa Leo (The Fighter), Toby Jones (Harry Potter franchise), Carla Gugino (Watchmen), Terrence Howard (Hustle & Flow), Reed Diamond (24), Shannyn Sossamon (40 Days and 40 Nights), Tim Griffin (Prime Suspect), and Charlie Tahan (Charlie St. Cloud) and executive producers M. Night Shyamalan (The Sixth Sense), Donald De Line (The Italian Job), Chad Hodge (The Playboy Club) and Ashwin Rajan (After Earth). Room 5AB
1:40-2:40 p.m. — "Game of Thrones" (HBO)
The panel will include: David Benioff and D.B. Weiss, executive producers, writers and showrunners of GAME OF THRONES, and George R.R. Martin, co-executive producer and author of the bestselling fantasy book series "A Song of Ice and Fire," on which the HBO drama is based. Cast members scheduled to attend (in alphabetical order): John Bradley (Samwell Tarly), Gwendoline Christie (Brienne of Tarth), Nikolaj Coster-Waldau (Jaime Lannister), Natalie Dormer (Margaery Tyrell), Kit Harington (Jon Snow), Rose Leslie (Ygritte), Rory McCann (Sandor "The Hound" Clegane), Pedro Pascal (Oberyn Martell), Sophie Turner (Sansa Stark) and Maisie Williams (Arya Stark). Hall H.
2:15 p.m. — "Outlander" (Starz)
Executive producer Ronald D. Moore, cast members Caitriona Balfe, Sam Heughan, Tobias Menzies, Graham McTavish and Lotte Verbeek as well as Outlander author Diana Gabaldon will be on hand to discuss the series with fans. Room 6A
2:30-3:15 p.m. — "Mike Tyson Mysteries" (Adult Swim)
In this new animated comedy series, Mike Tyson is taking the fight from the boxing ring to the streets … by solving mysteries! Join us for a first look at this new adult animated series and a can't-miss panel featuring Mike Tyson, Rachel Ramras (MAD), Jim Rash (Community) and producer Hugh Davidson (The Looney Tunes Show). Indigo Ballroom
3:00-4:00 p.m. — "Agents of SHIELD" (ABC)
Join Jeph Loeb and "Marvel's Agents of S.H.I.E.L.D." executive producers Jed Whedon ("Dollhouse"), Maurissa Tancharoen ("Dr. Horrible's Sing-Along Blog") and Jeffrey Bell ("Angel"), along with cast members Clark Gregg ("Marvel's The Avengers"), Ming-Na Wen ("ER"), Brett Dalton ("Killing Lincoln"), Chloe Bennet ("Nashville"), Iain de Caestecker ("The Fades") and Elizabeth Henstridge ("Reach Me"); as well as must-see midseason series "Marvel's Agent Carter" executive producers Tara Butters ("Resurrection"), Michele Fazekas ("Resurrection"), Christopher Markus ("Marvel's Captain America: The Winter Soldier"), Stephen McFeely ("Marvel's Captain America: The Winter Soldier") and Louis D'Esposito ("Marvel's The Avengers"), with series star Hayley Atwell ("Marvel's Captain America: The First Avenger"), in this can't miss Q&A panel that will take you behind the scenes and into the future of Marvel's live action television series. Ballroom 20
3:15-4:00 p.m. — "Robot Chicken" (Adult Swim)
Co-creators/executive producers Seth Green and Matthew Senreich are joined by co-head writer Tom Root, writer/director Zeb Wells, and actor/writer Breckin Meyer to discuss the Emmy-winning series and fan-favorite character Bitch Pudding, who gets her time to shine in the all-new Bitch Pudding Special. Get a sneak peek at the upcoming special and get your questions answered about the current seventh season, airing Sundays at 11:30 pm. Indigo Ballroom
3:15-4:15 p.m. — "The 100" (CW)
After the stunning events in the season finale, join us for a special video presentation followed by a Q&A with series stars as well as executive producer Jason Rothenberg. Room 6BCF
See video: The CW's First Look Trailers: New Shows 'Jane the Virgin,' 'The Flash'
3:30 p.m. — "Bates Motel" (A&E)
Series stars will join executive producers Carlton Cuse and Kerry Ehrin. Room 6A
4:00-5:00 p.m. — "Bob's Burgers" (Fox)
You never know what to expect from the cast and producers of Bob's Burgers. Creator and executive producer Loren Bouchard, executive producer Jim Dauterive and the hilarious cast including H. Jon Benjamin, Dan Mintz, John Roberts, Kristen Schaal and Larry Murphy will entertain with never-before-seen footage followed by a Q&A panel discussion. Indigo Ballroom
4:15-5:15 p.m. — "The Originals" (CW)
Last season's top new series on The CW returns to Comic-Con! Join executive producer Julie Plec, co-executive producer Michael Narducci and series stars Joseph Morgan, Daniel Gillies, Phoebe Tonkin, Charles Michael Davis, Leah Pipes and Danielle Campbell for a special video presentation followed by a Q&A. Ballroom 20
4:30-5:30 p.m. — "Falling Skies" (TNT)
Falling Skies stars Noah Wyle, Moon Bloodgood, Drew Roy, Will Patton, Sarah Carter, Maxim Knight, Scarlett Byrne and Doug Jones and executive producer David Eick are slated to participate in a panel on the show's current fourth season. The Falling Skies session will also include video clips from upcoming episodes, plus the world premiere of the trailer for the upcoming video game Falling Skies: The Game. Room 6BCF
4:45-5:45 p.m. — "Vikings" (History)
Panel to include: Travis Fimmel, Katheryn Winnick, Clive Standen, Alexander Ludwig, Michael Hirst (creator & writer), Julian Hobbs (VP Scripted and Non-fiction Development and Programming, HISTORY) Room 6A
5:00-6:00 p.m. — "Archer" (FX)
Screening and Q&A. "Archer" is an animated comedy that revolves around the International Secret Intelligence Service (ISIS) and its employees who use every covert operation and global crisis as another excuse to undermine, sabotage and betray each other for personal gain. Come see an exclusive screening of an original short animation piece created specifically for SDCC, plus the upcoming never-before-seen season six premiere episode. Then join the voice cast of H. Jon Benjamin, Aisha Tyler, Chris Parnell, Judy Greer, Amber Nash and Lucky Yates, plus creator Adam Reed and co-executive producer Casey Willis as they discuss bringing this animated series to life. Indigo Ballroom
5:30-6:30 p.m. — "Arrow" (CW)
Arrow series stars Stephen Amell, Katie Cassidy, David Ramsey, Emily Bett Rickards, Colton Haynes, Willa Holland, Paul Blackthorne and John Barrowman — with executive producers Greg Berlanti, Marc Guggenheim and Andrew Kreisberg — will take aim at San Diego with a special video presentation and panel discussion previewing the show's upcoming and highly-anticipated third season. Ballroom 20
5:30 – 6:30 p.m. — "Dominion" (Syfy)
When angels wage war on humans, you can bet it'll make for one hell of a Comic-Con panel. Join series' stars and executive producer Vaun Wilmott as they initiate you into the world of Dominion, Syfy's all-new hit series. They'll also share details about what goes on behind the scenes in post-apocalyptic Vega. Chris Egan, Tom Wisdom, Roxanne McKee, Alan Dale, Anthony Stewart Head and EP Vaun Wilmott. Room 6DE
5:30-6:30 p.m. — "Brickleberry" (Comedy Central)
Join creators and executive producers Waco O'Guin and Roger Black along with David Herman (Futurama), Tom Kenny (SpongeBob SquarePants), Jerry Minor (Eastbound & Down) and Natasha Leggero (Suburgatory, Burning Love) for a so-wrong-it's-right live reading and all new episode, as well as a Q&A with producers and stars. Room 25ABC
5:45-6:45 p.m. "Sleepy Hollow" (Fox)
Executive Producers Alex Kurtzman & Roberto Orci (Star Trek, Fringe, Spider Man 2), Len Wiseman (Underworld, Total Recall) Mark Goffman and Heather Kadin return to Comic-Con with the breakout show of the year, featuring an exclusive look at the highly-anticipated second season followed by a fan Q&A featuring cast members Tom Mison, Nicole Beharie, John Noble, Orlando Jones, Lyndie Greenwood and Katia Winter! Room 6BCF
6:00-7:00 p.m. — "Orphan Black" (BBC America)
Stars Tatiana Maslany, Jordan Gavaris, Dylan Bruce, Maria Doyle Kennedy, Evelyne Brochu, Ari Millen join producers Graeme Manson and John Fawcett. Room 6A
7:15 p.m. — "Banshee" (Cinemax)
Panelists include: creator and executive producer Jonathan Tropper and cast members Antony Starr (Lucas Hood), Ivana Milicevic (Carrie Hopewell), Ulrich Thomsen (Kai Proctor) and Geno Segers (Chayton Littlestone). Room 6A
8:00-9:00 p.m. — "Intruders" (BBC America)
BBC America presents an exclusive first look at new original series Intruders, from writer and executive producer Glen Morgan (The X-Files) and based on Michael Marshall Smith's novel The Intruders. Celebrated British actor John Simm (Life on Mars, State of Play, Doctor Who), Oscar winner Mira Sorvino (Mighty Aphrodite, Norma Jean & Marilyn, Human Trafficking), director Eduardo Sanchez (Blair Witch Project, Exists), and executive producer Julie Gardner (Doctor Who, Torchwood), join Glen Morgan for a panel discussion. Intruders is a contemporary, chilling, paranormal tale set in the moody Pacific Northwest spinning a complex web of drama. As strange, apparently unrelated events start happening, multiple story lines-a missing wife, an assassin covering his crimes, a child on the run-begin to intertwine to reveal a conspiracy that will forever change our understanding of human nature. Intruders premieres Saturday, August 23, 10/9c on BBC America. Room 7AB
TBA — "Outlander" Red Carpet Screening (Starz) Spreckles Theater
Saturday, July 26
10:00-11:00 a.m. — "The Simpsons" (Fox)
Celebrate the 25th anniversary of The Simpsons — no gifts please — with creator Matt Groening, Executive Producer Al Jean, Supervising Director Mike Anderson and Director-for-life David Silverman. Topics include the new Treehouse of Horror, Simpsorama, a visit from Homer Simpson and much much more. Ballroom 20
11:00-11:45 a.m. — "Once Upon a Time" (ABC)
Join moderator Yvette Nicole Brown ("Community") and co-creators and executive producers Edward Kitsis ("LOST") and Adam Horowitz ("LOST"), along with Jennifer Morrison ("House"), Robert Carlyle ("SGU: Stargate Universe"), Lana Parrilla ("24"), Josh Dallas ("Thor"), Emilie de Ravin ("LOST"), Colin O'Donoghue ("The Rite") and Jared Gilmore ("Mad Men"), as they discuss the upcoming season of new characters, new adventures and new rivalries as this moderated Q&A panel is sure to bring some surprises you won't want to miss! Ballroom 20
12:00-1:00 p.m. — "Helix" (Syfy)
Get top line security clearance for behind-the-scenes secrets from Syfy's hit show Helix. Kyra Zagorsky (Dr. Julia Walker), Mark Ghanime (Major Sergio Balleseros), Jordan Hayes (Dr. Sarah Jordan), Neil Napier (Dr. Peter Farragut), and executive producers Ronald D. Moore and Steven Maeda give you exclusive access to Arctic Biosystems and divulge details about what's in store for season 2 when the series returns. Indigo Ballroom.
Also read: Fox New Schedule: 'Brooklyn Nine-Nine' Moves to Sundays; 'Gotham' Paired With 'Sleepy Hollow'
1:00-1:45 p.m. — "Family Guy" (Fox)
The Griffins are back at Comic-Con with an exclusive sneak peek of the historic Family Guy/The Simpsons crossover episode in which Peter and clan hit Springfield! Celebrate Season 13 with Seth Green (Robot Chicken), Mike Henry (The Cleveland Show) and executive producers Rich Appel (The Simpsons, The Cleveland Show), Steve Callaghan (American Dad), Danny Smith, and Co-Executive Producer Peter Shin plus other surprise guests. Ballroom 20
1:00-2:00 p.m. — "Defiance" (Syfy)
The explosive second season of Defiance has kicked into gear, and nothing is as it seems. Grant Bowler (Nolan), Julie Benz (Amanda Rosewater), Jaime Murray (Stahma Tarr), and the rest of the cast of Syfy's groundbreaking multi-platform series discuss the big changes-and huge chances-their characters have taken in this dark and daring chapter of the show. Indigo Ballroom
1:45 p.m. — "The Blacklist" (NBC)
To discuss its phenomenal first season, as well as what's ahead for season two, Raymond "Red" Reddington himself, James Spader, will headline "The Blacklist" panel. In addition to Spader, executive producers Jon Bokenkamp and John Eisendrath will participate in the panel, which will be moderated by TV Guide's Michael Schneider. Room 6A
2:00-2:45 p.m. — "American Dad" (Fox)
Join us for an exclusive look at the new season of American Dad–soon to be in all new episodes on TBS – as well as a Q&A with fans featuring Dee Bradley Baker (Phineas and Ferb, Star Wars: The Clone Wars) and Executive Producers Matt Weitzman and Brian Boyle, and more. Ballroom 20
3:00-3:45 p.m. — "Grimm" (NBC)
First comes love, then comes marriage, then comes a reception with an angry wesen village! Adalind with an empty baby carriage?! Nick's Grimm powers pillaged?! Captain Renard's blood spillage?! Season 3 left us screaming for answers! Join your fellow "Grimmsters" for a panel filled with wesen, season 4 themes, and of course, a Q&A session with the cast and producers: David Giuntoli, Russell Hornsby, Bitsie Tulloch, Silas Weir Mitchell, Reggie Lee, Sasha Roiz, Bree Turner, Claire Coffee, and executive producers/writers Jim Kouf, David Greenwalt, and Norberto Barba. Ballroom 20
3:15-4:15 p.m. — "Ascension" (Syfy)
Tricia Helfer, Brian Van Holt, Andrea Roth and EP Philip Levens. Room 6DE
4:00-4:45 p.m. — "The Vampire Diaries" (CW)
The cast and creative team behind The Vampire Diaries return to San Diego for a sizzling sixth appearance at Comic-Con! Series stars Nina Dobrev, Paul Wesley, Ian Somerhalder and Kat Graham join executive producer/writer Julie Plec on stage for a video screening and Q&A session. Ballroom 20
5:00 p.m. — "True Blood" (HBO)
Panelists include: executive producer Brian Buckner and cast members (in alphabetical order) Chris Bauer (Andy Bellefleur), Kristin Bauer van Straten (Pam Swynford de Beaufort), Anna Camp (Sarah Newlin), Nelsan Ellis (Lafayette Reynolds), Stephen Moyer (Bill Compton), Anna Paquin (Sookie Stackhouse), Nathan Parsons (James), Carrie Preston (Arlene Bellefleur), Sam Trammell (Sam Merlotte), Rutina Wesley (Tara Thornton) and Deborah Ann Woll (Jessica Hamby). Ballroom 20
5:15-6:15 p.m. — "Constantine" (NBC)
Based upon the characters from DC Comics, Constantine reflects the lore of the fan-favorite comic, combining noirish storytelling with the evolving mythology of John Constantine, a morally challenged character who doesn't come down on the side of either good or evil … but ultimately might be the only thing defending us against the dark forces from beyond. Attendees will see a screening of the complete pilot, followed by a Q&A with series stars Matt Ryan (Criminal Minds: Suspect Behavior), Harold Perrineau (Lost) and Charles Halford (True Detective), along with executive producers Daniel Cerone (Dexter) and David S. Goyer (Man of Steel, The Dark Knight films). Room 6BCF
5:45-6:45 p.m. — "Salem" (WGN)
Join the star-studded cast including Shane West (Nikita, The League of Extraordinary Gentlemen), Janet Montgomery, Seth Gabel, Ashley Madekwe, Iddo Goldberg and Elise Eberle along with Executive Producers Brannon Braga (Star Trek, Cosmos: A SpaceTime Odyssey), Adam Simon and Josh Barry for a look back at intriguing footage from the groundbreaking first season of the series, from WGN America and Fox 21. Set in the volatile world of 17th century Massachusetts, Salem explores what really fueled the town's infamous witch trials and dares to uncover the dark, supernatural truth hiding behind the veil of this infamous period in American history. Moderated discussion will be follow-up by an audience Q&A. Room 6DE
6:15-7:00 p.m. — "Person of Interest" (CBS)
The smash hit Person of Interest returns to San Diego for the fourth year! Join executive producer Greg Plageman along with series stars for a special video presentation and Q&A. Room 6BCF
7:00-8:00 p.m. — "American Horror Story: Coven" (FX)
Who's the baddest witch in town? For the first time ever, the critically acclaimed miniseries visits Comic-Con with an exclusive look back at AHS: Coven followed by an all-star panel featuring AHS cast members Angela Bassett, Kathy Bates, Michael Chiklis, Sarah Paulson, Evan Peters, Emma Roberts, and Executive Producer Tim Minear. The panel will also treat fans to some exclusive secrets from the set of the next franchise installment, AHS: Freak Show. Room 6DE
8:00-11:00 p.m. — Warner Bros. Television & DC Entertainment Present: The Flash, Constantine, Arrow and the World Premiere of Gotham with Special Appearances by Casts and Producers. For the first time ever at Comic-Con, Warner Bros. Television presents an entire evening filled with some of DC Entertainment's greatest characters, featuring the world premiere pilot screening — and only Comic-Con screening — of the highly anticipated new series Gotham (Mondays this fall, 8/7c on FOX). The much-buzzed about pilot of The Flash will also be screened — if you can catch it — along with exclusive video presentations of returning hit Arrow and new thriller Constantine. Cast members and producers from all four shows will make special appearances on stage throughout the night and the evening will be emceed by "Arrow" star Stephen Amell. Hall H
Also read: 'Hannibal' Renewed for Season 3
Sunday, July 27
10:00-11:00 a.m. — "Supernatural" (CW)
Join series stars Jared Padalecki, Jensen Ackles, Misha Collins and Mark A. Sheppard, along with executive producer Jeremy Carver as they answer questions from the audience about what's in store for the tenth season of this exciting series, including its upcoming 200th episode! Fans will also be treated to an exclusive video presentation featuring series highlights, and special features from the upcoming Supernatural: The Complete Ninth Season DVD and Blu-ray™ release. Hall H
11:15-12:15 p.m. — "The Following" (Fox)
Hit thriller The Following returns to Comic-Con for a third year! Series stars Kevin Bacon, Shawn Ashmore, Sam Underwood and Jessica Stroup will join creator/executive producer Kevin Williamson and executive producers Marcos Siega and Jennifer Johnson for an on-stage Q&A and special video presentation. Hall H
11:45-12:45 p.m. — "Teen Titans Go!" (Cartoon Network)
Find out what's in store for Robin, Starfire, Beast Boy, Cyborg and Raven — or just throw a meatball party with your friends! The Teen Titans are back at it again with all-new comedic adventures and, after screening a brand-new episode, there will be a Q&A with producers Michael Jelenic (Batman: The Brave and the Bold) and Aaron Horvath (MAD) and members of the voice cast. Plus, making a special appearance at the panel will be Puffy AmiYumi, the Japanese pop duo responsible for the iconic theme song from the original Teen Titans series. Room 6BCF
1:45-3:45 p.m. — "The Strain" (FX)
Screening and Q&A. Experience a sneak peek into the highly anticipated new drama The Strain, a high concept thriller based on the best-selling vampire novel trilogy of the same title premiering July 13. Fans will first be treated to an extended recap reel of the first season and a screening of the never-before-seen third episode of the season (airing July 27). Immediately following the screening, there will be a Q&A with creator/author Guillermo del Toro, Executive Producer/Showrunner Carlton Cuse, Executive Producer/writer Chuck Hogan and the entire cast: Corey Stoll, David Bradley, Mia Maestro, Sean Astin, Kevin Durand, Jonathan Hyde, Richard Sammel, Miguel Gomez, Ben Hyland and Jack Kesey. Hall H
12:30-1:30 p.m. — "Sons of Anarchy" (FX)
Get an inside look into the final season of FX's highest-rated series ever, with creator Kurt Sutter (The Shield), executive producer/director Paris Barclay (NYPD Blue) and the full cast: Charlie Hunnam, Katey Sagal, Kim Coates, Mark Boone Junior, Tommy Flanagan, Theo Rossi, Dayton Callie, Jimmy Smits, David Labrava, Niko Nicotera and Drea de Matteo. Hall H
3:30-5:00 p.m. — "Buffy The Vampire Slayer Sing-Along: Once More, With Feeling"
Location TBA