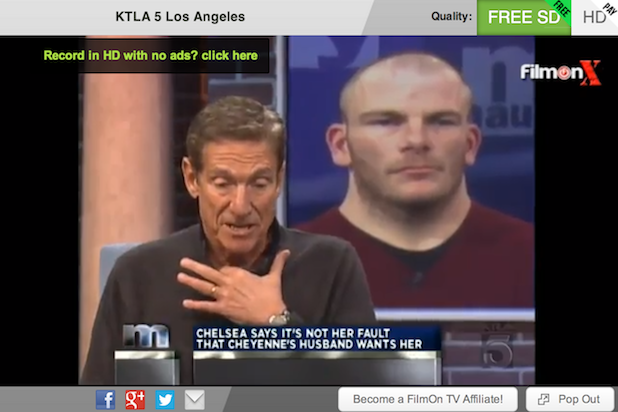 FilmOn X founder Alki David made Tampa, Fla., the company's 16th market on Tuesday, announcing the company would offer a package of local independent stations, video-on-demand channels and 500 live TV channels from around the country and the world — even though a court ruling bars it from offering NBC, CBS, Fox and ABC broadcasts in the market.
David said that with the addition, FilmOn is now in more cities that rival Aereo. Both companies bypass cable and use thousands of tiny antennas to provide broadcast signals to subscribers.
David told TheWrap Tuesday that FilmOn would add eight more cities within eight weeks.
Also read: Judge Rejects FilmOn X's Plea to Keep Rebroadcasting Local TV During Appeal
FilmOn offers ad-supported standard-definition channels and will store up to 10 hours of content for free in all the markets, charging additional for a HD experience or for additional video-on-demand programming.
Neither Aereo nor FilmOn pay retransmission fees to major networks. The companies argue that their services use completely legal, individual antennas to transmit to customers, and because they aren't retransmitting content they aren't required to pay retransmission fees.
Also read: Broadcasters Up Their Attack on Aereo-Like FilmOnX
An appellate court panel in New York rejected the networks' request for a temporary injunction, while a judge in Washington issued a temporary restraining order blocking FilmOn from offering the four networks' programming in much of the nation. An appellate court in San Francisco is due to rule shortly on another suit.
FilmOn and Aereo have contended that broadcasters got a free license and bandwidth from the federal government for their local TV stations in return for a promise to provide content for free.
David told TheWrap on Tuesday that he has tried to license content from major networks but they have repeatedly rebuffed his requests.
Also read: FilmOn X CEO Fires Back at Judge's Contempt Order: CBS' Lawyers Are Liars Who 'Pulled a Really Shady Move' (Update)
"We license 95 percent-plus of our content and have attempted many times to get the Nets to license," he said. "First they claimed in 2010 in New York federal court that we are not a cable system. Now in 2013, they claim in court we are one!"
TV networks and their local stations have sued both FilmOn and Aereo in multiple courts, arguing that the company's services illegally retransmit local broadcast stations and infringe copyrights.