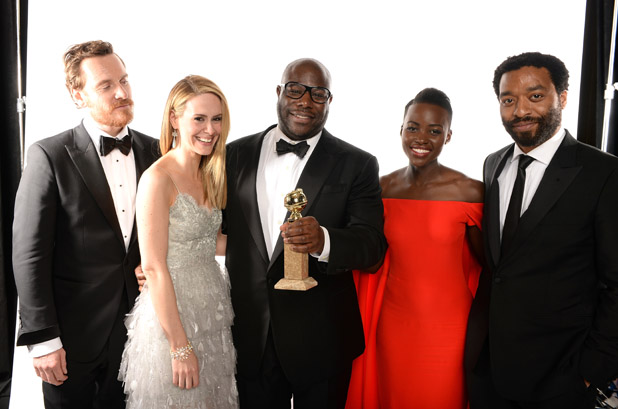 "12 Years a Slave" went into the final award on the verge of a surprising 0-for-7 shutout at the Golden Globes on Sunday, but in the end voters gave it the one victory that counted most: Best Motion Picture – Drama.
In doing, the members of the Hollywood Foreign Press Association went for harrowing drama over visionary spectacle, giving Steve McQueen's brutal pre-Civil War drama the top prize over a field that also included Alfonso Cuaron's orbital blockbuster "Gravity."
The win for "12 Years" meant that Globe voters opted for the tougher, more challenging film that has won the lion's share of critics' awards, and positioned the voters of the Hollywood Foreign Press Association, often derided as being old and out of touch, as a group in line with current critical thinking.
Anecdotal evidence suggested that the 85 voters may have liked Ron Howard's "Rush" or Stephen Frears' "Philomena" more than "12 Years," or may have been tempted to go for the category's biggest commercial success with "Gravity."
Also read: Golden Globes Winners: The Complete List
But the victory for "12 Years" showed that the HFPA, which opted for the dazzle of "Avatar" over the grit of "The Hurt Locker" four years ago, took the measure of an exceptional year and decided that McQueen's hard and brutal look at slavery deserved to stand as 2013's best.
"12 Years" wasn't the night's biggest winner – that honor goes to David O. Russell's "American Hustle," which was named  Best Motion Picture – Musical or Comedy and also won awards for actresses Amy Adams and Jennifer Lawrence.  But on a night when McQueen's film would have taken a hit in the eyes of awards-watchers if it had been bypassed completely, it scored a crucial victory that kept it in the top rank of Oscar contenders, along with "American Hustle" and "Gravity" (which won an award for director Alfonso Cuaron).
Of course, the "12 Years" distributor, Fox Searchlight, knows quite well that the drama Globe is hardly a sure ticket to Oscar victory: The company won this award for "The Descendants" two years ago, only to lose the Oscar to "The Artist." In the last 10 years, in fact, only three Golden Globe drama winners (and one musical-or-comedy winner) have gone on to win the Oscar for Best Picture.
"12 Years" also becomes a rare film whose sole Globes win is for best drama. The last film to achieve that feat was Alejandro Gonzalez Inarritu's "Babel" in 2007; before that, it hadn't been done since "Bugsy" in 1992. (both films were nominated for the Best Picture Oscar, but neither won.)
But there was relief in the Fox camp afterwards, because a shutout of the year's most critically acclaimed movie surely would have been the night's big news if not for that final win.
"Gravity," meanwhile, could console itself that while it lost the big drama award, it landed a significant trophy when Cuaron was named best director — and it was the subject of a joke that drew the night's biggest laugh, when Tina Fey called the movie "the story of how George Clooney would rather float away into space and die than spend one more minute with a woman his own age."
In the Best Motion Picture-Musical or Comedy category, which sported a lineup of strong contenders that stretched the definition of "comedy" almost to the breaking point, "American Hustle" won its expected victory over "Her," "Inside Llewyn Davis," "Nebraska" and "The Wolf of Wall Street."
Also read: Golden Globes Review: Tina Fey and Amy Poehler Kill on a Weirdly Entertaining Night
Less expected was the double-play of Lawrence as Best Supporting Actress and Adams as Best Actress – Musical or Comedy. Lawrence is a sure Oscar nominee, while Adams is fighting to get into a category whose prime contenders also include the night's drama winner, Cate Blanchett in "Blue Jasmine," as well as Emma Thompson in "Saving Mr. Banks," Judi Dench in "Philomena," Meryl Streep in "August: Osage County" and Sandra Bullock in "Gravity."
Conventional wisdom has long said that a great Globes acceptance speech can give you a leg up in the Oscar race and a bad one can hurt you, but it's rare to hear a speech that has any chance of being truly race-changing.
And on Sunday night, most acting winners – and there were a lot of them; between film and television, 14 of the Globes' 25 categories are for actors – acquitted themselves well, though at first many of them seemed surprisingly flustered.
Blanchett, who could have gone up there drunk and disorderly and still remained the Oscar frontrunner, was amusing and articulate, and she got off one of the night's sharpest lines when she thanked Sony Pictures Classics' co-chiefs Michael Barker and Tom Bernard, with whom she sat, for "plying me with vodka in the same way Judy Garland was probably plied with barbiturates."
(I guess I'm breaking with my colleagues on this one, because TheWrap has Blanchett's line as one of the low points of the ceremony — but I thought it was speaking ill not of Garland but of studio bosses, always a fair target, and an apt barb considering the role she played in "Blue Jasmine.")
Also read: Golden Globes: Tina Fey and Amy Poehler's Best Jokes of the Night (Video)
Leonardo DiCaprio, who beat icon Bruce Dern ("Nebraska") for Best Actor-Musical or Comedy for "The Wolf of Wall Street," was eloquent; Matthew McConaughey, who beat icon Robert Redford "All Is Lost" for Best Actor-Drama for "Dallas Buyers Club," rambled with style.
McConaughey's costar Jared Leto, who won for Best Supporting Actor, was better off when he was heartfelt than when he was jokey, which means the second half of his speech played better than the first.
Jennifer Lawrence was charmingly flustered, which even she admitted was a little odd; after all, she was up on the Globes stage as a winner a year ago for "Silver Linings Playbook."
Other notable film awards included U2's win for the song it wrote for "Mandela: Long Walk to Freedom," the latest in a long line of Globe song awards that have gone to the biggest rock stars on the ballot. The U2 win was one of a few categories where Globes voters may have reinforced their reputation for being star-struck; others included Lawrence winning supporting actress over Nyong'o, and DiCaprio beating Dern for comedy actor.
See photos: Golden Globes Red Carpet Arrivals
Meanwhile, John Lasseter, the co-founder of Pixar and the head of Disney animation, continued a remarkable Golden Globe streak on his 57th birthday, with Disney's "Frozen" taking the award for animated feature. Since the category was created in 2006, that award has been given out eight times; the Lasseter-directed "Cars" was the first winner, and since then Pixar has won five more times. Only once, when Steven Spielberg's "Tintin" won, has the award not gone to a film in which Lasseter had a hand.
As for what this all means for the Oscar race, the answer is: not much. Oscar nominating ballots are already in, and the final polls won't open for more than a month, by which time most voters will have forgotten how anybody fared at the Globes.
But Globes voters, who presenter Robin Wright referred to as "a gaggle of characters, I gotta say," proved to be an entertaining and at times idiosyncratic group, giving the screenplay award to Spike Jonze for the brilliantly quirky "Her" over "American Hustle" and "12 Years a Slave," and the original score award to Alex Ebert for "All Is Lost" over "12 Years" and "Gravity."
You can still quibble with the makeup of the HFPA, the difficulty of bringing in new blood and the reliance on junkets and freebies. But after a wholly respectable group of nominees, the organization produced a respectable group of winners, and one unlikely to be second-guessed even by HFPA critics.
Oscar nominations will be revealed on Thursday, possibly re-casting the awards picture but more likely honoring many of Sunday night's winners. And before Academy members can cast their final ballots, a string of guild awards – the Screen Actors Guild on Saturday, the Producers Guild on Sunday, the Directors Guild on Jan. 25 – will provide a far better sense of which films have a real advantage with industry voters.
Until then, though, "12 Years a Slave" and "American Hustle" have bragging rights that'll keep them happy for the next four days, until about 5:38 on Thursday morning.
And who knows? Some of Sunday night's winners may celebrate until then. At the NBCUniversal party after the Globes, Matthew McConaughey sat surrounded by well-wishers, glasses of champagne and plates of sliders — and when TheWrap suggested that he was having a pretty good night, he grinned and said, "Oh, this is just the early part of it."
And how long did he intend to keep on partying?
"I don't know," he said with a bigger grin and a shrug. "I haven't given that much thought yet."