Note: The following discusses spoilers for "Grey's Anatomy" Season 19 Episode 11.
ABC touted Thursday's episode of "Grey's Anatomy" as the beginning of an intense two-part event for the long-running medical drama. With a season-long storyline on women's rights and reproductive rights coming to a head, the return of Kate Walsh's Addison Montgomery and a life-threatening cliffhanger, the hour delivered in spades.
The hour also marked a major milestone for longtime cast member Kim Raver (who plays newly appointed chief or surgery Teddy Altman), as she stepped into the TV director's chair for the first time for one of Season 19's most pivotal episodes yet.
Titled "Training Day," the episode revolved around the Grey Sloan Memorial hospital staff preparing to host a seminar for out-of-state OB-GYN practitioners with the help of fan-favorite Dr. Addison Montgomery. The doctor, who was a series regular on "Grey's" in Season 2-4 and then lead the cast of the spinoff series "Private Practice," has made frequent appearances this season as the show delves into the aftermath of the overturning of Roe v. Wade, and how doctors like Addison are fighting to ensure women still have access to the care they need.
Viewers last saw Addison in an earlier episode this season, when she decided to take her expertise on the road to help train and treat patients in need across the country. Thursday's episode revealed that her work has made her a prominent public figure, causing both celebration from her supporters and turmoil from anti-abortion advocates.
When news of Addison's arrival at the hospital leaks on social media, an angry mob protests outside of the hospital's clinic and it turns violent. Other than a mild injury for Dr. Benson Kwan (Harry Shum Jr.), it appears that things die down before the hour comes to an end.
The episode's final moments find the doctors attempting to leave the clinic at the end of the day from a side entrance, when all seems calm. Then one of the OB-GYN residents and Addison start talking, and the student attempts to confess she accidentally leaked the news of her arrival. But as she and Addison try to pick up some papers from the road, the hour ends as a car rushes toward both doctors and hits them — leaving both doctors unconscious and their lives hanging in the balance.
"I really wanted that moment where everyone is kind of taking a deep breath like, the calm after the storm, and then this big thing happens," Raver told TheWrap about directing the shocking scene. "Someone said that they watched (the scene) and they kind of like, screamed out loud and then burst into tears because it was so shocking, which I love. That was sort of my intention."
Keep reading for more from Raver on her directorial debut, and what comes next in Part 2 airing Thursday, March 30.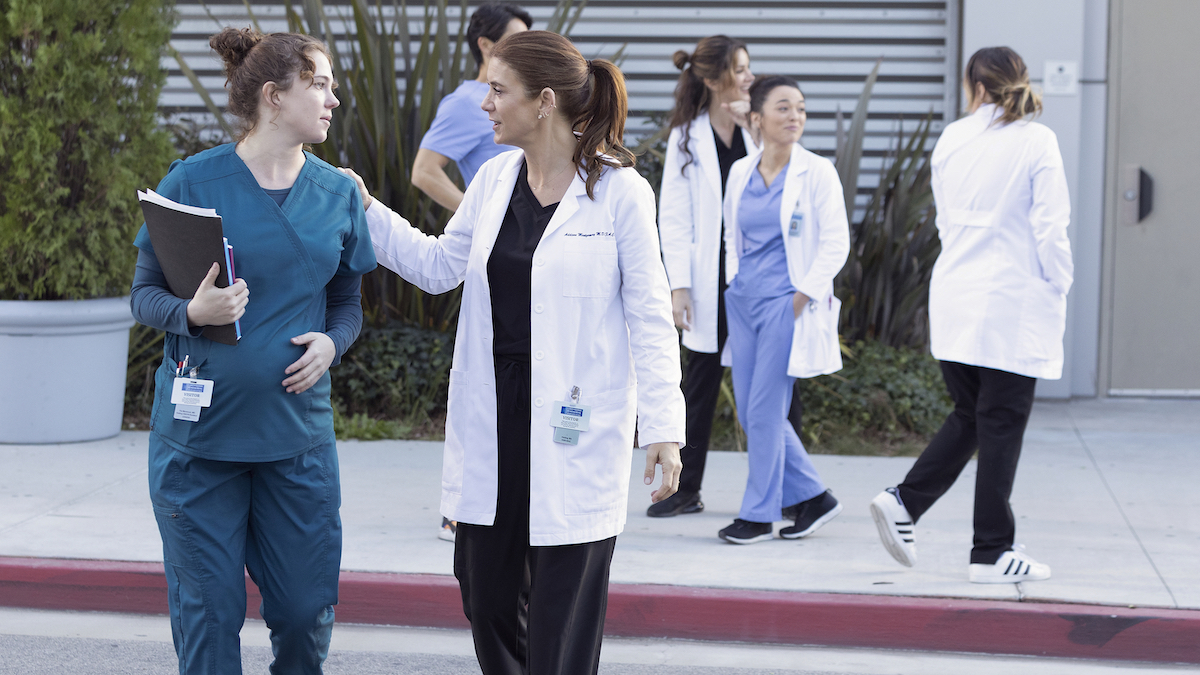 TheWrap: What was it like finding out you'd be helming such a pivotal season 19 episode for your first time?
Kim Raver: It was so exciting. I mean, first of all to get an episode of "Grey's Anatomy." I think everyone just assumes like, "Oh, you're on 'Grey's,' You can do whatever you like." But that's not the case at all. I saw Chandra Wilson directing and of course, Miss Debbie Allen. And, you know, Kevin McKidd. I had done a little bit of executive producing and I co-directed with my husband (Manuel Boyer) .. and so it started to percolate. And I feel so lucky that I have all these amazing women in Shondaland, because it's like, I think if you see other women doing these kinds of big, amazing jobs it gets you thinking like, "oh, well, maybe I should try that."
I spoke to Debbie Allen because she's an executive producer, and she's in charge of hiring all the directors and we had a conversation about it, and this was like three years ago, and then, you know, I shadowed her and that was like, it was really kind of like a you know, in the making, right? And so then they I shadowed her and it was like an incredible masterclass in directing. And I had been watching them and trying to just absorb as much as I could.
Then she gave me an episode and and when I read it I was like, "Oh, my God, this episode is huge," I just think that speaks volumes also to "Grey's" and Shondaland, and (showrunner) Krista Vernoff, Meg (Marinis), the writer (alongside Julie Wong), and Debbie Allen that they trusted me. They gave me like a really pivotal episode and believed I could do it. Everyone was rooting for me to succeed.
What was it like going on the journey of directing this episode?
I got the episode at Thanksgiving and I think I told my kids like, "we aren't having Thanksgiving this year." (laughs)
I was joking, we did end up having it. But it literally was not the same as me, you know, cooking a whole big meal with my mom and my sister. I was really, you know, head down, prepping every single day. I was waking up at like 3:30, 4 a.m. just because I was so excited. And you know, the adrenaline rush of it.
And then to also be able to be acting in it, it worked so well in my brain. I love the whole multitasking of it. As an actor, you come in with a creative idea for your character. But as a director, you're seeing the whole big picture and the vision, and bringing everyone together for that one vision. To be able to have that with the ensemble of actors that I love working with as as an actor, be able to collaborate with Chandra Wilson, Kate Walsh, Jim Pickens in a different way. Everyone was so receptive and also so supportive.
As you took on this director role, we also got to see Teddy really settle into her role as chief of surgery. What was it like to get to see and play Teddy achieve this milestone, and then settle into it so well?
I kind of love the way that my real life and my storyline of Teddy, you know, were kind of connected. I was finding this new role as a director and leading, you know, a large company of people, and Teddy is trying to find her way a new voice in this role.
I also really love it because I feel like Teddy's gone through like a place where she was making really bad, crappy personal life decisions. And I know that the fans felt that way too. But that's also like the beauty of Shondaland, and Shonda Rhimes and Krista Vernoff. Life is messy, we mess up, we're not perfect, and they address that as writers and storytellers, and I think that's very relatable and I love it.
This season has been tackling the topics of women's rights and reproductive rights, and the crisis that's been happening across the country since Roe v. Wade was overturned, in a very authentic way. That comes to a head in Part 1 of this two-part event. How do you feel about the way the show has addressed this issue this season?
I think it's really important that we, as creatives, don't back down from voicing and touching very important topics. I think there are always going to be people not agreeing on things, but I think it's important that we're having discussions on it. I think that Shonda is not afraid to, and she never has, nor Krista Vernoff.
I think also as the season goes on, we're seeing both sides of this issue, so that there's an understanding from both sides what the issues are. If this episode strikes up conversation between people and we can move into a better place, then I think then that we're doing our job.
Let's talk about the cliffhanger. Addison is one of the most beloved characters in the "Grey's" universe and now her life is on the line. How did you approach that final scene as a director?
I know that these characters are so beloved. And so, I wanted to be very careful in how I told that story. I created that cinematically, like what they were doing, you know. It was just written as one line in the script … so I had to design that part. And what I really wanted was, you know, I don't know if you watched this other show I was on, "24," but that feeling of like, "oh, the storm has passed and everything is calm," and then to have this sort of gut-wrenching moment and then even after that to not know what's going to happen.
So for me it was really important to create that tension of us not knowing, because I think that there's something really dramatic about that. We've had so much happen in this episode that I really wanted that moment where everyone is kind of taking a deep breath like, the calm after the storm, and then this big thing happens. Someone said that they watched (the scene) and they kind of like, screamed out loud and then burst into tears because it was so shocking, which I love.
That was sort of my intention. Not just for shock value, but it's really telling the story of what a lot of these doctors are actually dealing with now. And so I wanted that to be a very visceral experience.
Part 2 airs next week (Thursday, March 30) and Kevin McKidd directed that episode. What can you tease about what comes next?
It's just a roller coaster of excitement. Kevin had beautiful ideas that he executed and it's really … the whole ensemble comes together in such a fantastic way. And it's just such a heart-stopping moment.
"Grey's Anatomy airs Thursdays at 9 p.m. ET/PT on ABC.