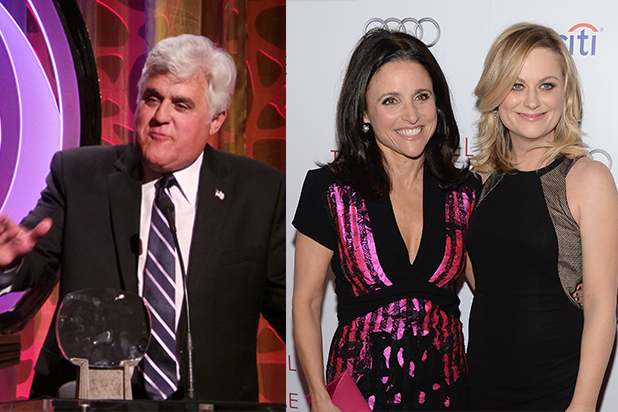 Bad news for the Jay Leno haters.
Those metaphorically dancing on his talk-show grave as Jimmy Fallon's ascent nails the coffin door shut on even the faintest fear of a Leno zombie comeback should be rightly afraid. Jay is now "immortal."
Leno, along with Rupert Murdoch, Julia Louis-Dreyfus, David E. Kelley, former ABC executive Brandon Stoddard, and the late Ray Dolby were all inducted inot the TV Academy Hall of Fame at an industry-heavy dinner Tuesday night.
Also read: 9 of Jay Leno's Greatest Hits From His 'Tonight Show' Run
The 23rd annual ceremony took over the ballroom at the Beverly Wilshire Hotel.
Despite the big names from all constituencies of the TV universe earning honors (the owner of a global media conglomerate to a winning network executive who delivered 70 shares, to a superstar showrunner, to an inventor) and friends like Amy Poehler, Bill Maher, and Katy Sagal making presentations, Academy Chairman and CEO Bruce Rosenblum knew where to stack Leno in the show: his usual home at the end of everyone's night.
TV people know how to get a show launched on time. Phil Gurin ("The Singing Bee") produced the good looking night that hit the mark with an 8:05 on-the-dot start time. They finished way over the planned 9:30 sign off, with Leno saying good night around 10:15 p.m.
A little over a month off-the-air and in the wake of Jimmy Fallon's blazing start, the Hall of Fame induction marked Leno's first social industry outing, where he shared insight into his life outside the daily media cycle.
"I am so thrilled to watch Jimmy do what he does," Leno said. "We talk once or twice a week." While he has time to watch Fallon, that's not the only thing Leno's picked up.
"I enjoy working in my garage and doing stuff like that. I fixed the washer yesterday," he told a group of media on the way in with his wife Mavis. "Washing machines are really straightforward. They're not really complicated."
He's planning a trip to New York to shoot for his  "Jay Leno's Garage" Youtube channel (812,000 subscribers) and he and Mavis "took a drive to Ojai the other day."
Also read: 9 of Jimmy Fallon's 'Tonight Show' Videos Hit Over One Million Views In First Week
Lachlan and James Murdoch flank their father on his birthday.
Bill Maher addressed Leno's fractured legacy, now irreparably dented by the 2009-10 TV season departure and return that claimed Conan O'Brien as collateral damage. Maher stuck up for the buddy he came up with on the comedy scene.
"In 1985, I read for 'Top Gun'," Maher said. "Tom Cruise stole my dream. He saw me over there with the sides. He knew I wanted that part and he f—ing stole my dream!," mimicking the narrative that Leno "stole" O'Brien's dream.
"Jay Leno reminds me a little bit of Israel," Maher said. "He's not perfect, but he is a held to a standard that no one in the world is expected to live up to other than him."
That Maher used this stage and this celebratory moment to defend Leno's legacy against the stock attack reinforces the idea that despite a 22-year run at the top, the O'Brien debacle will be a messy handprint that remains in the cement as the Leno legacy hardens over time.
Also read: Bill Maher on Keeping His Edge, Getting Over the Clintons and Chris Christie Douchebaggery
"He has sole writing credit on 400 episodes of TV," "The Crazy Ones" Executive Producer Bill D'Elia said of his collaborator David E. Kelley. Elia repeated it to draw applause. Above, Kelley with his wife Michelle Pfeiffer. 
At the front row center table, Leno sat at the head with NBC Entertainment Chairman Bob Greenblatt to his left, Late Night-Alternative President Paul Telegdy, fellow exec Doug Vaughan, and producer Jack Coen amongst others.
Rupert Murdoch celebrated his 83rd birthday with sons James and Lachlan, as well as Chasey Carey at Table No. 2, also upfront.
Other power tables included the troika of Jon Murray (Governor of the Reality Peer Group) slated with Marc Graboff, and Steven Bochko.
"Steven Bochko changed my life," inductee David E. Kelley said. He credited agent Marty Adelstein with first getting his writing in to Bochko's hands.
"Marty (Adelstein) became my friend and agent for 20-plus years," Kelley said on stage. "He's not technically my agent the last six or seven, but he finds it in his heart to commission me."
In a cool crossover amongst inductees, Kelley's career-spanning clip package included a 1999 Emmy win, handed out by Leno.
Former ABC executive Brandon Stoddard drew the loudest and warmest applause of the night. It sounded like he had his own cheering section of several tables on the elevated tier. Host Tom Bergeron gave him a special shout out as being from the "Dancing with the Stars" host's "home network."
"This is the best thing to happen to me since 'wolf pin' in cub scouts," Stoddard began.
Stoddard's highlights of movies of the week and miniseries like "Roots" and "The Thorn Birds" stood out both for how that terrain has disappeared and for how  astronomical ratings he pocketed a few (media and actual) generations ago: a 40 rating and 60 and 70 shares for "event" miniseries. To compare to the modern analog of ABC "major event" programming nowadays,"Bachelor" Juan Pablo's three-hour season finale — which included a petulant standoff with host Chris Harrison and combative spirit towards ABC — the reality dating show franchise's Monday night airing drew a 3.4 rating and a 10 share.
Also read: 'Bachelor' Juan Pablo Picks His Girl, Pisses Off Internet and Officially Becomes Most-Hated Contestant Ever
Posthumous inductee Ray Dolby, who passed away last September, was nearly an "EGOT." He had won every major award except for a Tony. "Thank you for this recognition at a time when our life has become very quiet," his wife Dagmar Dolby said, brining the most heartfelt and somber tone to the night.
Katey Sagal, who Murdoch called "the anchor of Fox's original programming schedule" told the room about "my boss" repeatedly during her introduction.
Murdoch's reel must have come warm out of the edit bay, as it included successes as recent as Bruno Mars' splits during the Super Bowl halftime show and Sunday's first airing of "Cosmos" 48 hours prior.
Similar to Sagal, Murdoch recounted how many people have been with Fox for decades. (Fox Networks Group Chairman and CEO) Peter Rice started as an intern at Fox," Murdoch said. Rice was in the room Tuesday night.
"I'm not fond of looking back, which makes it particularly annoying that this event falls on my 83rd birthday," Murdoch quipped, drawing laughs the contrasted with several "evil-Murdoch" clips from "The Simpsons" that played before he spoke.
Inductee Julia Louis-Dreyfus was looking in the opposite direction. "I look forward to generations of TV fans visiting the TV Hall of Fame to admire my bust," she said.
Amongst other career achievements, Louis-Dreyfus is the first female "Saturday Night Live" alum who returned to the show as a host, where she met her presenter Amy Poehler in 2006.
Also read: Congressmen Rip Julia Louis-Dreyfus' Golden Globes E-Cigarette in Letter to NBCU's Steve Burke
Poehler swerved from Murdoch, who had singled out Louis-Dreyfus for her role in the recent Fox Searchlight movie "Enough Said."
"I don't want to talk about film," Poehler said. "We all know that movies are dumb and TV is awesome."