It's time to bring back vertical integration in the movie business, said outspoken entertainment, sports and Internet mogul Mark Cuban at the Producers Guild of America's Produced By Conference on Saturday. He said movie studios ought to buy theater chains and explore releasing certain movies to video-on-demand even before those films hit the big screen.
During a wide-ranging conversation moderated by Los Angeles Times reporter Dawn Chmielewski, Cuban said his ownership of both Magnolia Pictures and the Landmark Theaters chain allowed him more flexibility on the release patterns of films like Steven Soderbergh's "Bubble," Neil Jordan's new "Ondine" and Alex Gibney's Oscar-nominated documentary "Enron: The Smartest Guys in the Room."
Typically, Magnolia releases films on VOD day-and-date with the theatrical release; in some cases, it even uses a "sneak preview" feature, premiering films on VOD a full month before the theatrical debut.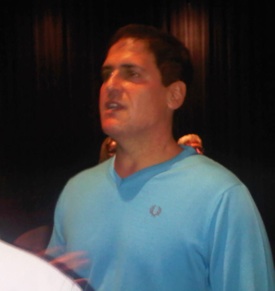 And while that release pattern means other theater chains often refuse to book films that are simultaneously available on cable TV and movie services, Cuban said he then can turn to his chain, Landmark.
"The reality is, as a theater owner, it's tough to do day-and-date," he said. "As a distributor, when we do day-and-date, the chains will not take the movies. Am I worried about that? No. Because we have Landmark, so we have a de facto exclusive on those movies."
(In a brief conversation with TheWrap after the Produced By session, Cuban admitted that Landmark also refuses to book non-Magnolia films that are made available via VOD – unless, he said, the companies releasing those films share the VOD revenue with Landmark.
"When we put our own movies on VOD, Landmark gets a cut of that revenue," he said. "We'll show somebody else's movie as long as they give us the same deal.")
Ownership of Landmark, he said, allows his company to "control the entire chain" of film production, distribution and exhibition. "Eventually," he said, "the studios are going to have to get there, too."
At the Digital Hollywood conference last month, Revolution Studios head Joe Roth made a similar suggestion, though he insisted that the decades-old "consent decree" was preventing Hollywood studios from investing in theaters. As Cuban pointed out, that decree has not been enforced since the Reagan administration, so studios that wish to invest in theaters are able to do so.
In fact, after the 1980s relaxation of the decree, Columbia and TriStar bought the Walter Reade Theaters and Loews chains; Paramount, later in partnership with Warner Bros., bought Mann, Festival and Trans-Lux; and Universal acquired several circuits, along with just under 50 percent of Cineplex Odeon.
After about a decade that brought a flurry of bankruptcies and failing business models, most studios abandoned or scaled back their participation in exhibition.
But Cuban said it's time to reconsider, particularly considering the future of small-budget movies at a time when "people want to consume content how, when and where they want to consume it. The traditional model still works in some instances for bigger movies, and it's tough for those movies to go day-and-date. But if the movie is smaller, where is the money [in theatrical]?"
At Magnolia, he said, the company has had "multiple-million-dollar movies" from VOD revenue, and he's found that the attention generated by a "sneak preview" month on VOD prior to theatrical actually builds up interest for the theatrical release. In addition, he said, because cable systems and VOD providers get a share of the revenue from the releases, they "promote the hell out of it," which helps lessen Magnolia's P&A budget for its releases.
"We're looking at the bottom line," he said. "How do you generate revenue? … We're going theatrical, but we're not depending on theatrical."
When asked if Magnolia's "sneak preview" system would work for major-studio films, Cuban was frank.
"Yeah," he said. "It'll work for the ones that suck." He used the flop Eddie Murphy movie "Meet Dave" – released by 20th Century Fox, on whose lot the Produced By Conference was being held – as an example.
"You can go to the theater owners and say, 'Look, this movie sucks, and we were going to release it in 3,000 theaters. But instead we're going to do it on VOD.'"
Read also: Joe Roth: Time to Let Studios Own Theaters