What does a producer do when his next big project is a TV series based on a very popular film that starred Arnold Schwarzenegger? Should he cast a similar type or go in a different direction? "True Lies" showrunner Matt Nix laid it on the line: "There was no universe where we're gonna cast a giant muscled man with an Austrian accent. That just doesn't exist."
"True Lies," which premieres on CBS Wednesday at 10 p.m. is about a suburban couple that is at the doldrums in their marriage, and the wife (Helen) is concerned her husband (Harry) might be having an affair only to discover that he is in fact an international superspy. The discovery shakes up their marriage, but also reinvigorates it, especially when she is brought into the spy agency, and her life changes dramatically.
Steve Howey, who is best known for playing Kevin Ball on "Shameless," nicely steps into the Schwarzenegger role and does so with the same dad-by-day/dangerous-spy-by-night energy.
"In doing something like this where you're doing something that is related to such an iconic film, you have to make a choice whether you're trying to do the same thing or whether you're trying to do it different related thing," Nix told TheWrap. "Certainly, there aren't two Arnold Schwarzeneggers, you know what I mean?"
"In looking for actors, it was important to find someone who is physical and funny and a really good actor who is believable as both a superspy and a dad. Steve Howey is a dad — and he is six-four and very physical and super good-looking. But he's also got kids and he's been through all that. So he could really play both sides."
Casting the role of Helen was a little different — and Ginger Gonzaga ("She-Hulk: Attorney at Law") checked all the boxes of exactly what they were looking for. "We didn't want to be in a position where we were clearly trying to cast someone to act like Jamie Lee Curtis," Nix said.
"Helen, in the show, she's really got some skills. She's got some resources. She's ready to jump into being a spy in a lot of ways, but she's also really not ready in other ways," Nix said. "Ginger is very smart. She's very physical. But she's also definitely the sort of person you can give one scene in an episode where she has to bang out words in four different languages. Ginger's the kind of actress who can really get her head around that. You buy it when she does it. But she also really has the comedic chops to be able to play the comedy of a kind of normal person being thrust into these extraordinary circumstances."
In the movie, Curtis, most of the time, doesn't know what's going on with her husband, so her character is playing a lot of "what's happening?" or "I can't believe this is happening to me." In the series, however, Helen is given a task in each episode that puts her in a spy situation where she has to play into the comedy.
"She has to play the comedy of, like, 'Wait, we're running into the bulls?!' At the same time, she has to be so competent and useful that you're not constantly asking why did they even bring her along," Nix said.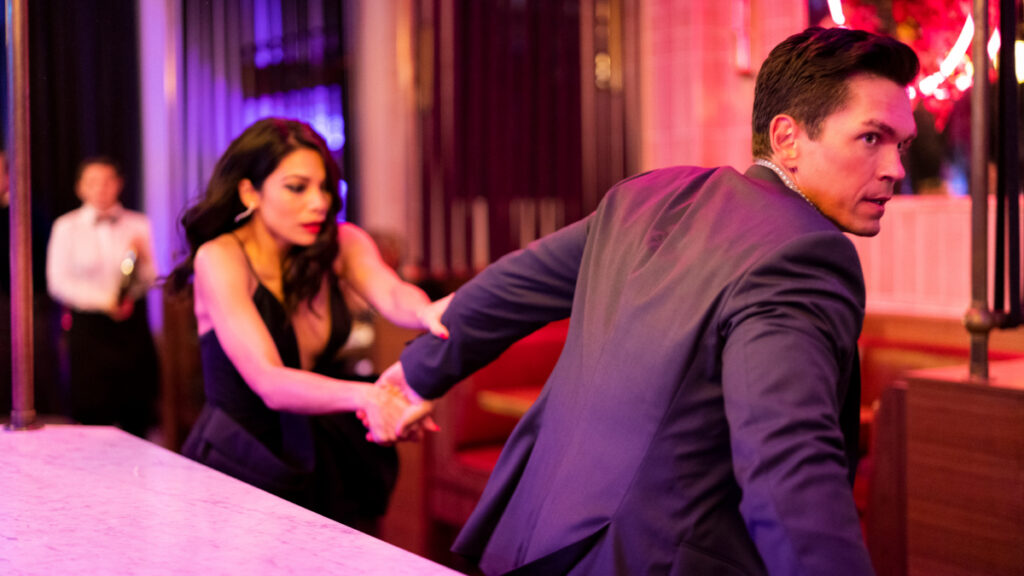 Although Nix has been asked if the "True Lies" series is an updating of the film — Helen is now a total 2023 woman, juggling kids, a career, yoga and Tae Bo, and, of course, would like to kick up the excitement in her marriage — he said he would never consciously do that.
"I was just like, you know, thinking about what's a version of this story that I can tell today that has the same pleasures, but, you know, does it in a different way and also fun to write? Part of it is, I think, there's a fantasy for all of us that maybe we have skills that in the right circumstance would really shine," Nix said. "'Maybe there's something in me, some undiscovered challenge that would be just amazing.' And that was really the fantasy that we're playing with Helen — that she was sort of born to be a spy. She just didn't know it."
"True Lies" premieres Wednesday at 10 p.m. on CBS and Paramount+.