Halloween is very clearly the holiday most suited for staying in and watching spooky things on your giant HD television – the weather is changing to a more snuggle-appropriate temperature, you probably brought several bags of readily snackable candy home from your last Target run, and the desire to remain glued to the couch is still strong. With all of that in mind, we have come up with a list of 13 new Blu-ray releases that are worth trick-or-treating for this month. These are all perfect for your next scary night in and to put you in the most Halloween-y mood imaginable.
Deadly Friend (Shout Factory, $34.95)
Chances are you know Wes Craven's "Deadly Friend" even if you've never actually seen "Deadly Friend." That undoubtedly has to do with the sequence where Samantha (Kristy Swanson, pre-Buffy and really pre-being an obnoxious right-wing goon) throws a basketball at character actress Anne Ramsey (of "Goonies" fame), basically liquifying her skull. It's absolutely insane and totally silly, exhibiting a modicum of understanding of how prosthetic effects actually work (for some reason the performer's arms aren't doubling Ramsey's but are flailing around inside the character's body cavity). But, like much of "Deadly Friend," this sequence is also utterly charming and should be applauded for just how bananas it is. This new Collector's Edition Blu-ray features a 2K restoration of the film from an inter-positive and a host of new interviews, although sadly the original cut of the movie, which was Craven's preferred version and said to be much moodier and less gory, has been lost to the sands of time. Still, it's hard to imagine "Deadly Friend" without that exploding head.
Scream (Paramount, $25.99)
Everything is coming up Ghostface! In addition to the hotly anticipated fifth film in the franchise (also confusingly named "Scream") coming in January, Wes Craven and Kevin Williamson's original masterpiece is getting a re-release, this time in a beautiful 4K ultra-HD package (there's a nifty steel-book option too). The film, which celebrates its 25th anniversary in December, has never looked better, with the new transfer emphasizing the elegance and sophistication of frequent David Cronenberg collaborator Mark Irwin's cinematography (love noticing the glittery texture of Ghostface's costume) and the gruesomeness of the practical effects (infamously, the opening murder of Drew Barrymore had to be frequently resubmitted to the MPAA to avoid an NC-17 rating). Any excuse to watch "Scream" is appreciated, and this new reissue is an absolute delight.
Sundown: The Vampire in Retreat (Lionsgate, $17.99)
Goofy and utterly charming, "Sundown: The Vampire in Retreat," a largely forgotten late-1980s horror comedy, finally gets some long overdue respect thanks to this features-laden Blu-ray disc (part of Lionsgate's ongoing Vestron Video imprint). Directed by overlooked genre impresario Anthony Hickox (he also directed "Waxwork" and the bafflingly unavailable "Full Eclipse"), "Sundown: The Vampire in Retreat" follows the exploits of a group of vampires (led by David Carradine) who are living their lives in a peaceful desert community. When their new artificial blood machine (don't ask) breaks down, the plant's human designer (and his family) come to town and all hell breaks loose. The film went direct-to-video in the U.S. after screening at Cannes, and has amassed something of a cult following in the years that followed, thank largely to its singular vibe ("Near Dark" it is not), winning cast (including a young Bruce Campbell as Robert Van Helsing) and energetic score by Warner Bros. Animation vet Richard Stone. Included in this release are a commentary (featuring Hickox and his cinematographer Levie Isaacks), isolated music score (with commentary by a film historian and two of the film's producers), and new interviews with Hickox and Campbell, among others. If you've never seen "Sundown: The Vampire in Retreat" and want a new favorite Halloween treat, give this one a whirl – it's frequently on sale on Amazon.
Onibaba (Criterion Collection, $39.95)
First released as part of the Criterion Collection back in 2004 (!), Kaneto Shindo's black-and-white masterpiece finally gets an HD upgrade (although with Criterion's new commitment to 4K ultra-HD Blu-ray, it sort of makes me wish they'd held out longer for the full shebang). According to Criterion, the new release boasts a "high-definition digital restoration, with uncompressed monaural soundtrack," plus a commentary track from 2001 (featuring director Kaneto Shindo and actors Kei Sato and Jitsuko Yoshimura), a new essay in the accompanying booklet by film critic Elena Lazic and stunning new cover art . And this one is very much in need of a new edition – the haunting story of two unnamed women (Nobuko Otowa and Yoshimura) who lure wayward samurai to their doom demands a polish. The movie's beautiful, ultra-widescreen black-and-white cinematography is brought to velvety life with the new transfer, and the new features are very much appreciated. It's scary good.
ParaNorman (Shout Factory, $22.98)
The first four films from stop-motion animation studio Laika have recently been gifted excellent reissues from Shout Factory and the best of the bunch is, of course, the very Halloween-y "ParaNorman." The 2012 film, directed by Sam Fell and Laika stalwart Chris Butler (who also wrote the screenplay), concerns Norman (Kodi Smit-McPhee), an awkward kid who has the ability to see ghosts and who is plunged into an oversized adventure filled with zombies and witches and the potential destruction of his entire town. It was an absolute dazzler when it debuted almost a decade ago, and it is just as stunning today – from the twinkly Jon Brion score to the host of amazing vocal performances, including winning turns from Anna Kendrick, Casey Affleck (as an openly gay character!), Elaine Stritch and John Goodman. The new disc is filled to the brim with special features, including a feature-length commentary, multiple making-of documentaries, and maybe my favorite feature – the ability to watch the entire movie in early storyboard form before any final animation had been produced. What a dream. The only bummer is that this isn't a 4K release. Maybe next Halloween.
Brotherhood of the Wolf (Shout Factory, $34.98)
If you only see one French language period conspiracy thriller kung fu action monster movie, make sure it's Christophe Gans' miraculous "Brotherhood of the Wolf." Based loosely on a series of real-life murders that plagued the French countryside in the 18th century, everything about "Brotherhood of the Wolf" is outrageous – from the tonal pinballing from one unrelated genre to another to the lush cinematography and editorial flourishes, like the moment that Monica Bellucci's bare breast becomes a snow-topped mountain (seriously). Plus, the creature itself is a wonder, brought to life through somewhat rudimentary computer graphics and an animatronic creature built by Jim Henson's Creature Shop. For a while "Brotherhood of the Wolf" was hard to track down; domestic distributor Focus Features had little (if any) desire to stoke the movie as a potential cult classic, and international options were cumbersome and difficult to come by. Thankfully, Shout Factory (via its genre imprint Scream Factory) has resurrected "Brotherhood of the Wolf." The new Blu-ray presents the director's cut of the film (coming in at a whopping 150 minutes), more than 40 minutes of deleted scenes, a pair of nearly feature-length making-of documentaries, and the original trailers, all in a beautiful HD package. Fans of "Brotherhood of the Wolf" like myself are just happy it's available; that it has come out with such a wonderful disc is, like the film itself, beyond imagination.
The Suicide Squad (Warner Bros., $39.98)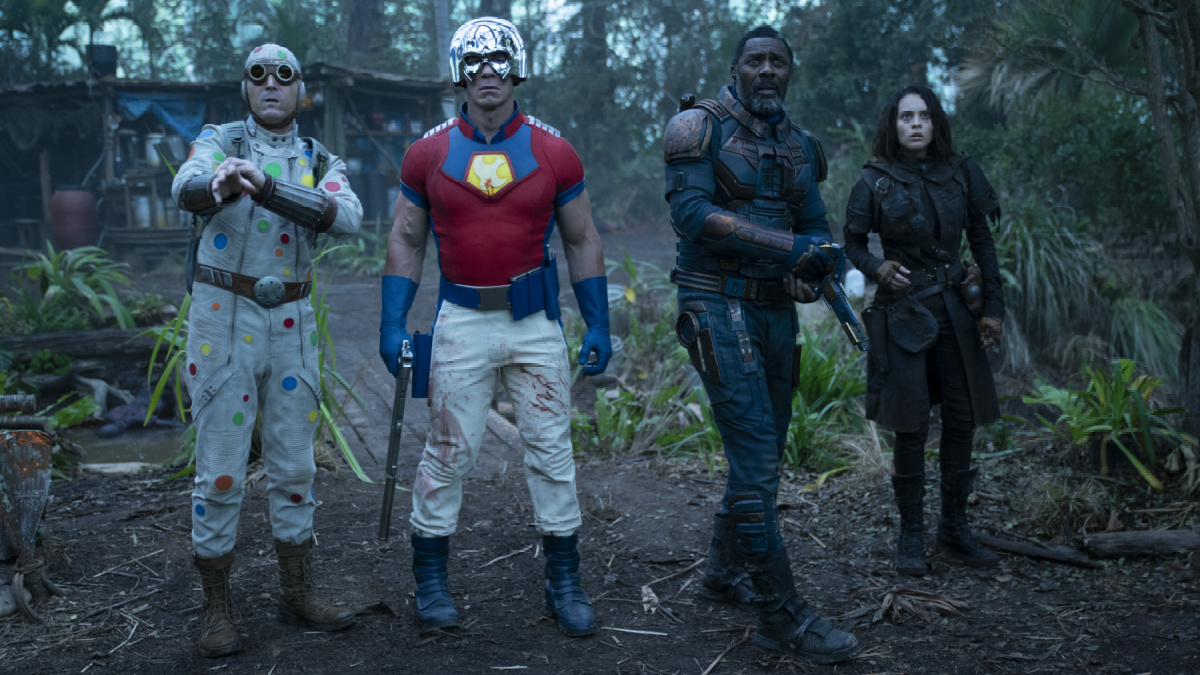 Considering the titular Suicide Squad are a bunch of bad guys (and one of them is a literal shark monster), there are more exploding bodies than an all-day Paul Verhoeven film festival, and the climax of the movie is them facing off against a towering Kaiju, yes, we would place "The Suicide Squad" firmly in the realm of Halloween viewing. One of the more outwardly delightful films of 2021, James Gunn's foul-mouth, gore-soaked "The Suicide Squad" couldn't be more different than the 2016 original film. It serves as both a sequel and a soft reboot, with many of the same characters returning but with a completely different, much more irreverent tone and spirit. It's a total blast, and if you somehow missed it theatrically or on HBO Max, this is the perfect time to get into the spirit with your favorite supervillain (or villainess). The Blu-ray (and 4K) release is absolutely packed with everything from a gag reel and making-of documentaries (including one centered around the creation of the Sylvester Stallone-voiced King Shark) to commentary tracks, deleted scenes and retro-style trailers. Newer movies are rarely lavished with this kind of attention; but everybody loves the squad.
The Wraith (Lionsgate, $17.99)
Another forgotten gem is resurrected via Lionsgate's Vestron Video specialty label. And this time it's out for blood. "The Wraith," a nutzo 1986 thriller that is still just as singularly weird and enchanting as it was 35 years ago, returns with a vengeance. Part ghost story, part sci-fi fable, part revenge odyssey, "The Wraith" concerns a souped up, futuristic car (a modified Dodge M4S Turo Interceptor, a real concept car from the time) that mysteriously appears in a dusty backwater Arizona town. That's where Jake Kesey (Charlie Sheen) shows up with the car, taking down a gang of violent car thieves and falling in love with Keri ("Twin Peaks" icon Sherilynn Fenn). Also Jake might be Keri's murdered boyfriend returned from the dead. Or something. Everything about "The Wraith" is overwhelmingly odd – from the pounding electronic score by Michael Hoenig and J. Peter Robinson (augmented by a kick ass soundtrack featuring Robert Palmer, Bonnie Tyler and Billy Idol), to the jumbo-sized performances from Clint Howard (as a character named "Rughead") and Randy Quaid as the suspicious sheriff, to the stunt work and explosions that feel barely regulated, much less contained. If you're new to the cult of "Wraith," now is a perfect time to jump in. This is a great release, with all of the original music intact, a pristine transfer, and a whole host of special features (including commentaries and a documentary on the making of the car and its many iterations). This one will really rev your engine.    
Alone in the Dark (Shout Factory, $34.98)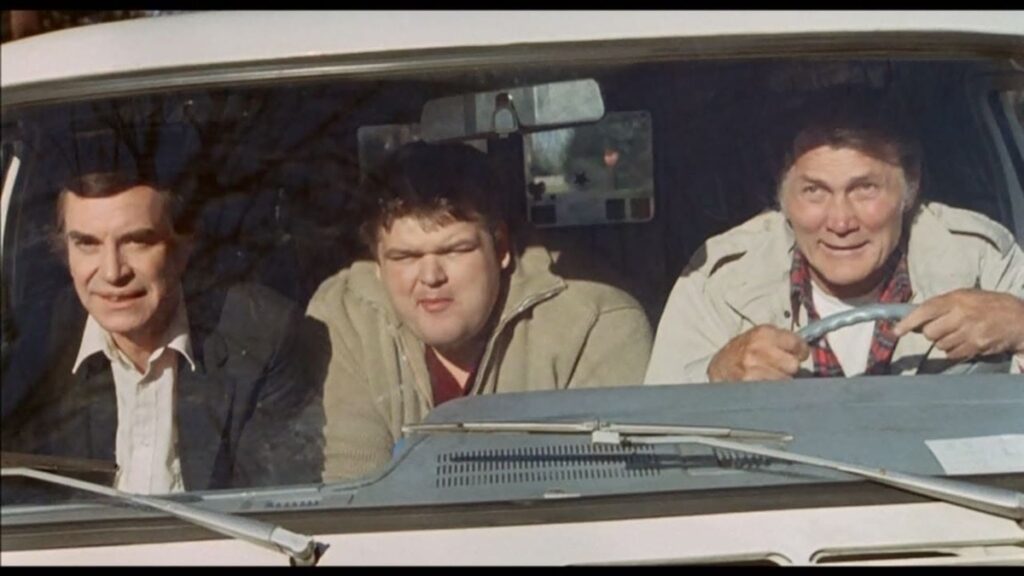 Before director Jack Sholder crafted one of the most unintentionally gay horror movies of all time with "Nightmare on Elm Street 2: Freddy's Revenge," he helmed "Alone in the Dark," a sneaky, grungy thriller with more of a pedigree than you'd imagine. At first, "Alone in the Dark" seems like a typical slasher; in this case about a band of psychos that escape a mental institution. But the movie's power is deepened by a surprisingly starry cast that includes Jack Palance and Martin Landau as two of the psychopaths and Donald Pleasance as the psychiatrist that is attempting to comfortably rehabilitate them; and Sholder's attempt to add psychological nuance and surrealist flourishes (that opening sequence!) to what would have otherwise been pretty by the numbers. (Sholder later said his favorite director is Jean Renoir.) There is also a really, really good third act twist and some frank depictions of sex and violence that lend it a welcome layer of sleaziness. This new collector's edition Blu-ray features new interviews (including with the absolutely awesome punk band that appears in the film), a pair of commentaries, and a lot of marketing materials. The interview with Sholder, who went on to direct the cult favorite "The Hidden," is particularly illuminating and enjoyable.
Cruella (Disney, $34.99)
Not every Halloween viewing has to be full of blood and gooey monsters. "Cruella," arguably the very best of the recent slate of live-action remakes of Disney animated classics, is a great example of a darkly tinged romp that could be played earlier in your Halloween marathon, before you start the really hardcore stuff. And this is actually perfect for the movie, which takes place before the events of "One Hundred and One Dalmatians" (and in a seemingly different timeline), where Cruella (played winningly by Emma Stone) starts off as a young fashion designer who dreams of something more, eventually becoming a thief and provocateur, before embracing her inner villainess (or does she?) "I, Tonya" director Craig Gillespie gives humanity and depth to a literal cartoon bad guy, and he puts the movie together with flair and an excessive amount of style. There is much fun to be had in the movie's version of post-new wave, pre-punk London, and in the performances (Emma Thompson plays an even nastier piece of work) and in the freewheeling way it subverts and contorts our expectations and understanding of the character. The Blu-ray (and even-better 4K) disc is light on extras but features flawless picture and sound, which is good for that all-killer, no-filler soundtrack. You'll want to pump that up.
The Borrower (Shout Factory, $32.98)
Supposedly after the success of "Henry: Portrait of a Serial Killer," director John McNaughton got sent every lousy horror script under the sun. He admitted later that he was broke and the script for "The Borrower" wasn't half bad, so he took the job. Produced and distributed by schlock factory Cannon Films, it in many ways serves as a direct rebuttal to "Henry." Where that film had a kind of stark minimalism, "The Borrower" has a sky-high concept (an alien criminal is "de-evolved" into a human and sent to earth, where he causes increasingly violent mayhem) and instead of that earlier film's almost documentary-style visual style realism, the later film adopts a heightened aesthetic emphasizing harsh neon colors and the vibrant splash of blood. (The effects by the great Kevin Yagher are genuinely stunning, especially the "District 9"-like space aliens.) While seemingly lost, Shout Factory (through their Scream Factory imprint) has mercifully brought it back to life in HD. There isn't a ton in the way of extras (although there is a McNaughton commentary track and a mini-docs devoted to the make-up effects) but a 7-minute proof-of-concept film will certainly delight fans of the film and the new transfer is outstanding. If "headless monster from outer space" is on your Halloween bingo card, give this one a spin.
Something Wicked This Way Comes (Disney, $24.95)
The production of "Something Wicked This Way Comes" was notoriously fraught – Disney second-guessed original author Ray Bradbury's choices for actors, elaborate special effects (including some of the first computer animation) was painstakingly completed and then thrown out, and Georges Delerue's atmospheric score was replaced last minute by more traditional music from James Horner. (You can hear Delerue's score now and it's great.) And despite all of this heartache, "Something Wicked This Way Comes" is a minor triumph and a certifiable cult classic, one that is unavailable on Disney+. (The Blu-ray is a Disney Movie Rewards exclusive title; real heads know.) "Innocents" filmmaker Jack Clayton creates and sustains a truly spooky atmosphere, even though he claims that Disney disliked his vision and spent millions of dollars reshooting and reediting much of what he'd done. (Stephen H. Burum's cinematography is gorgeous.) And Horner's score, while not what was intended, is still terrific. "Something Wicked This Way Comes" is a darkly tinged wonder, and the fact that it's finally available in HD is cause for celebration.
The Tomb of Ligeia (Kino Lorber, $24.95)
1965's "The Tomb of Ligeia," the last of the Edgar Allan Poe adaptations Roger Corman directed for American International Pictures, is wonderful – a melancholic and surprisingly sumptuous adaptation that features one of Vincent Price's finest performances at its core. But it becomes even more impressive when you pop the hood – it was written by future "Chinatown" scribe Robert Towne and features second unit photography by some guy named Francis Ford Coppola (even though by this point he'd already directed a feature for Corman and AIP). While the least financially successful of the Corman/Poe adaptations (this was the eighth film in the so-called cycle), it has become a favorite in the years since, with everyone from Joe Dante to Martin Scorsese singing its praises. And now it's on Blu-ray, complete with three (!) commentary tracks (two archival and one brand new), and Dante's "Trailers from Hell" segment on the film.