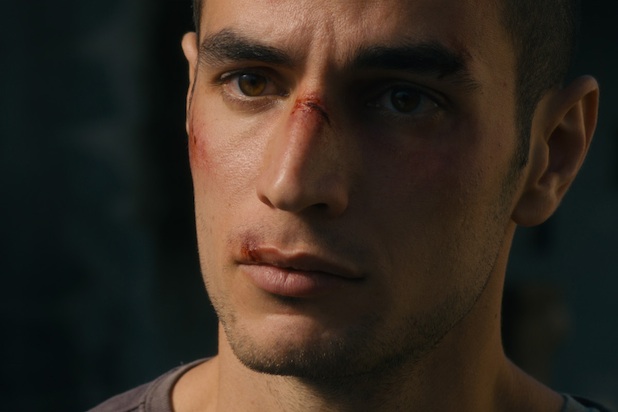 A version of this interview appeared in OscarWrap
Palestine has been nominated for two foreign-language Oscars, and both have come from the same director, Hany Abu-Assad. Eight years ago he released "Paradise Now," which landed the country's first nomination and also sparked protests over the film's depiction of two suicide bombers; now he's back with "Omar," a tense thriller about a Palestinian man living under occupation and the Israeli agent who tries to make him a collaborator.
The film opens in Los Angeles on Friday, and Abu-Assad has been making regular trips to town since showing "Omar" at the AFI Fest. He spoke to TheWrap about the politics of his homeland, about the relief he'll feel at the Dolby Theatre on March 2 win or lose, and about this year's Israeli Oscar entry, "Bethlehem," which has a remarkably similar story line.
Also read: 'Omar' Review: Palestinians Chafe Under Israeli Occupation in Oscar-Nominated Drama
Have you seen "Bethlehem?"
Yes, yes, yes. It's from a different point of view, which makes it interesting. But even though my subject is political, my movie is really about love, trust and friendship. And it's a fusion of three traditions of thriller: American thrillers like "No Way Out" or "The Firm"; French thrillers like "Le Cercle Rouge" and "Le Samourai," where the tension was from the language of cinema; and Egyptian thrillers, where even in the most horrifying moment, they make a joke. I mixed all these three to give the genre a new elan.
How did you come to make a movie about this subject?
It came first of all from a panic that I had one night that I'm not making good movies anymore. After "Paradise Now" I did some projects that weren't good enough to even talk about, and one of them failed. And I panicked and thought, Why am I doing bad movies?
And the answer was that I was busy with artificial stories that don't come from real life. The panic let me dig into my own real life. I was once paranoid – I thought one of my crew members was spying on me for the army on "Paradise Now." And I had a friend, they tried to force him to collaborate because they had a secret on him.
Also read: 'The Missing Picture': Oscar-Nominee Rithy Panh on Restoring the Dignity of Genocide's Victims
You know, one of the reasons for the occupation is to make society paranoid, because when they think that they are being watched everywhere, they will behave themselves. We live in a society where we think the Mossad is in the walls – whatever we do, they know. So how do you visualize that feeling and make it universal?
Watching "Omar," the audience doesn't know who your main character should trust–but we do get the sense that whatever he does is probably going to be wrong.
I like that. If you analyze all the best movies, all of them have main characters who have to choose between two bad choices. That is the trap, and that is where you always start your story.
And I did it with a love story, because I love these stories of tragic love. So you have the trap and the theme, and then you say, "OK, it's a love story. Omar loves Nadia. She has a brother in the resistance. Omar wants to join the resistance to come closer to Nadia. We need a traitor so we bring in a third friend who is also in love with Nadia…" You build up the bad choices, and then you put your character in the middle.
Can a work of cinema change people's minds about a real-world situation?
I think cinema cannot change minds, but it opened my mind. I can only tell you about my experience when I saw "One Flew Over the Cuckoo's Nest." Or "Novocento." Bertolucci. Or "4 Months, 3 Weeks and 2 Days." Or "There Will Be Blood." Or Carlos Saura's movie "Cria Cuervos." Or "A Prophet," or "The Godfather." All of these experiences opened by mind.
Also read: Producer of Egypt's 'The Square': Oscar Nomination Has Created Controversy
For sure, movies will give you a rich experience. And this rich experience makes you as a human being more open to life, to yourself, to others, to your enemy, to politics.
Politics is failing, really. Everywhere, it's failing. People think their lives cannot really be protected by politicians, so they are depending on other things, like art. I think a lot of people in Palestine, as in the rest of the world, want to express themselves through different mediums, and cinema is one of them.
What was the "Paradise Now" Oscar experience like for you?
It was absurd, as if it was in a dream that wasn't real. First of all, I never expected a Palestinian movie to be nominated for an Oscar. An Arab movie had never been nominated, and we all thought, an Arab movie can't be nominated.
So you don't expect it – and then you are in the middle of it, and you don't know what to do. There was a lot of attention, a lot of exposure, a lot of compliments but also lot of hate, advertisements against the movie, even threat mails. You think, Please leave me alone, but at the same time you want to be part of it, with all the stars.
And then there's the tension in waiting for your category to come. That was the biggest tension in my life. And believe me, it's a relief whether you win or not. And you feel so tired after.