I dropped by the Kodak Theater Wednesday and talked to Oscar producers Bill Mechanic and Adam Shankman about the show – that story is here. But here are a few additional tidbits about the show:
The Kodak Theater is laid out the same way it was for last year's Oscar show, with orchestra seats wrapping around a stage that projects slightly into the audience. (AMPAS photo from 2009 below.) About 200 prime seats are located in the front section, with other small sections arrayed behind it. Lamps sit on the railings between sections, giving the front area a supper-club vibe.
Seat cards show where all the stars will be sitting on Oscar night, but the Academy has strict rules for anyone allowed in the building: no revealing where anybody's seat is in relation to anybody else's seat.
So I'll just say this: if he wins, Jeff Bridges will have a very short walk to the stage. And Elizabeth Banks had better not need to go to the bathroom during the show, because she'll have to step over a lot of people to get out from where she's sitting.
The seating and stage arrangement completely covers the orchestra pit beneath the stage.
*
The stage itself is on multiple levels, and is enclosed by a curving, wraparound back wall that will make entrances and exits a little more complicated than usual. But the curved screens I saw looked great: crisp and clear and vivid.
And everything sits behind a Swarovski crystal curtain that, said AMPAS president Tom Sherak when he dropped by rehearsal, is worth about $5 million. (That's enough to pay for a good many of the nominated films at Friday night's Spirit Awards.)
*
Although Mechanic and Shankman are trying hard to keep the length of the show down, one aspect is already particularly long: the list of presenters. So far, the Academy has announced the names of 31, one of whom, Sacha Baron Cohen, has since dropped out. (For the reasons why, ignore all the other reports and look here.)
Most years, that would constitute most of the lineup – but this year, a staffer says that the roster of presenters has been expanded from the usual 40-50 to about 70.
With 24 categories, along with the 10 Best Picture clips, a mid-show dance number and other assorted film packages, that means we'll undoubtedly see very few solo presenters, lots of couples, and some larger groups.
*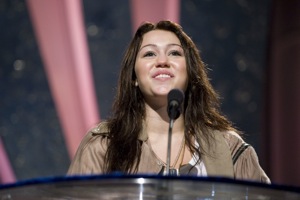 The sheer number of presenters has entailed a rearrangement of the usual Oscar rehearsal schedule. Typically, the Saturday before the show is devoted to rehearsing nearly all of the presenters – but this year, with too many to accommodate in a single day, those rehearsals are being spread out over Thursday, Friday and Saturday.
The final day, though, will still be the most concentrated with stars. And that's one part of the process that doesn't worry Shankman, who says, "I've spent my entire career telling actors where to go. That's nothing new to me."
He might, however, want to worry about a couple of things. For one, the show will reportedly include entrances down staircases, which actresses in heels often balk at doing.
(In 2004, I saw Julia Roberts refuse to come down a staircase only minutes before she was due onstage, forcing the producers to substitute an entirely new, much more modest entrance at the last minute.)
But it's not just the usual staircase problem this year, because in certain cases those stairs will also be moving as the stars walk down them. "I'm not going to be the one to tell them about it," laughed one crew member.
(Above, this year's presenter Miley Cyrus rehearses for the Oscars in 2008. Photo by Richard Harbaugh/AMPAS.)
*
Two actresses, incidentally, will also be asked to make introductions from a smaller, seemingly more precarious perch.
That is, if they don't balk once they see what's being asked of them.
*
While I was inside the Kodak, the crew rehearsed a couple of the acting awards using stand-ins. Some of the elements of those awards remain secret, but Mechanic has already admitted that he and Shankman are bringing back last year's innovation of using five different presenters, one to specifically address and praise each of the nominees.
This year, though, the five won't all be past winners; they'll be past or current co-stars, friends, or admirers with links to the nominees. Most of the links are obvious, some less so.
This, of course, begs the question, if each of the presenters has a tie to one of the nominees, how do they choose who gets to open the envelope without playing favorites?
"The envelope," says Mechanic, "goes to tradition."
The acting clips in the acting presentations are also put together differently this year. "We wanted it to be like somebody creating a movie trailer," says Mechanic.
*
During Wednesday's rehearsal of the Best Actor award, Jeff Bridges "won" the first time around, George Clooney the second. There is absolutely no significance to that: PricewaterhouseCoopers prepares five complete sets of rehearsal envelopes, each with the name of one nominee after the line, "AND THE OSCAR GOES TO, FOR THIS REHEARSAL ONLY …"
During rehearsal, the envelopes are chosen randomly — and by the time the run-throughs have finished, most of the nominees have "won" at least once.
The most amusing part of the rehearsal, besides watching stand-ins with signs hanging around their necks bearing the names of the famous people they were pretending to be, was hearing their lines. The stand-ins were working from last year's script, with the names of this year's nominees and their films swapped in.
To salute this year's Best Actress frontrunner, for example, a stand-in read lines that were once written in tribute to Anne Hathaway:
"Sandra Bullock, we loved you as a princess. We loved you in Prada. And this year, in 'The Blind Side,' you fearlessly stepped into the shoes of someone struggling with addiction and grief. I think you're an amazing example for every young actress in this business."
*
The usual "In Memoriam" montage will also be presented in a new way – or, to be more accurate, it'll be presented in a variation on something that was introduced by past Oscar producer Gil Cates a couple of years ago, but only used once.
Without revealing any secrets, the approach probably made things harder for Chuck Workman, who put the film together. And it will definitely make things harder for the show's director, Hamish Hamilton.
Workman, by the way, was dealing with an another problem when he assembled the package: too much Brando. "I could have used a lot of Marlon Brando," he says, "because I think three of the people had made big movies with him." Workman ended up using Brando once, though he didn't say with whom. I'm guessing Karl Malden (above, with Brando in "On the Waterfront"), but that's only a guess.
*
If the emphasis on moneymaking movies and young stars seems like overkill in a year in which blockbusters like "Avatar" and "The Blind Side" are up for big awards, there's a reason: many of the show's film packages were commissioned by Mechanic and Shankman last year, when the producers were operating under the assumption that the slate of Best Picture nominees would not be as audience-friendly as it turned out to be.
Hence director Jon Bloom's tribute to horror films, along with others that will showcase films not ordinarily thought of as Oscar-worthy. (I hear that a more elaborate horror sequence that would involve Michael Jackson-inspired, "Thriller"-style dancing was discussed but not pursued.)
"We prepared for it thinking that the nominations wouldn't be so broad," says Mechanic. "We wanted to show a wider range of movies than have ever been on the show, and a wider range of people than have ever been on."