The movie that some are calling the Oscar frontrunner came out Friday, and Lionsgate will be watching closely to see if the buzz caused by pre-release raves will be sustained now that the dark, gritty film is out in (a few) theaters.
I know I'm arriving late to the party for "Precious" (hey, I didn't go to Sundance or Toronto and I had to leave theWrap's screening early to interview the director and star!), but I finally caught up with it last weekend, along with a couple of other films that might figure in the awards picture. So here's the latest installment of assessing films and their awards chances.
"Precious: Based on the Novel 'Push' by Sapphire"
Verdict: No, director Lee Daniels' film about the horrific physical, emotional and sexual abuse heaped on an overweight, near-illiterate Harlem teen does not make for easy viewing. And that's sort of the point: working from a novel that's even more extreme, Daniels whips up a potpourri of degradation so horrifying that it has to be pushed into the realms of fantasy, out-of-nowhere comic relief and Grand Guignol horror, sometimes almost simultaneously. Daniels knows how to make it work, knows how to lighten the burden with trash-talking teens or by translating mom's abuse into a scene out of Vittorio De Sica's "Two Women." (Actually, I don't think that last detour really works – but it certainly gets the audience laughing.)
In a way the film traffics in manipulation disguised as reality, but Daniels is undeniably effective at stacking the deck so thoroughly that the tiniest glimmer of hope almost counts as a happy ending. And he's helped immeasurably by a pair of astonishing neophyte actresses: Mo'Nique as a mother so monstrous that her big emotional revelations at the end of the film never come close to offering redemption, and Gabourey Sidibe as a teenager so shut down that a few words mumbled in class qualify as a breakthrough, and a half-smile as a victory of sorts.
Oscar chances: It connects emotionally, and more often than not that's what voters are looking for. The only thing that'll stand in the way of a best-picture nod is if all the talk of the film's brutality and darkness are enough to scare off enough voters who think they won't be interested in the story of an overweight Harlem teen. Mo'Nique is a supporting-actress lock regardless of how much promotion she does, and Sidibe will make the best-actress field as long as enough voters she that she's nothing like her character.
"The Road"
Verdict: Is it the anti-"2010"? The world ends, more or less, but it's in a whimper, not a bang: there's nothing dazzling, no CG magic to the way the planet dies in director John Hillcoat's take on the devastating Cormac McCarthy book. The journey that the Man and the Boy (Viggo Mortensen and Kodi Smit-McPhee) take through a devastated landscape is grim, gray and unrelenting; that's a description, not a complaint. The film is also, let's face it, portentous: this is a movie of symbols, archetypes, and much quiet grappling with issues of love, humanity, connection …
You could quibble about the film's pacing (the man and the boy slog along for a while, then escape from some crazy cannibals, then slog along, then escape from a new batch of crazies, then slog …), but it is a faithful adaptation of a masterwork from the man who gave us "No Country for Old Men," though minus the purity and poetry of McCarthy's prose. And Mortensen holds the screen, as he must for this material to work; he's all scraggly hair, gray beard and protruding ribs, a paranoid, spectral figure who speaks in a voice that goes from debilitating fear to an almost unearthly resignation.
Oscar chances: In a field of 10, it has a shot at a best-picture nod. Two hours of sadness is not the easiest sell to Academy voters, and there's no doubt its relentless bleakness will turn off some as much as it'll resonate with others. I suspect it'll fall just short as a best-pic candidate, though I think it probably deserves better. Mortensen, on the other hand, remains a strong contender, though he's certainly not helped by Jeff Bridges' late entry into the race.
"The Messenger"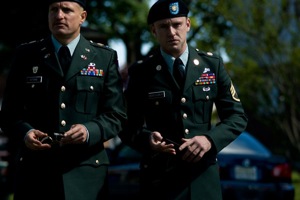 Verdict: This understated little movie is a worthy companion piece to "The Hurt Locker." Both are unsparing, unsentimental looks at wartime – but if Kathryn Bigelow's movie is action and tension, stoic resolve and macho bravado in the face of life-and-death situations, "The Messenger" looks at what's left after those bombs go off: the shattered lives back home, and the men who are trained to break the bad news to next-of-kin, looking straight ahead and offering rehearsed sympathy.
As a wounded soldier riding out the last three months of his enlistment on casualty notification detail, Ben Foster is haunted and enigmatic; as his hard-case supervisor, Woody Harrelson is tough as nails and funny as hell. Foster and Samantha Morton, as a new widow, play their impossible attraction just right, while director Owen Moverman makes his point-of-view clear without getting preachy.
Oscar chances: The hurdle here will be getting enough voters to see a small film that doesn't have the bravura of "The Hurt Locker" and might not be high on voters' radar. Of the actors, Morton may have the best shot, and she certainly deserves supporting-actress consideration. In a different year, Foster could attract attention as well, but he'll probably have to wait for another year and another movie.
"Crazy Heart"
Verdict: The version I saw wasn't completely finished, and I wrote plenty about it this morning. So I'll just say this: Best actor. Best original song. More later.