The rule of summer TV used to be that as the temperatures increased, the quality (and eyeballs) decreased accordingly. But these days, the months between Memorial Day and Labor Day no longer guarantee wall-to-wall reruns and second-rate programming.
This year, there are plenty of questions for TV fans to ponder, from what network will top the ratings race to whether the second season of HBO's "True Detective" will live up to the amazing first edition.
Here are TheWrap's Burning Questions about the Summer TV season. Feel free to share questions and/or answers of your own in the Comments section.
Also Read: 82 Summer TV Shows: TheWrap's Ultimate Viewing Guide (Photos)
Will "Wet Hot American Summer: First Day of Camp" Be the Season's Funniest Show?
With all due respect to FX's "Married" and Starz' Patrick Stewart-led "Blunt Talk," the answer to our actual question is a fairly likely, "Yes."
The all the Internet buzz suggests the season's top comedy will be Netflix's "Wet Hot American Summer: First Day of Camp," a reboot of David Wain's 2001 cult hit (debuting July 17) that somehow lured much of its now all-star original cast, including Bradley Cooper, Amy Poehler and Paul Rudd.
But there are other contenders for top comedy, including Netflix's "Bojack Horseman" (Season 2 also arrives July 17), an animated series with Will Arnett voicing a horse who starred in a hit '90s sitcom. The show remains one of the funniest yet least known offerings around. - Tony Maglio
Can "True Detective" Season 2 Hold Up to Its 5-Emmy Freshman Run?
The first season of HBO's "True Detective" was nothing short of a phenomenon, with water-cooler buzz and Emmy awards to match, but Season 2 could prove trickier.
The anthology series has lost stars Matthew McConaughey and Woody Harrelson, as well as director Cary Fukunaga, who helmed the entire eight-episode first season.
Those guys are arguably some of the biggest reasons why "True Detective" was such a success. The new cast — led by Colin Farrell, Vince Vaughn, Rachel McAdams and Taylor Kitsch — and directors like Justin Lin will have their work cut out for them to replicate the first season's remarkable run. - Linda Ge
Also Read: 23 Summer TV Shows We Can't Wait to Watch
Is NBC Already Polishing Its Summer First-Place Trophy?
Easy answer: kind of. NBC has won the last four summers in a row in ratings among the key 18-49 demographic, so why should this one be any different?
While it's admittedly way too early to have any accurate projections, NBC has both history on its side and "America's Got Talent." The reality competition series, now in it's 10th season, still gobbles up the main demos while the kiddies are out of school; it's essentially "The Voice" for beach months. And NBC has momentum entering the summer — the network finished first this fall, with a little help from the Super Bowl.
Plus, NBC has a semi-secret weapon, when the NFL kicks in between Labor Day and the technical start of the fall season. So TV's top-rated show, "Sunday Night Football," gets a few huge weeks that fall under Nielsen's summer calendar. By the way, next summer, NBC has the Olympics, so if the network wins its fifth straight June-August this year, you might as well call it six.
That said, CBS will probably still keep its usual first place standing in total viewers, a consolation prize that should please Les Moonves & Co. - TM
Also Read: 'What's the Deal?' With Summer TV: TheWrap's Jeff Sneider Picks 6 Favorite Shows (Video)

Will Binge Viewing Work for Networks Besides Netflix?
There are still some vocal opponents of the full-season episode dumps practiced by Netflix, though advertisers may have been calmed by the use of dynamic ad insertion and other marketing innovations.

The latest sign that binge-viewing is more than a passing fad: Now even broadcast networks are exploring the practice of streaming full seasons at once. NBC dropped all 13 episodes of its '70s-set David Duchovny drama "Aquarius" onto various video-on-demand (VOD) platforms right after airing the premiere on May 28.

"The fact that you see major networks such as NBC and their new show 'Aquarius' entering the 'binge viewership ecosystem' is further evidence that this behavior is not a trend, it's a movement," Jarrod Moses, president and CEO of the marketing firm United Entertainment Group, told TheWrap. "The entertainment community has embraced this movement as it provides a greater chance for full-series sales and minimizes cancellation orders from network brass." - TM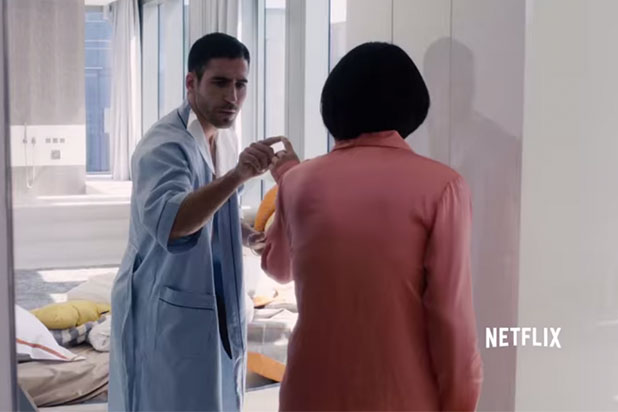 Is "Sense8" Make or Break for the Wachowskis?
After "The Matrix" came out in 1999, there was no hotter duo in Hollywood than the Wachowskis. The siblings were hailed as innovators, visionaries and every other positive adjective you could imagine.

Fast forward 16 years and the siblings are struggling to put together a hit. They have never matched the success of the "Matrix" trilogy, with a string of high-profile flops from "Speed Racer" to "Jupiter Ascending."

Now, with their new Netflix series "Sense8" set to debut June 5, the writing and directing duo are hoping to find success on the small screen. The show, which follows eight people who inexplicably share a psychic connection, has gotten mixed reviews out of the gate.

If the series doesn't connect with audiences, will any company be willing to pay for the siblings' brand of sci-fi and kung-fu indulgence? - Joe Otterson
Will MTV's "Scream" Have Audiences Glued to the Couch, or Make Them Run Away?
"Scream" is arguably one of the most beloved modern franchises, and MTV is bringing it back to life as a TV series. The film has a built-in formula that lends itself to weekly kills and season-long mysteries, but there's a question of whether the original fans of "Scream" have outgrown MTV's youth-skewing sensibilities. Moreover, MTV's own younger audience may not be familiar with the "Scream" franchise.

The show also faces inevitable comparisons to Fox's upcoming new "Scream Queens," which promises to feature the same kind of camp, comedy and horror that made the original "Scream" films so popular. And at this point, Ryan Murphy's latest co-creation seems to have significantly more buzz than MTV's offering. - LG

Also Read: 'Wet Hot American Summer' Netflix Series First Look: Bradley Cooper, Amy Poehler, Paul Rudd Return to Camp (Photos)

Will "Boom!" Blow Up in the U.S. As It Did in Israel?
Reality TV is hard to predict — in the unscripted genre, shows are either a smash or too small to stick around. Rarely is there middle ground, though NBC's "American Ninja Warrior" proved that a midlevel program can exist somewhere between a hit and a miss.

Insiders at Fox aren't really projecting a big number for "Boom!," a competition show in which four-person teams try to defuse fake bombs by answering trivia questions. But then again, the show premieres June 25, in the midst of the low-rated summer season. Plus, few new reality shows are catching on anymore; most of the top dogs are legacy series.

Fox's last import, "Utopia," proved to be a disaster last fall. On the flip side, "MasterChef" was another foreign show that is still working out well for Dana Walden and Gary Newman's network.

To complicate the forecasting, Israeli-imported formats like "Boom!" have had mixed results. Positive examples include "Homeland" and "In Treatment," while "Rising Star" had a fairly rough summer last year on ABC. - TM
Is "Sex & Drugs & Rock & Roll" FX's Next Critical Darling?
Leary's previous FX series, the critically lauded "Rescue Me," helped put FX on the map. But "Sex&Drugs&Rock&Roll" — about a middle-aged would-be rock star who gets the old band back together for one last crack at glory — is a very different show. And the spiky hairstyle that Leary sports as Johnny Rock, the frontman of a group called the Heathens, is a surefire gravitas killer. (Also, his character is named "Johnny Rock.")

But the series, which is set to premiere July 16, will probably at least provide a few laughs. It may not be the next "Fargo," but what goes better with summer than some breezy fare? - Tim Kenneally

Can Fox Crawl Out of the Ratings Basement?
Fox entered the summer in an unfortunate fourth place out of the Big 4 broadcast networks, in terms of both the advertiser-sought 18-49 demo ratings and total viewers — and things may not be looking up as the temperature rises. Last summer, Fox also finished fourth in both main metrics.

On the plus side, Fox isn't bringing back "I Wanna Marry Harry" or "Riot," which both posted impotent Nielsen numbers last summer. And "So You Think You Can Dance?," a solid performer with a rebooted format and buzzy cast additions, returns on Monday.

M. Night Shyamalan's thriller "Wayward Pines" is looking like a potential bright spot, growing in its second week and showing decent numbers in delayed viewing.

But the network's other summer reality plays are looking less promising. "Are You Smarter Than a 5th Grader?" returned with a weak opening, "Bullseye" had a so-so debut, and "Boom!" is not expected to be a ratings firecracker.

In other words, "Empire" cannot come back soon enough. - TM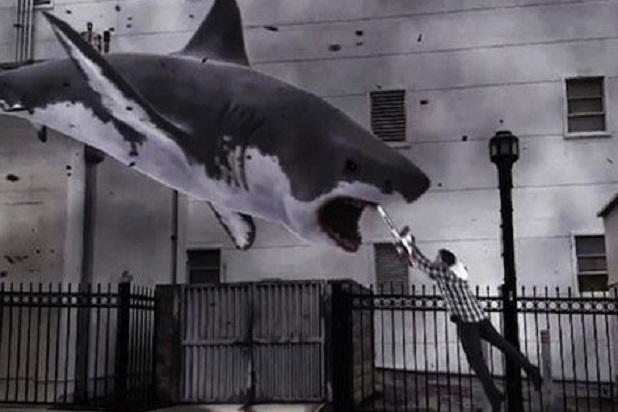 Will "Sharknado 3" Sink or Swim?
The original "Sharknado" was a surprise smash in 2013, and no one was shocked when SyFy's (ridiculous) New York-based sequel scored big last summer. On July 22, "Sharknado 3: Oh Hell No!" should squeeze every drop from the chum-filled well.

Besides the presence of Ian Ziering, chainsaws, and bad CGI, there are a few probabilities for the third installment: The film will be terrible (even David Hasselhoff says so), the ratings will be excellent, and the social-media numbers will be off the charts.

"Sharknado 2: The Second One" scored 3.9 million total viewers in its debut, nearly tripling the original's 1.37 million and setting a record for a Syfy original movie. Online, the camp-fest also took a generated 581,000 Tweets from 180,0000 unique authors on its premiere night.

Expect the third entry to have a similar bite. - TM

Will 'Ballers' Be The Rock's Big Move to Scripted TV?
Dwayne "The Rock" Johnson is a bona fide movie star thanks to "G.I. Joe" and the "Fast and Furious" franchises, not to mention last weekend's "San Andreas. It's a transition that former wrestlers have managed to make — just ask John Cena.

Despite cameos as himself in various reality and scripted shows over the years, he's never had a leading role on a scripted TV show as he does in HBO's new sports-agenting series "Ballers."

Granted, the action hero got his big start on the small screen as Rocky Maivia, then The Rock, in the WWE ring. And there's no longer a taboo for movie stars like Johnson or Matthew McConaughey to do premium cable, particularly for limited-run or anthology series.

But based on the opening weekend haul for "San Andreas," HBO had better be prepared to open its wallet to keep this big fish in its small (screen) pond — or at least keep the episode count down and the material fresh. - TM