The Wrap's Reviews Editor Alonso Duralde joined forces with reviewer Inkoo Kang to reveal their favorite films of the year — from big budget blockbusters to film festival gems that you may have missed.
Alonso Duralde writes: 2015 was just one of those things, just one of those crazy flings: It was the kind of year in which Quentin Tarantino could go through the effort and expense of 70mm just to make a locked-room mystery, Tom McCarthy could make both the best and worst films of his career, and "Mad Max: Fury Road" and "Creed" could make the long-delayed sequel seem like not such a bad idea. Anything was possible, and the year's best movies reflect that kind of crazy unpredictability.
10. "Brooklyn" Turns out they do make them like they used to, or at least director John Crowley and writer Nick Hornby (adapting the novel by Colm Tóibín) do. Saoirse Ronan captures both the terror and the hope of starting over in America in her expressive eyes, and the movie is a nostalgic valentine to the New World and the dreams of opportunity it continues to offer.
9. "Spotlight" Turning journalistic legwork into an engrossing procedural drama is no easy feat — try watching "Truth" for an example of how to do it badly — and this engrossing story of Boston Globe reporters exposing the Catholic Church sex-abuse scandal juggles characters, incidents, names, and places with aplomb, with fury and with compassion.
Also Read: Golden Globes, SAG Award Noms Prove Upstart Indies as Mighty as Studios
8. "Clouds of Sils Maria" Theater and film have long relished in telling the story of aging actresses facing down the challenge of the hungry up-and-comers, but director Olivier Assayas finds a lyrical spin on the material, in no small part thanks to a trio of rich performances by Juliette Binoche, Kristen Stewart and Chloë Grace Moretz.
7. "Ex Machina" Just when we thought M. Night Shyamalan ruined the plot twist forever, along comes the directorial debut of screenwriter Alex Garland, which not only pulls the rug out from under us over and over again (without cheating or making us lose interest) but also has interesting things to say about technology (as embodied by Alicia Vikander's artificially intelligent robot) and mankind's diminishing capacity to control it.
6. "Son of Saul" In a stunning feature debut, director László Nemes understands that the misery and inhumanity of the Holocaust are so vivid that they don't have to be front and center. Even when Nemes keeps his camera focused on actor Géza Röhrig (who's in the frame — and outstanding — for the entire running time), the death and degradation remains devastating.
5. "The Tribe" Another first-timer to watch, writer-director Miroslav Slaboshpitsky takes us into a hellish school for the deaf where a new generation of gangsters and desperate criminals are being molded — and with no subtitles or spoken dialogue, it's up to the actor's faces and Slaboshpitsky's pitiless, rarely moving camera to communicate the horrors that are unfolding.
Also Read: 'Spotlight' Venice Review: Michael Keaton Exposes the Catholic Sex Abuse Conspiracy
4. "Grandma" A career-best performance by Lily Tomlin as an opinionated, irritating, headstrong writer — don't ever call her "feisty" — is just one of the many pleasures of Paul Weitz' L.A. road-trip movie. Among the co-stars that Tomlin encounters over a day of reckoning is Sam Elliott, who demonstrates that he's a great actor even when he's not playing the "Sam Elliott" we've come to know so well on the big screen over the years.
3. "Anomalisa" Director Charlie Kaufman's long-awaited to follow-up to "Synecdoche, New York" is a wistful and darkly funny stop-motion animated feature (co-directed by Duke Johnson) about an arrogant business guru (voiced by David Thewlis) who sees nothing but suffocating sameness in the world until he embarks on an affair with a woman (Jennifer Jason Leigh) who breaks through the monotony.
2. "Carol" The first project directed by Todd Haynes that he didn't also write — Phyllis Nagy adapted Patricia Highsmith's novel "The Price of Salt" — is a perfect period drama fits that right in the director's wheelhouse, from its fascinating female protagonists (played by Cate Blanchett and Rooney Mara) to its themes of sexual rebellion and suffocating societal conformity.
1. "Mad Max: Fury Road" At the age of 70, George Miller brought a new level of adrenaline and sheer exhilaration to the movies. (I almost wrote "action movies," but that seems too limiting.) This new installment in the long-running franchise provided the kind of jolts that reminded us that there are still new thrills to be experienced, and that practical effects — for now, at least — deliver a punch that the computer-generated kind just can't. (Also: Flamethrower guitar. So great.)
11-20 (in alphabetical order): "45 Years"; "The Assassin"; "Best of Enemies"; "Christmas, Again"; "Dior and I"; "Manglehorn"; "The Martian"; "Paddington"; "White God" and "Wild Tales."
Also Read: With 'Mad Max,' National Board of Review Develops a Taste for Muscular Filmmaking
A Second Opinion by Inkoo Kang
Awards season came early this year, at least for me. Half of my best-of-year selections — which, it bears repeating, are really just my favorite films of the past twelve months — were released between May and August. This winter's Oscar hopefuls feel rather paltry in comparison, but I'm glad we're finally spreading out the good stuff throughout the year. There's certainly more than enough wonderful movies to go around.
Without further ado, here are my picks for the 10 best movies of the year:
10. "Infinitely Polar Bear" Mark Ruffalo delivers one of the best performances of his career as a bipolar father taking care of his two young daughters in Maya Forbes' funny, moving and unjustly forgotten gem. As impressive as Ruffalo is, though, the real star of this coming-of-age drama might be Forbes' autobiographical script, which is as compellingly specific as it is wise and thoughtful about class, race, family and parental sacrifice.
9. "Mad Max: Fury Road" George Miller's filmmaking craft and feminist consciousness come together in one of the most pulse-pounding, spooky-looking, emotionally satisfying dystopian blockbusters in years. The fourth "Mad Max" movie is the rare racing flick you can't help admiring for its virtuosic artistry and flair — if you can take your eyes off Charlize Theron's Imperator Furiosa for even a second, that is. All hail our newest action icon!
8. "Appropriate Behavior" I heralded writer-director-star Desiree Akhavan as "a hilarious and essential new voice" back in January, when this early-Woody-Allen-inspired romantic comedy about a bisexual Iranian-American Brooklynite with a broken heart was released. The pronouncement still holds; Akhavan's debut is boldly personal, raunchily accessible, and made me laugh in recognition more than any other movie this year.
Also Read: 'Appropriate Behavior' Review: Desiree Akhavan's Hilarious Comedy Heralds an Essential New Voice
7. "Inside Out" Pixar takes us to someplace we've never seen but have all experienced with its brilliant look inside an 11-year-old's labyrinthine mind. Sure, the animation studio's narrative structure is more than familiar by this point, but Pete Docter's parental farewell to the uncomplicated joy his preteen daughter used to enjoy is wholly original and tender to the point of bruising.
6. "Mommy" Shot in a rare 1:1 (square) ratio, Xavier Dolan's mother-son drama reflects through its constrained frame the constricted life of a working-class matriarch (Anne Dorval) as she attempts to keep her violent and emotionally volatile teenage son (Antoine-Olivier Pilon) from being institutionalized again. Joyful and wrenching and devoid of easy answers, "Mommy" plays with our hopes as skillfully as it does with visual composition.
5. "What We Do in the Shadows" The wittiest movie of the year is also one of the most heartfelt. Jemaine Clement and Taika Waititi's vampire mockumentary takes a tired archetype and a musty genre and makes them as fresh as virgin's blood. Buoyed by clever takes on undead lore and charmingly dorky puns, the film earns its emotional heft through inspired characterizations and centuries of starch-collared melancholy.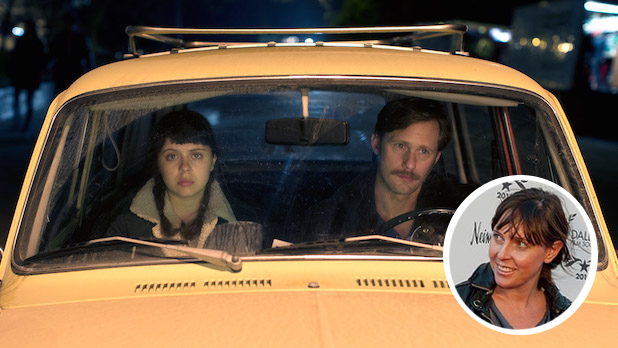 4. "The Diary of a Teenage Girl" Female adolescent horniness has seldom been so sensitively explored as in writer-director Marielle Heller's debut, which finds 15-year-old Minnie (newcomer Bel Powley) starting an affair with her mother's boyfriend. Minnie bounces between the drunken ecstasy and the heartbreaking vulnerability of a girl who knows she's fallen in love with the wrong man, but isn't sure how to rescue herself out of her precarious situation. Racy but innocent, complex but righteous, the big-screen adaptation of Phoebe Glockner's autobiographical graphic novel is as delicate, powerful, curious, and intelligent as Minnie herself.
3. "Spotlight" The 2001 investigation of pedophile priests in the Boston area becomes urgent news once again in Thomas McCarthy's (ahem) other film this year. While many have praised the "Spotlight's" important championing of old-fashioned journalism, I found it most powerful as a damning portrait of how rape culture is allowed to thrive when good men do nothing to protect the most defenseless members of society.
2. "Son of Saul" It was inevitable that László Nemes' Auschwitz drama would be one of the most harrowing films of the year. More noteworthy — and commendable — is the way "Son of Saul" delves into the extreme emotional repression and even the delusional hope necessary for a Sonderkommando (a Jew ordered by the Nazis to carry out the genocide of other Jews) to go on living. Nemes' inventive camerawork says as much as any of the dialogue in his script, while the brutal finale devastates with numbing might. "Son of Saul" is a difficult movie to watch, but also a vital one.
Also Read: 7 Films That Got an Oscars Boost From the Critics Awards -- and 5 That Didn't
1. "Far From the Madding Crowd" There's nothing particularly original or innovative about Thomas Vinterberg's translation of Thomas Hardy's novel for the big screen. And yet it's such an exceptionally moving romance -- and realized with such lush, consummate craftsmanship — that it made for my most pleasurable moviegoing experience of the year. Carey Mulligan finally gets a role she deserves as the commanding Bathsheba — and a vision in burgundy leather — who's much more interested in managing her rural village than in being wooed by noble-minded laborer Gabriel (Matthias Schoenaerts) or her two other suitors. Just try not to swoon as Bathsheba and Gabriel defy social convention and pursue a relationship based on mutual respect and vigor atop a hill as majestic as the steed she loves to hurtle into the sky on. "It is my intention to astonish you all," Bathsheba announces to the world. She does, and she will.
Honorable mentions: "I'll See You in My Dreams," "Breathe," "Miss You Already," "52 Tuesdays," "The Big Short."