Over a year and a half after "Tiger King" enraptured Netflix subscribers quarantining at home, the buzzworthy documentary series is back for a second season. "Tiger King: Murder, Mayhem, and Madness" introduced the world to Joe "Exotic" Maldonado-Passage (né Schreibvogel) and his troubling private zoo in Wynnewood, Oklahoma, ending with Joe in prison for a murder-for-hire plot to kill rival Big Cat advocate Carole Baskin.
The five-episode "Tiger King 2" (which hit Netflix on Wednesday) has very little of the actual Tiger King himself as he's behind bars, and instead focuses on a host of supporting characters from the first season as it attempts to recapture the magic — although it ultimately comes up short. There's very little substance to these five new installments, save for a big reveal in the final moments of the fifth and last episode.
Still, there are a few noteworthy revelations throughout. We've watched the entirety of "Tiger King" Season 2 and have rounded the biggest reveals and surprises below. Buckle up.
1. Allen Glover Says He and Jeff Lowe Lied About the Plot to Kill Carole, Planned to Kill Joe Exotic Instead
The most shocking reveal in "Tiger King 2" comes in the fifth and final episode, in which Allen Glover – the hitman who was supposedly hired by Joe Exotic to kill rival tiger preserve owner Carole Baskin – reveals that he lied, and he and Jeff Lowe were actually planning to murder Joe instead.
Indeed, Lowe and Glover initially aim to team up to get Joe out of prison, admitting they lied about Joe hiring Glover to kill Carole Baskin. The biggest piece of evidence they have is a tape that purportedly involves a federal officer suggesting what he needs to get a conviction, to which Lowe can be heard saying, "I can completely f—ing set him up. I can do this, I can say, 'Where did you get $3,000 to pay Allen to go kill Carole Baskin?'" The man Lowe identifies as a federal officer then says that if Joe did say that, "it would be good information."
Joe Exotic's lawyer, John Phillips, notes that this recording was provided by the prosecution to his client's public defender, but was never featured at trial nor were witnesses cross-examined.
But that's far from the biggest revelation here.
In September 2021, Glover said during a sworn affidavit that he planned to kill Joe Exotic, a plan he says was hatched in coordination with Jeff Lowe, who was a 50% beneficiary on Joe's life insurance. "We came up with a plan to decapitate Joe's head, to kill him, to clear him away from the property so Jeff could take it over, animals and everything," Glover said in the episode. Joe said that Glover and Lowe strung a piece of barbed wire as a trap to take Joe's head off – a plan that is identical to the one supposedly hatched to kill Baskin.
In the episode, Glover takes Phillips to a spot at the Wynnewood compound where the trap was going to be set, and shows him where the wire was hidden, providing potential evidence to support his sworn statement.
Allen admitted in the same affidavit that he never planned to kill Carole Baskin, that he and Lowe set Joe up for conviction.
As the episode (and season) ends, onscreen text reveals that Jeff Lowe declined to comment on Allen's allegations.
2. Joe's Presidential Pardon Team Was Supposed to Have Dinner With Donald Trump Jr. – Then Donald Trump Got COVID
The first episode of "Tiger King 2" largely focuses on the efforts to get Joe Exotic out of prison, with a man named Eric Love heading up what he calls "Team Tiger."
Part of their plan revolved around getting President Donald Trump to issue a presidential pardon, and Love claims that he and Team Tiger were scheduled to meet with Donald Trump Jr. and others about the pardon at a fundraising dinner, but the dinner was abruptly cancelled when Donald Trump tested positive for COVID-19 and was admitted to the hospital.
3. Joe Was Raised in an Abusive Home
The early parts of "Tiger King 2" go back to tell Joe Exotic's "origin story" of sorts, with Joe's brother Yarri Schriebvogel interviewed (despite the fact that he says he hasn't seen his brother in 20 years).
Both Joe and Yarri attest that their father was abusive, claiming that he once put a litter of puppies in a burlap sack and drowned them, "just to mess with us," Yarri said. Joe claimed his father hit him with an irrigation shovel and on another occasion almost drowned his brother.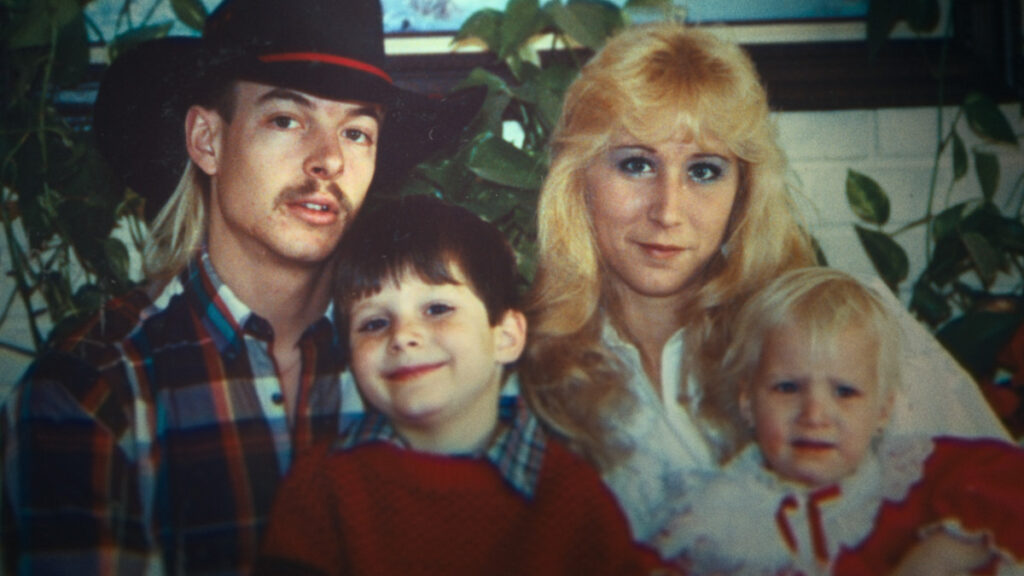 4. Joe's Ex-Husband's Death Was a "Turning Point"
Another key aspect of Joe's "origin story" covered in the first episode is his first marriage to a woman, and subsequent coming out and marriage to a man named Brian. Joe's ex-wife, Kimberly Craft, is interviewed, revealing that the two didn't have sex before marriage because, as his ex-wife put it, Joe was "a gentleman." But she soon discovered he was gay, and Joe officially came out at age 19, later marrying a man named Brian.
Joe's ex-wife and niece both single Brian out as the love of Joe's life, noting their closeness, but Brian got sick with cancer that was exacerbated by the fact that he was HIV positive. Joe was frequently taking Brian to and from the hospital, but on one particular visit Brian died in the parking lot on the way home.
"Brian was his anchor," said Heidi Somers, a boardmember of G.W. Zoo. "Brian was his normal."
The documentary proposes that it was after Brian's death that Joe Exotic became Joe Exotic, the attention-loving, flamboyant, music video-loving character who's the center of "Tiger King." "That is what completely messed him up," Craft said. "Before that, he wasn't the monster he is now."
5. Carole Baskin's Ex, Don Lewis, Is Accused of Moving a Lot of Cash Down to Costa Rica
A federal document cited an individual saying that Don Lewis – the missing ex-husband of Carole Baskin – was alive and living in Costa Rica after Baskin filed a missing persons report, and the second episode of "Tiger King 2" travels to Costa Rica to interview those who knew Lewis.
While those individuals claim they haven't seen Lewis since he disappeared, they say he would fly down to Costa Rica on his private plane carrying hundreds of thousands of dollars (one person claims he was worth $20 million), which he would then have his business associates use to set up shell companies and launder the money. How could Lewis fly without a pilot's license and without being detected? One associate said he favored airports in the jungles, and noted that if you stay below 1,000 feet you don't have to notify air traffic control.
Don's daughters, meanwhile, maintain that Lewis wasn't "dealing with completely illegal things down there" but instead was moving his money out of the United States to get away from Baskin, and to ensure that she wouldn't get his money in the divorce.
6. Don Lewis Accused of Underage Relationships
In the new season's second episode, Don Lewis is implicated in another shocking accusation about his female companionship while in Costa Rica. A man identified as Lewis' chauffeur in Costa Rica alleged that Lewis had a house where girls would be brought to him, and those he liked would stay the night. "He liked them young and beautiful," the man said.
Gionconda Bulgarelli, identified as Lewis' neighbor in Costa Rica, said his house was known as "The Cursed House" because "it always had odd tenants and strange things going on" including many young women.
Another man claiming to be one of Lewis' Costa Rica contacts alleges that Lewis' favorite girl was about 15 years old, noting that he warned Don that if this relationship got out he'd be in danger – a point that the documentary posits as another potential motive for Don's murder. "Don was attracted to Costa Rica because it was a paradise where little girls were sold," the man said.
7. Don Lewis May or May Not Be Alive
A central focus of one "Tiger King 2" episode is investigating Don Lewis' fate, with many claiming that he fled the U.S. to escape federal charges and is very much alive. Yet others close to Lewis emphasize that he wouldn't go 23 years without contacting his daughters, whom he dearly loved.
Despite devoting an entire episode to this ordeal, "Tiger King 2" doesn't offer any substantial evidence to support the claim that Don Lewis is definitively dead or alive. A lot of theories, but few cold hard facts, which is pretty indicative of the season as a whole (there is also a "psychic investigator" who cries and talks about chicken).
"Tiger King 2" is now streaming on Netflix.