Every year offers its standout TV moments — those little points in time that make the couch potatoes of the nation temporarily bolt upright before melding with the cushions again.
With 2013 drawing to a close, TheWrap presents 14 of 2013's small-screen highlights.
Walter White Finally Comes Clean
There was no shortage of memorable moments as "Breaking Bad" wound its way to a close this year, but the scene where Walter White revealed his true motivation to his wife Skyler tied things up in a tidy blue bow.
As White's actions grew so despicable that even his most diehard advocates had trouble justifying his behavior, the former meek chemistry teacher revealed what everyone pretty much suspected: He might have started out in the meth business to ensure his family's financial stability after his death, but it had long ago become a labor of love.
"I did it for me," White told his wife. "I liked it. I was good at it. I was alive."
And somehow, it made him a little bit more human again.
Also read: Best & Worst 2013: Hollywood's Boldest Moves of the Year
Barbara Walters: Liar, Liar?
There's a code among journalists to tell the truth. It's a code that Barbara Walters apparently doesn't feel applies to her. On two occasions, the doyenne of ABC News looked right into a camera and lied her pants off. In March, she denied reports that Elisabeth Hasselbeck was leaving "The View" only to have Hasselbeck announce in July that she accepted a job at Fox News. Then in April, she again denied reports that her retirement was forthcoming. Only a month later, ABC officially began its countdown to her departure. It's probably best that she no longer works as a journalist, because her credibility is shot.
Miley Cyrus Twerks Off a Nation at the VMAs
Say what you want about Miley Cyrus — she knows how to work a crowd. And the media. Sure, her attention-getting methods don't vary that wildly from that of many 21-year-old girls — "Tee-hee, look how naughty I am!" — but when Cyrus worked it in grand scale, morally rigid hands were wrung. Twitter exploded with outrage and titillated glee. Middle-aged men rushed to Wikipedia to check Cyrus' date of birth to determine just how bad they should feel. The word "twerk" was added to the dictionary.
And foam fingers and teddy bears will never be the same again.
"Saturday Night Live," Cold Open: Michelle at the White House
"SNL" has spent a portion of its current season under fire for the overall whiteness of its cast — especially the newly hired players. Impressionist Jay Pharoah started the storm by suggesting that boss Lorne Michaels hire an African-American woman. He was also involved — as President Obama — in the cold open spoof that made fun of the controversy.
When Kerry Washington hosted the sketch comedy show on Nov. 2, she was forced to play Michelle Obama, Oprah and nearly Beyonce — all in the opening skit. The joke, of course, was that while the current cast can support six Matthew McConaugheys, it has no obvious choice to portray a woman of color. The clever, meeting-it-heads-on sketch generated mixed reviews — but earned plenty of buzz.

Also read: Best & Worst 2013: TV's Biggest Winners and Losers of the Year
Lady Sybil Remembered
With all the hullabaloo surrounding Dan Stevens' exit from "Downton Abbey" and the death of his character, Matthew Crawley, many viewers were stunned when the show killed fiery, iconoclastic Lady Sybil (Jessica Brown Findlay). Because many didn't see it coming, that was truly an emotional surprise. Let us take a moment now to mourn her.

"The Office," Michael Scott's Return
Steve Carell swore up and down that he was not returning for the highly anticipated (and perhaps long overdue) finale for NBC's "The Office." He lied to interviewers and even friends, which he later (kind of) apologized for on "The Tonight Show With Jay Leno."
But when the moment came for his Dunder Mifflin protégé Dwight Shrute (Rainn Wilson) to marry colleague Angela (Angela Kinsey), Michael Scott (Carell) was there for his TV best friend. The timing was excellent, the reveal line — "That's what she said" — was perfect, and Carell took an appropriate backseat in the finale, verbalizing just a few lines about his kids being all grown up. We may have cried.
Also read: Best & Worst 2013: 11 of TV's Most Shocking Deaths

Kathy Bates Loses Her Head on "American Horror Story: Coven"
Ryan Murphy delights in loading his FX anthology series with gasp-inducing moments, and this recent entry might be the gasp-iest.
At the end of the episode "The Sacred Taking," Bates' Madame Delphine LaLaurie — who spent much of the season committing atrocities against slaves — gets a taste of her own medicine when her decapitated head is served up to Jessica Lange's Fiona character. Unable to die, LaLaurie gasps for help, but nobody's listening.
This never happened on "Harry's Law."
Frank From "House of Cards" Isn't Gay, Just Ask His College Boyfriend
"House of Cards" took a break from its over-the-top political intrigue for an episode that had Frank (Kevin Spacey) returning to his alma mater and reuniting with old buddies. Over the course of the night as they revisited their old haunts, it was revealed that Frank carried on a gay relationship with one of his friends and it still resonated with them to the present day. It was probably one of the most delicately written, highly open-minded and touching gay storylines we've seen in drama.

Sally Draper's Rude Awakening on "Mad Men"
If 14-year-old Kiernan Shipka hadn't gotten the talk about the birds and the bees before this past season of "Mad Men" (or for that matter, her starring role in Lifetime's upcoming "Flowers in the Attic"), it's a bit too late now. One of the biggest moments in the otherwise sluggish sixth season of "Mad Men" is when Sally Draper – played by Shipka – walks in on father Don schtupping the neighbor. Not only is this scene brilliant for its "Don't go in there!" horror movie setup — but it's also the nail in the coffin of Sally's already fractured relationship with her father. Plus, it made us all empathize with poor Sally. I mean, imagine walking in on your own dad banging his mistress.
Jimmy Kimmel Pranks and Spanks Kanye West
It's no small feat taking down the music industry's greatest blowhard, but Jimmy Kimmel managed to do so with a grand spectacle that stretched over multiple days this fall.
The whole pageant of absurdity began when Kimmel spoofed West's self-aggrandizing interview with the BBC, replacing the rapper and his interviewer with children. West, who has a reputation for being a bit hot-headed on occasion, responded much like one might expect: By launching into a Twitter tirade during which West, among other choice words, castigated Kimmel as a "manipulative media muthafucka."
Days later, the insanity was upped a notch as Kimmel brought West onto his show for an interview that was rich in insane ramblings by West.
The interview also gave Kimmel the opportunity to tell the rapper what most of the world was already thinking: "A lot of people think you're a jerk."
Besides turning out to be a comedic goldmine, the interview yielded ratings riches as well: Preliminary numbers indicated that the "Jimmy Kimmel Live" episode with West was the show's best-rated in the 11:35 p.m. timeslot, which Kimmel moved to in January.
See video: Best & Worst 2013: Alonso Duralde's Top 10 Movie Picks
The "Game of Thrones" Red Wedding
Still feeling a little guilty about that wedding where you got horribly drunk and hit on the bride's mother while her husband was standing next to her? Don't worry; "Game of Thrones" delivered a lesson in perspective this year, with the now infamous "red wedding" episode.
Angered that Robb Stark had broken the marriage pact between House Stark and House Frey, Lord Walder Frey orchestrated a wedding-feast massacre that would ruin anyone's appetite for cake.
The parade of carnage unfolded when the Northern leadership was fired upon by a group of crossbow-wielding assassins — disguised as musicians, no less. And you thought the wedding band you hired was bad.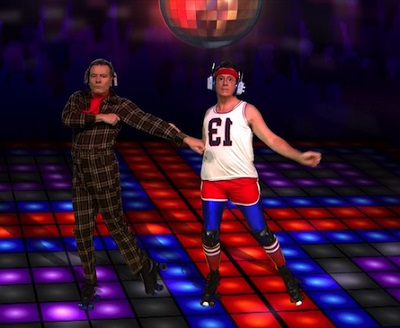 Stephen Colbert Gets Daft Punk'd, Parties Down Anyway
It's Stephen Colbert's party, and he can dance if he wants to. Even if his guests of honor totally bail on him.
After plans for a highly anticipated appearance by French electronica group Daft Punk were dashed due to a scheduling conflict the MTV VMAs, the "Colbert Report" host turned lemons into acid-spiked lemonade with an epic dance party that featured a guest list including Hugh Laurie, Jeff Bridges, Matt Damon, Henry Kissinger and a rollerskating Bryan Cranston.
Bet Daft Punk won't turn down his next invite.
Jon Bernthal Kicks Off "Mob City" by Killing Off Simon Pegg
Don't let the soft ratings fool you, TNT's "Mob City" is as good as Frank Darabont's record suggests ("Shawshank Redemption," "Walking Dead" Season 1, anybody?). And it kicks off with a surprise move by L.A.P.D. detective Joe Teague (Jon Bernthal) that not only sets the stage for the entire series, but what's at stake for Teague, as he decides to walk the dangerous line between right and wrong in the name of love — and accidentally aligns himself with the mob in the process. It's hard to stop watching a show that starts off with such a loud bang, especially when the shot is a sure sign of more twists to come.
"How I Met Your Mother" Introduces the Mother
Yes, it's a moment of anticipation that the series had been milking for eight years, but at the end of the Season 8 finale of "How I Met Your Mother" in May, fans got what they'd been waiting for, when Cristin Milioti stepped onscreen and purchased one ticket to Farhampton.
OK, so there's one mystery solved. Now hurry up and meet her, Ted.