Early in the week, I wrote about how the muted reaction to "Amelia" at its Academy screening last weekend did not bode well for the film's Oscar chances. It's tricky, taking the pulse of a film from one screening in front of one specific group of voters – but since the Academy's members screenings at the Samuel Goldwyn Theater are the one place where films show to a group made up entirely of Oscar voters (plus their guests), reports about the reaction can be instructive.
So if "Amelia" didn't boost its chances at the Goldwyn, what did?
First, a few caveats. I wasn't at any of these screenings, which take place every weekend in the 1,000-seat theater at Academy headquarters on Wilshire Boulevard in Beverly Hills. I'm relying on reports from people who were. I suspect their reactions were unavoidably colored by what they thought of the films in question.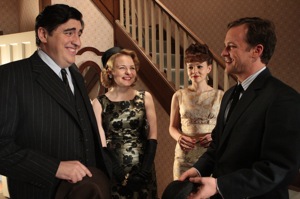 The audience that goes to the Goldwyn on weekends is, for the most part, an older audience. (The exception comes with morning members-and-families screenings of kids' movies.) It is representative not of the entire membership, but of the more conservative elements of the Academy.
It is an appreciative audience, made up of people who know how hard it is to make movies. They applaud when the movie's over, most of them stay until the end of the credits, and they tend to respond positively to just about everything.
That said, I've been hearing that the Academy audiences responded particularly well to a few films lately.
"An Education." It screened last weekend, got a decent-sized crowd (surprisingly so, says a voter who had to be torn away from the Yankee game to attend) – and while accounts of the overall reaction differ, there's no question that the crowd was enormously enthusiastic for star and best-actress contender Carey Mulligan.
But she wasn't the only one who got her props: in fact, a member of the actors branch tells me that in the lobby afterwards, he and a screenwriter came to a conclusion about the film's director, Lone Scherfig. "When you see a terrific picture like that, where every actor in the movie is good," he says, "you have to blame the director."
(Above, left to right: Alfred Molina, Cara Seymour, Carey Mulligan, Peter Sarsgaard in "An Education." Photo by Kerry Brown/Sony Pictures Classics)
"A Serious Man." Is the dark Coen Brothers comedy too Jewish for mainstream audiences to get all the jokes? Maybe. Is it too Jewish for the weekend Academy audience at the Goldwyn? Not a chance. At least that's what one enthusiastic voter told me; another thought the crowd was too small and the response too muted to offer much hope for the Coens' Oscar chances.
"Inglourious Basterds." "It's about Jews kicking ass," laughs a member. "Why wouldn't it play well at the Academy?" Which does not necessarily mean they'll take it seriously enough to put it on their best-picture ballots.
"District 9." Dubbed "a real surprise" by one member, Neill Blomkamp's fresh, inventive sci-fi film matched its strong boxoffice numbers with a solid showing at the Goldwyn. (Blomkamp and star Sharlto Copley will show the film and follow with a Q&A at theWrap Screening Series on Nov. 10.)
"Cloudy with a Chance of Meatballs." Animated-feature prognosticators beware: this one might not have the buzz of other animated contenders, but the AMPAS audience reportedly ate it up.
No best-picture contenders screen at the Goldwyn this weekend (unless you want to take a leap and put "This Is It" in that category), but there are plenty of big ones on the horizon – including, in a couple of weeks, the crucial AMPAS debut for "Precious."