Sarah Desjardins had the enormous good luck — and talent — to land on two of the hottest TV shows in a row: She plays Callie, the daughter of Shauna (Melanie Lynskey), on the hit Showtime series "Yellowjackets," and was also Maddie, the kidnapped daughter of the vice president, on the Netflix thriller "Night Agent."
"Yeah, pinch me. I'm very grateful," said the 28-year-old actress, who can convincingly play 19 or younger. She spoke to TheWrap ahead of "Yellowjackets" Episode 6, which premieres on Showtime streaming Friday and airs Sunday on Showtime.
"It's just so funny how the timing worked out, that I filmed the shows six months apart, but they came out, like, a day apart. You never know how that's gonna pan out, but yeah, it's very awesome," she said.
(This interview contains spoilers for Season 2 of "Yellowjackets" through Episode 5).
Callie has a strained relationship with her mother, but when Shauna admits she killed her ex-lover Adam (Peter Gadiot), the high schooler is surprisingly eager to help make sure her mom doesn't go to jail. She feeds a lie to cops Kevyn Tan (Alex Wyndham) and Matt Saracusa (John Reynolds) that sends them off on the wrong track, at least temporarily. As she told TheWrap, Callie understands Shauna better than her dad, Jeff (Warren Kole) does, because "they're cut from the same cloth."
TheWrap: At the "Yellowjackets" premiere, we were talking about how Shauna would be so proud of Callie. As of Episode 6, Callie's going out on even more of a limb.
Sarah Desjardins: We've only gotten one little taste of when Kevin comes to the house, and then Callie gets her [mom] out of that situation. I'm interested to see what people's opinions of Callie will be after this season because she really does start to help her mom.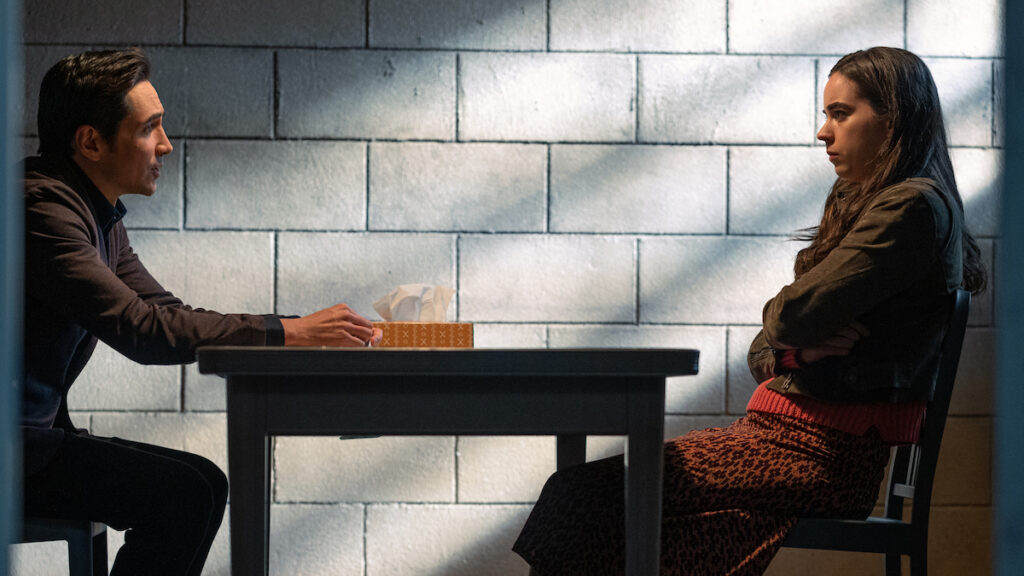 She goes from not understanding her mom and resenting her to being, "Okay, Mom's kind of a badass."

I do think we could say that she has a new respect for her mom, in some ways. She has her differences with her mom, she has her struggles with her mom, but she loves her mom. So in a situation like this, she's gonna be with her, as opposed to against her. Absolutely.
And she probably has some guilt for unwittingly talking to a cop (Matt) about her mom's affair.

Oh, yeah, absolutely. I think [she's asking herself], "What can I do?" I think she won't admit it, but she wants love and affection from her mom. This is a serious situation and decides to help. She does feel guilt. She also just wants that relationship with her mom.
Even though she messes up, she's like, "What can I do to be part of this and help and be included?" As far as the family, because her parents are just doing all these crazy things, she has no idea what's going on, so she feels completely cut off from them.
But in some ways, I feel like she sees her mother more clearly than Jeff does.

Absolutely. Yeah, she absolutely does. That's very true. Because yeah, they're cut from the same cloth.
It's interesting, because your characters on "Yellowjackets" and "The Night Agent" are kind of similar. In both cases, you've got someone who is being lied to and manipulated, ends up in dangerous situations and actually is surprisingly resourceful.
With Maddie and Callie, both, I felt like I know who they are on the surface, but I could see what I could bring to make Callie, especially, not just the typical bratty teenager. I'm so grateful that this year on "Yellowjackets," [the showrunners] gave me that opportunity to flesh her out and show us why she is the way she is and how her parents' decisions are affecting her.
You previously mentioned to me that you're closer to the younger actresses in the 1996 timeline, which makes sense. How do you think Callie would fare in survival mode with the other Yellowjackets?
I feel like she would be in the middle of the pack, but maybe trying to fight for control. A lot of the audience says that Callie reminds them of Jackie and I definitely see that in a lot of ways, like personality-wise. Callie is someone that would [feel] "Anything I can control, I want to control." They're all struggling out there. I feel like she would be doing her best. I don't think by any means she would be doing terribly. I think she'd do pretty well.
Season 1 of "The Night Agent" is now streaming on Netflix. New episodes of "Yellowjackets" are available to stream on Showtime at 12:01 a.m. on Fridays, and then air Sundays at 9 p.m. on Showtime.