(Spoiler alert: The following article discusses the entirety of "You" Season 4, Part 1).
For "You" showrunner Sera Gamble, the core conceit of the thriller-drama's subsequent seasons is ensuring fresh blood: in terms of cast members, sure (usually, when new characters show up, they fall victim to Joe Goldberg's murderous tendencies fairly quickly, likely precipitated via cage entrapment), but more importantly with embarking on fresh ground.
Now in its senior season and across the pond in London, "You" Season 4, Part 1 depicts Penn Badgley's return as the ever-sociopathic, ever-apologetic killer, rebranded as an American émigré teaching at a posh university as Professor Jonathan Moore. In a format switch, the series takes on a whodunit approach — much to Joe's chagrin at being caught in the lowest tier of literature tropes — as the main character finds himself unwittingly embroiled with a new killer targeting an elite group of aristocratic friends, a group rife with socialites, scions and nepo babies.
"Because we're so firmly a single-lead show about Joe, the responsibility is pretty high not to get stale and repeat ourselves," Gamble, who co-developed the show with Greg Berlanti, told TheWrap in an interview. "Fundamentally the question is, 'How can we dig deeper into this character?' And we see all of the different versions of the love story that we put him in, and then all of the different versions of the thriller and the season's whodunit as tools that we're using to vivisect Joe."
We've heard it before: Joe wants to change! He'll never kill again — he promises! Well, unless he absolutely, positively, without-a-doubt has to, for CYA purposes. But this time, as he inevitably tracks down Tati Gabrielle's Marienne, he decides to let her go just to prove what a reformed man he is and how capable he is of treading the untaken path to redemption. As he struggles to be a normal person — i.e. not commit homicide — he contends with dead bodies popping up everywhere, from Kate's (Charlotte Ritchie) Malcolm (Stephen Hagan) on his dining room table to fraudulent artist Simon (Aiden Cheng), sans ear.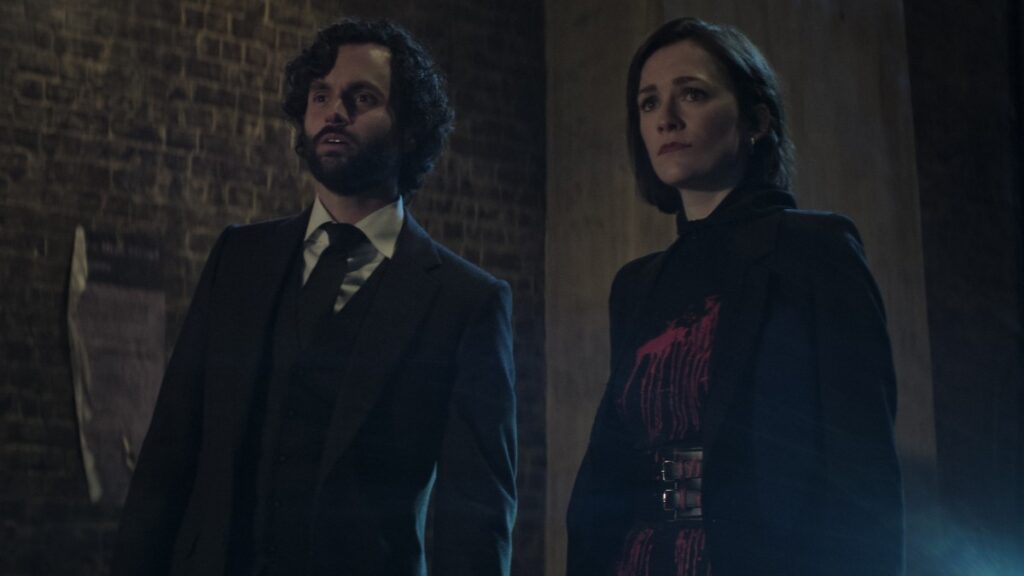 "One thing this show has always done is I think it makes it pretty clear [is that] there's not a lot of good people in it," Badgley, who said he "love[s] the detour" into the whodunit, told TheWrap. "We spend a lot of time learning about the lower nature of most of the characters, and it raises actually really big questions about how you think about love, what do you really believe the capacity of the human being is to change, to love, to grow, to succeed or just to die in some endless cycle of suspicion and greed and lust."
When it came time to craft the season's "you," Gamble said she and Berlanti — both of whom also executive produce and write — were interested in exploring the enemies-to-lovers romantic-comedy trope, which they had previously left untouched in iterations past. EP Sarah Schechter especially pushed for the casting of Ritchie, whom she saw in "Feel Good," Mae Martin's semi-autobiographical dramedy that premiered initially on Channel 4 and later on Netflix.
"She is the complete package," Gamble said, adding that the creatives "moved heaven and earth" to cast her, as she was unavailable at the time. "In working together to shape the role and figure out the timing of when different aspects of her vulnerability would become more apparent — she has so much nuance and such a deep understanding of the difference between how a woman like that presents to the world and then what's going on underneath and what the cost is to her."
Kate, who is the daughter of untouchable billionaire Tom Lockwood, begrudges her privilege, and has worked to distance herself from her upbringing in generational wealth. Guarded, wary to newcomers and hard-working, the steely art curator is initially hell-bent on keeping Jonathan out of her inner circle.
"The story of the guy and the girl who hate each other, [but] by the end of the movie, they realize that they're in love — that was the first thing that we discussed about Kate," Gamble added. "We talked about how when you first meet her, you think we're staring at Peach 2.0 with even more access and resources and maturity and she's sure of herself. So we always had it in mind that the story underneath that he would slowly uncover by stalking the shit out of her, really, was a more vulnerable, and frankly, to Joe more appealing sort. If you're going to be one of the richest people Joe has ever talked to, you should probably feel pretty miserable about it, then Joe will appreciate you more. He will admire that you are conflicted about your privilege."
However, the challenge of the season was also in the idea that while Kate is the new romantic interest, she is also, in most ways, not the installment's main focus: Joe already has his eyes on another "you," the anonymous text corresponder and Eat the Rich killer who is revealed to be none other than mayoral candidate Rhys Montrose (Ed Speleers) at the end of Part 1.
"There was one initial conversation about building the character of Rhys as unusually a guy Joe would want to be friends with and what characteristics Joe would admire and what kind of flaws would we see in his character but also excuse or admire the way that he takes accountability for them," Gamble explained, which sets the character apart from other male counterparts Joe has interacted with (and, for the most part, killed).
Indeed, Rhys is more akin to Season 3's Love (Victoria Pedretti), who is able to match Joe's psychosis and thirst for fatal solutions to spiraling problems.
"The reason Love was so exciting was because she was a genuine adversary, and it's the only time he's really had that," Badgley said. "And so with Rhys, we were able to have it again and with a man which I think is also quite refreshing. And then of course, it stands as this allegory for male intimacy and just how that is a problem the world is grappling with. In a way, because everything is from Joe's perspective, those characters are always a reflection of him."
Part 1 concludes on a chilling note, with Rhys officially announcing his bid for mayor. As for how the character will be brought to justice — as in, possibly murdered by Joe — yet remains to be explored, as does Joe's love affair with Kate and his stature as a supposedly upstanding member of the community.
Part 2 — consisting of episodes 6 through 10 — will premiere on March 9, with all Part 1 episodes now streaming on Netflix.