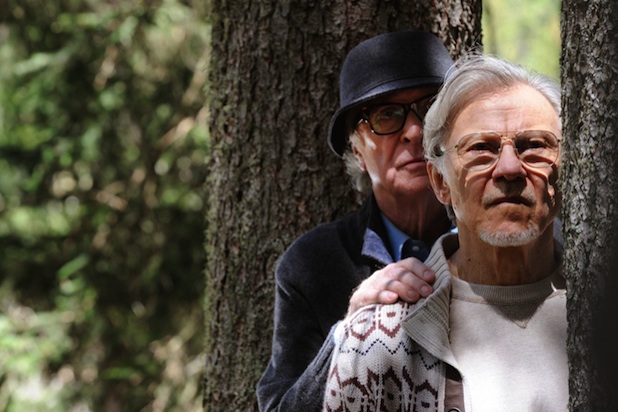 Paolo Sorrentino has just delivered the most compelling film out of everything I've seen thus far at Cannes, with the possible exception of "Carol." When the film finally came to an end, the audience sat in stunned silence until at last the screen went totally dark. After that, there was an even number of "bravos" and "boos" as audience members slowly left the Grand Theatre Lumiere.
Why did the film divide the house so sharply? Probably because the film is both daring and traditional, realistic and absurd.
"Youth" is a melancholy look at aging and love. It tells its story with epic sweep, even though it takes place in a singular location – a spa in the hills of Switzerland. The canvas is the interiors of the actors who move through their emotional ups and downs while the camera catches them in their best and worst moments.
A tall, leggy, busty woman fills the frame as she struts towards the horizon. That image is juxtaposed with an old woman sitting in a spa, or an overweight man hitting a tennis ball high in the air with just his foot. "Youth" exists somewhere between the surreal Italian film school of Federico Fellini, which Sorrentino also explored with the Oscar winner "The Great Beauty," and the romantic one of Bertolucci.
See photos: The Scene at Cannes 2015: Red Carpet Premieres and Beyond (Photos)
Michael Caine plays a composer who is best friends with a legendary film director played by Harvey Keitel. They are ruminating on life, love, sex, aging and youth as they encounter various characters who join them at the hotel — particularly in Caine's case his daughter, Rachel Weisz, and in Keitel's case its the film writers he has along to help finish his latest movie.
The relationship between Weisz and Caine is surprising and moving, both in terms of how deep these actors go with each other and what the characters learn about themselves during the film. She has two jobs, she says, being his daughter and being his assistant. All the while she's heartbroken that her mother is not with them. Caine spends the whole movie obsessed with sounds, inventing his own music by twisting a piece of plastic wrap, or listening to cowbells and birds.
Also read: Cannes Wrap Cover Story: Isabelle Huppert Surveys Her Career, Her Life and Her Beloved Festival
Every shot is a thing of beauty. For most of this film I had the impulse to hoist my camera and take a snapshot of it. It is just one dizzying image after another.
Films like this hardly get made anymore. Probably American directors couldn't get a movie like this made. Actors certainly don't get chances like this to deliver fully realized performances. "Birdman's" indictment of Hollywood is nothing compared to what gets said about it in "Youth" — the good, the bad and the ugly, but mostly the ugly.
Both Caine and Keitel give career-best performances. One or the other is headed for the Best Actor race. Jane Fonda has a powerhouse few minutes on screen that could earn her an Oscar nomination as well. With Fox Searchlight in the driver's seat, expect this film – catnip for Academy voters – to be represented in all of the major categories, and perhaps become a frontrunner to win.
Also read: 'Carol's' Cate Blanchett, Rooney Mara and Todd Haynes Talk Women's Rights and Secret Love
This is a film of big ideas of the human experience, certainly among the most profound. "Why are people so afraid of human touch?" is one of the questions. "Is love meant to last?" is another. It's about show business, creativity, inspiration but mostly about the eternal conflict of aging and being young.
We've got so much power of attraction when we're young, but we learn everything by the time we're old. The film is emphatic about its realization that we're living things until we aren't. It doesn't matter if we're important or insignificant — this universal truth remains.
See exclusive stories and pictorials from TheWrap Magazine: Cannes Edition: