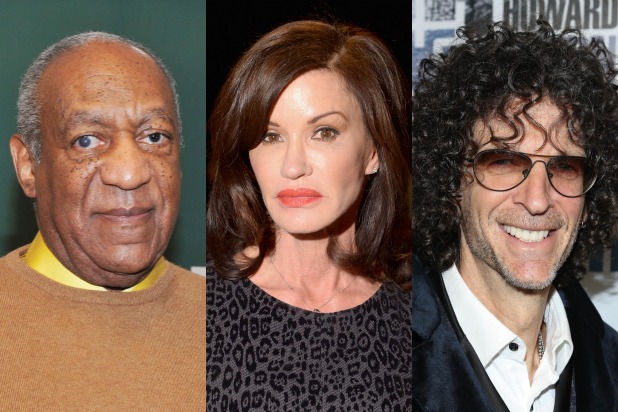 "This does support her claim that she was raped by Bill Cosby," Stern says on his show Wednesday
Janice Dickinson spoke about allegedly being raped by Bill Cosby long before officially coming forward Tuesday with the accusations against the comedian. The former "America's Next Top Model" judge insinuated to being wronged by Cosby in a 2006 interview with Howard Stern.

Also read: Bill Cosby's Comedy Bit About Drugging Females Sets Howard Stern Off: 'I Never Found This Guy Funny' (Audio)
Stern began his radio show Wednesday morning with audio tape of that interview in which Dickinson was asked about her relationship with Cosby.
"Bill Cosby was the only guy I couldn't write about in the book because Harper Collins was afraid of a lawsuit," Dickinson says in the tape. "I don't want to get near that because I don't have the shekels that you do or that Cosby does. The guy's a bad guy, let me just say that. He's not a nice guy. He preys on women who've just come out of rehab, I'll say that."
"Now, this is 2006, OK, there was no agenda," Stern said of the tape on Wednesday. "And this does support her claim that she was raped by Bill Cosby."
Also read: Netflix Pulls Bill Cosby Comedy Special
Dickinson appeared on "Entertainment Tonight" Tuesday, accusing Cosby of raping her in 1982. She claims Cosby asked her to come to Lake Tahoe, where he was performing and that he suggested opportunities for her to work with him. Dickinson says Cosby then gave her wine and a pill that caused her to pass out. However, she says she does have some memory of being raped by Cosby.
"Before I woke up in the morning, the last thing I remember was Bill Cosby in a patchwork robe, dropping his robe and getting on top of me," Dickinson said during her "ET" appearance.

Also read: Whoopi Goldberg Skeptical of Bill Cosby Accuser: 'Don't You Do a Kit' After Getting Raped?
Dickinson also claims that Cosby's lawyers pressured her to remove details of the alleged rape after she submitted a draft to her publisher. Cosby's attorney Marty Singer denies those claims, however, and in a letter to TheWrap, Singer said: "Neither Mr. Cosby or any of his attorneys were ever told by Harper Collins that Ms. Dickinson had supposedly planned to write that he had sexually assaulted her, and neither Mr. Cosby or any of his representatives ever communication [sic] with the publisher about any alleged rape or sexual assault about the book."
Dickinson is the latest in a growing list of women who assert the comedian similarly drugged and sexually assaulted them. Cosby was asked during a recent National Public Radio interview about these allegations but he refused to answer any questions, choosing instead to remain silent and shake his head.

Also read: Bill Cosby Accuser Pens Op-Ed: Why Did No One Believe He Raped Me the First Time
"If this is true, what a despicable man," Stern said of the charges against Cosby. "It's not like Bill Cosby can't get women. He enjoys drugging them and raping them."
Listen to audio of Janice Dickinson on "The Howard Stern Show" in 2006
Also read: Thanksgiving Viewing Guide: 17 Shows, Movies and Specials to Feast Your Eyes On