A version of this story about "All Quiet on the Western Front" first appeared in the Down to the Wire issue of TheWrap's awards magazine.
The first German-language adaptation of Erich Maria Remarque's classic anti-war novel about World War I, "All Quiet on the Western Front" is second only to "Everything Everywhere All at Once" and tied with "The Banshees of Inisherin" for the most Oscar nominations, nine. Among non-English films, only 2000's "Crouching Tiger, Hidden Dragon" and 2018's "Roma" have ever received more nominations, and the six below-the-line noms for "All Quiet" tie it with "Crouching Tiger" for the most ever for a film not in English.
In addition to its Best Picture and Best International Feature Film nominations, the Netflix release has received noms for cinematography, makeup and hairstyling, original score, production design, sound, visual effects and adapted screenplay. At the EE British Academy Film Awards on Feb. 19, where it was nominated in 14 categories and won seven, its wins included screenplay, score, cinematography and sound in addition to film not in the English language, director and picture.
"I'm very happy about the Best Picture nomination, which is the crown on all these nominations," producer Malte Grunert said. "But it's really how many of our fantastic heads of departments and crew have been nominated and their work recognized that just gives me so much joy."
For Berger, the time since the September premiere of "All Quiet" at the Toronto Film Festival has been divided between doing press and campaign events for that movie and filming the Papal drama "Conclave" with Ralph Fiennes and Stanley Tucci at Cinecittà Studios in Rome. "It's wonderful how bit by bit this movie has had a very healthy journey," he said.  "It didn't explode and burn right away or have too many expectations. People just watched it and liked it. And from screening to screening, from festival to festival, from interviewer to interviewer, it just seemed to gather more interest and more followers.  
"And seeing everyone in our very tightly-knit crew included in the appreciation is just overwhelming. Whenever I now travel for the movie, all my friends and colleagues are with me. It's like a class trip, you know? And we go, 'Together again. How did this happen?'"
It happened, he conceded, after a lengthy process of planning that began when Grunert brought Berger an English-language script by Lesley Paterson and Ian Stokell. "When I read the script, I thought, this is a film that that should be made," Grunert said. "It should be made as a German language film, and it should be made based on a script that moves slightly closer back to the novel."
Berger worked on a revised script, and then began the intense work of figuring out how to make an epic-scale World War I movie. "James (Friend, the cinematographer) and I did the storyboards, locked in a hotel room for months and months," he said. "And in preproduction, we had our weekly head-of-department meetings, but also daily meetings about the battle sequences. Basically, we created a big grid with storyboard images, and we had columns for production design, makeup, VFX, stunts, all these things.
"And we had Zoom meetings where we said, 'For this shot, we want this much smoke, we want these bullet hits, we want this tank going from here to there.' And each department raised their hand and said, 'Well, in order to achieve that, I need to do this.' Like, 'We've got to fortify the trench that the tank goes over, because otherwise it will collapse.' Little by little, we honed down what each department had to deliver for each shot."
TheWrap talked to four of Berger and Grunert's key collaborators — visual effects supervisor Frank Petzold, sound mixer Markus Stemler, makeup artist Heike Merker and composer Volker Bertelmann — to detail the particular challenges of "All Quiet." 
VISUAL EFFECTS
Often, it's hard to tell where the filming leaves off and the visual effects take over.
FRANK PETZOLD That was sort of dictated by the book. You have to stay true to the book. You can't do another visual-effects spectacle, which every VFX artist wants to do. If you tell a VFX artist to work on a war movie, they all lick their fingers. But for us, it was bigger, in a sense. We had to support the story and really make sure that we don't distract from the actors and you can feel the soul of the story. That was challenging, because you usually want to crank it up, but we had to make sure that everything was absolutely correct, not only historically, but also visually.  
What were the keys to making it work visually?
It had to look seamless and organic, which was tricky. But all of the smoke and fog was our friend. It can be difficult to blend stuff if you don't have straight lines, but we could also use the burning black smoke to connect scenes. Sometimes you don't know where the soldiers in the scene are, because they're running in thick fog and smoke with explosions going off and you don't know where they are. It's a little bit claustrophobic, but you could use it to connect things or to give you a sense of direction.
Did you have a VFX team on the set?
I was on the set, and I had a small team of visual-effects data wranglers that basically take care of recording camera positions and lenses and all that stuff while I'm with the director and DOP setting up the shot. And depending on what we were shooting, I sometimes had a scanning crew to scan stuff and start a reference of shooting elements. That's something I usually do because you don't want to be surprised by the footage. You want to know that the shot can be done the way you envision it.
What were the biggest challenges for your team?
It was certainly the three battles. They're very long shots, not the typical fast editing pace. So you have to worry about tracking shots that are 45 seconds long. And then putting together all the different techniques we used: collecting elements on set or in front of a green screen, doing particle simulations in the computer, and then, strangely enough, rotoscoping. That was a big, big issue, because everybody was almost always blurred. And then getting it done in time, as usual.
SOUND
When you first read the script, what were the things that made you think, "OK, we've got to figure out how to do this"?
MARKUS STEMLER We immediately knew that there would be tons of very interesting sounds to capture at the set. They had this huge set, that battlefield that the production designer created, and then there were tons of extras and lots of historic firearms. Those are sonic treasures for us that we definitely wanted to record. Now, with the COVID problem we wouldn't be able to go to the set, so we got in touch with the production sound mixer, Viktor Prasil, and he really turned out to be the, the most ambitious and enthusiastic sound mixer you could imagine. He was totally up for recording everything.
Do you really know what the weapons and equipment from more than 100 years ago sounded like?
To be honest, we don't. There are hardly any sonic reference recordings of the time. So we don't know if the movie is 100% precise. But in general, the way we approached the sound of the film, it was not about being a 100% historically accurate. The thing that mattered the most to us was diving into the emotional reality of the characters. How did it sound to them? Because when you're, when you're driven by emotion, when you're in the state of fear or when you are in shock, that affects how you hear things. So that was the main focus for us, to always match the soundscape to the emotional state that that Paul would be in.
Did you use any unusual techniques to get the sound of World War I?
Well, the sound of the tanks was a bit of a challenge. We thought, "How could we make them interesting or create the psychological impact that they would have on the soldiers?" They needed to be threatening and the engines alone wouldn't do it. What scared the soldiers was their metal shielding, where the bullets would just tickle them, really. So for that aspect, we tried to add a lot of metal impacts. And our Foley team, they are always very creative. They created these roaring, singing metal elements by having toy cars running over a large sheet of metal that I think came from an air conditioning system. It's a bit funny if you think about it, using toy cars to create the sound of the tanks. But it's all about the impression that you create and not about how you create it.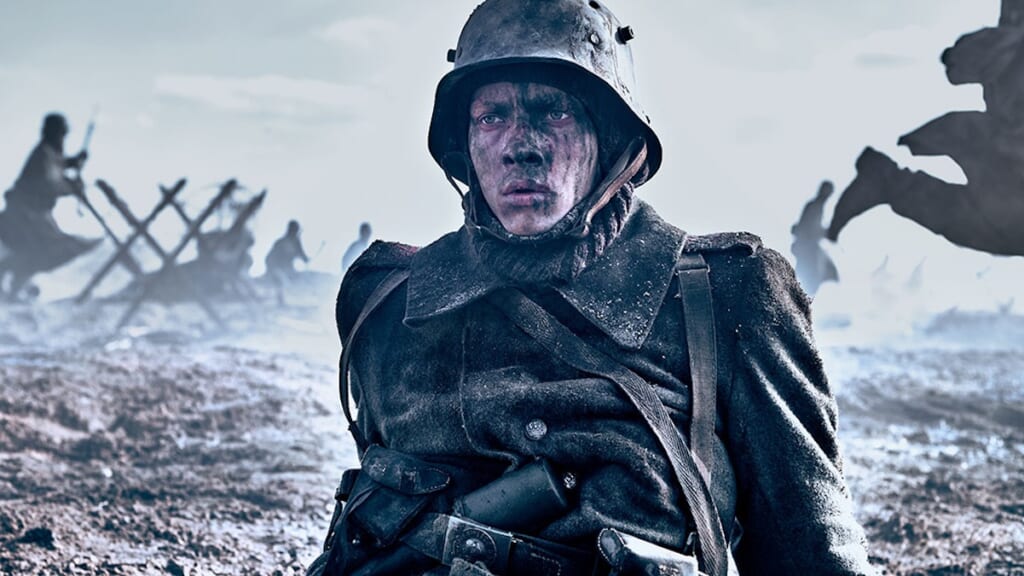 MAKEUP AND HAIRSTYLING
Obviously, "All Quiet" was a huge undertaking. What were the problems you had to work out right away in the makeup?
HEIKE MERKER It wasn't the number of people. It was finding the right tone for each character, and how to progress them from the beginning to end. It was very clear from the beginning that dirt was definitely a makeup tool here. And playing around with that was wonderful. The mud on the set was not mud we could use, so we had to make our own mud according to the color palette of the art and costume departments. And then I added different color ranges and different consistencies. We had a huge collection of different types of mud, all made out of makeup, pigments, powers and stuff that we could play around with.
Edward has said that he felt sorry for the crew members who had to slog through the mud on the set. I assume your team was part of that.
Yeah, of course. What you see in front of the camera ride was also behind it. We are all in the same boat, in the trenches and in the battlefield, and there was mud for all of us. And the sets were difficult because you couldn't step on the battlefield, because then your footprint would be there in the mud. You had to keep a continuity of dirt and mud, but without messing up the ground around the actors. Every day was a challenge in itself.
You made the movie under COVID protocols, but the makeup department has to be up close and personal with the actors. Were there particular problems for you?
In the beginning, in pre-production, the COVID department said, "Oh, by the way, every actor and also the background (extras), they have to wear a mask after every take." (Laughs) And I was like, "No, that can't be. How can we do that? We can't have the actors wearing masks, because half the makeup will come off inside the mask. And you'll have rubber bands around their ears that will leave a mark." So they found shields, but those also didn't work for the actors because it was cold and they fogged up and it was dangerous walking. At one point I think we just got rid of it, and nobody said anything anymore. But the background had to keep the masks on all the time until the end of the movie. That was challenging, I have to say.   
MUSIC
Volker, when we did a screening a couple of months ago, I said, "Your music scared the hell out of me" and the audience applauded. You must have known going in that one of the goals would be to write music that was dark and foreboding and a little scary.
VOLKER BERTELMANN Absolutely. But when you talk about dark and foreboding, it can easily get into an area where it's detached suddenly from the movie, because it's maybe too much horror or too heavy in a way that it doesn't fit the picture. So it actually needs a very balanced way of creating horror. I think the horror in this case is not only the sound itself in the beginning, it's also the surprise of how it comes in and the gaps between the times it comes back. You never know. "Oh, is it coming now? No, it's not coming. Oh, yes, now it's coming." The surprise in that makes it pretty scary.
Did you worry if three notes would be enough for a theme?
Of course you always think, is that enough? I mean, you never know. And sometimes it's not me that is saying what's the best for the film. But in this case, I was pretty sure that these three notes are enough.  I had a four-note motif at some point, and then I cut one note off because I felt that in these three notes, you have a conclusion. It's finished somehow.
Read more from the Down to the Wire issue here..