From reboots to streaming, the division faces some big challenges — and opportunities
While famous speedster The Flash can manipulate time within the pages of his comics, the DC production banner responsible for the film and TV adaptations of the brand's iconic characters appears trapped in a time loop. With the exit of Walter Hamada, who has led DC Films since 2018, and the imminent arrival of filmmaker James Gunn and producer Peter Safran, the new-look DC Studios now enters its third major restructure in the last decade.
Yet again, the outfit finds itself in a time of uncertain transition. However, there is hope that Gunn and Safran can maximize the value of the company's enviable war chest of blockbuster properties moving forward and finally rival Disney's Marvel in the onscreen comic-book adaptation field.
Become a member to read more.
"This is something that the brand definitely needs," Paul Dergarabedian, senior media analyst at Comscore, said of the new leadership team. "It's always been about having a cohesive and consistent message and point of view from a creative and marketing standpoint. DC hasn't always had that consistency, but the potential for the DC characters has always been off the charts."
And industry insiders suggest a couple paths forward for the new team as they take the reins.
Make a plan and stick with it
First, Gunn and Safran will need to decide which, if any, elements of the existing DCEU should continue (sequels for "Shazam!" and "Aquaman" are both due next year), how the company will proceed with titles that may fall outside the shared continuity, and how to approach the TV side of this sprawling empire. Most importantly, they need to be allowed to experiment to properly develop longer term strategies.
"What Marvel does well is they have a plan and they stick with it," the development exec said. "Some stuff doesn't work and that's OK. If they gave up on 'Thor' after 'The Dark World,' we wouldn't have gotten 'Ragnarok,' which is one of the best Marvel films."
And they will also have to beg the patience of Warner Bros. Discovery CEO David Zaslav, whose desire to find DC's equivalent to longtime Marvel Studios head Kevin Feige is the epitome of a task that's easier said than done.
For now, he's backing the creative experience of Gunn, who became a marquee mainstream filmmaker with Marvel's "Guardians of the Galaxy" franchise and delivered DC's critically acclaimed "The Suicide Squad" and its HBO Max spinoff "Peacemaker," and the commercial background of Safran, who has produced several successful DC films such as "Aquaman" and "Shazam" as well as Warner Bros.' "Conjuring" franchise.
And they in turn will have some time to ramp up their own projects while overseeing a couple years' worth of content from the previous regime — including several films that touted how they would reset the DC universe going forward.
Dwayne Johnson's "Black Adam," released last week, included the return of Henry Cavill as Superman and sparked uncertainty about various Superman projects in development. Meanwhile, "The Flash" was expected to partially reset DC's shared cinematic universe — assuming that the studio can overcome the marketing challenges that have arisen from star Ezra Miller and their troubling off-set behavior. 
The instinct may be to chart their own brand-new path, but insiders urge caution. "They actually have to give things time to work. People are so quick to throw things out," a development executive who does not work in the comic-book realm said.
Don't force the shared universe
In the last four years, standalone or self-contained films have worked best for DC.
Todd Phillips' 2019 hit "Joker" became the highest-grossing R-rated film of all time, with more than $1 billion at the worldwide box office and an awards success with 11 Oscar nominations. (A sequel featuring Lady Gaga is set to begin production next month.) Last spring's "The Batman" earned $771 million while eliciting strong reviews. Neither takes place within the core DC Extended Universe. Both films reached peak audience demand levels that put them among the top 0.2% of all films in both the U.S. and worldwide since their respective debuts, according to Parrot Analytics' data, ranking ahead of the other DC films released since 2018.
2018's "Aquaman," DC's highest-grossing film ever at $1.1 billion, also plays far more as a standalone film than it does as an interconnected universe entry despite the character's introduction in two previous Justice League films. The hero's adventure is largely self-contained with no outside cameos from fellow Justice Leaguers.
"I like the idea of unfettered freedom to defy the quantum mechanics of cinema and jump all over the map in terms of themes, characters, timelines – whatever it is," Dergarabedian said. "Of course, you have to actually execute well on that. The fans are always watching and they are very plugged in and well-versed."
DC should continue developing titles that exist outside of the DCEU, empowering filmmakers to construct unique genre expansions with the safety net of superhero IP branding. Love it or hate it, "Joker" was a psychological character study masquerading as a comic book movie. DC characters and storylines can trend into mature territory and embracing the darker nature of DC with a keen sense of humor can be one key to success rather than chasing the trends of the competition or trying to please everyone in order to mitigate risk. With Gunn's irreverent style and affinity for outsider characters, championing unique and undervalued DC assets shouldn't be a problem.
At the same time, the studio can continue telling stories within the shared franchise that don't necessarily rely on stringent crossovers or in-universe plot requirements (Gunn's 2021 DC film "The Suicide Squad" was a quasi sequel-and-reboot of 2016's "Suicide Squad," which had a bigger budget, a starrier cast led by Will Smith and Jared Leto as well as a softer PG-13 rating). That approach leaves the door open for lucrative crossovers, while not forcing a film to meet restrictive world-building requirements.
Tapping Gunn and Safran is a "smart move," according to a film producer with a primary focus in the action genre, and provides DC with the "singular creative vision" that the division has been lacking. "The MCU has Feige and 'Star Wars' has [Jon] Favreau and [Dave] Filoni. DC has had different warring factions."
Don't neglect streaming
In August, Zaslav said there's little "economic case" for "expensive direct-to-streaming movies." The desire to invest in projects that generate tangible revenue is understandable, even prudent in most instances. But there is absolutely market value for films with a streaming component, which makes the permanent shelving of an already-completed $90 million "Batgirl" spinoff for a tax write-off of roughly $20 million all the more head-scratching.
Streaming is often additive, not oppositional, to theatrical releases. It enables studios to ping-pong popular characters and story elements between mediums, creating a two-way funnel of user interest. (Lucasfilm's use of Disney+ to build out the "Star Wars" franchise is a great example of how that can work). At a certain budget level, arguably well under the "Batgirl" sticker price, producing titles with a streaming component makes sense.
Warner has already learned that lesson with "Wonder Woman 1984" (2020) and "The Suicide Squad" (2021), two DC films that received a day-and-date in release and on streaming in the U.S. due to pandemic theater closures and a desire to drive subscriber growth on HBO Max. Both films actually maintained exceptional U.S. audience demand that put them in the top 2.7% of all film titles, according to Parrot data.
Marvel is now using its Special Presentation banner on Disney+ for strategic one-offs such as "Werewolf by Night" and Gunn's own upcoming "Guardians of the Galaxy" holiday special. Again, at the right budget level, these make sense as opportunities to cover new ground within well worn franchises.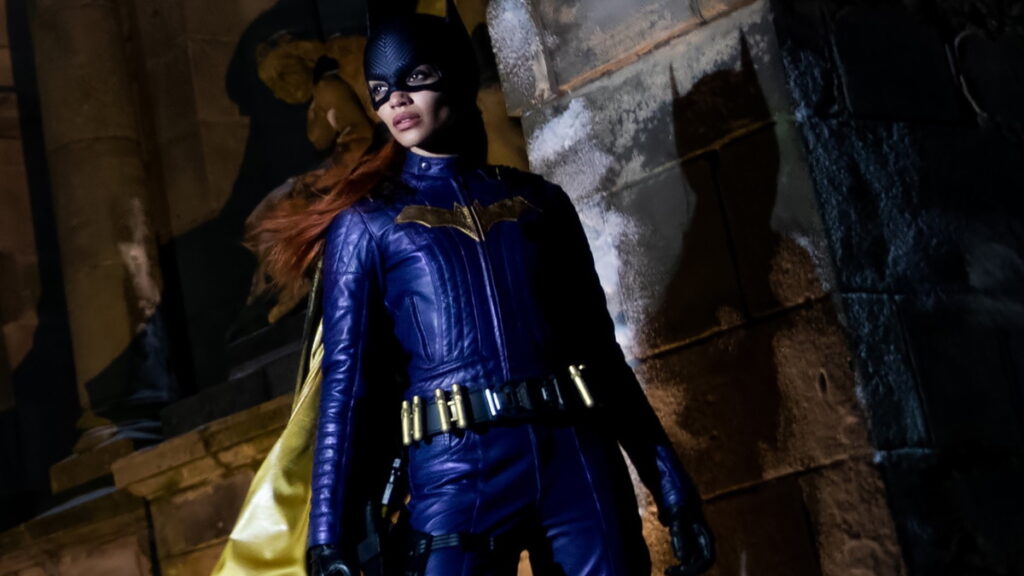 This approach could also extend to TV series, which allow DC to produce a steady flow of high-quality content to keep the DC brand front of mind for consumers when they're not at cinemas. For the last decade, a half dozen DC series aired on The CW in a crossover-friendly "Arrowverse" that has dwindled to just two shows — "The Flash" and "Superman & Lois" — whose future is currently in doubt since The CW was recently sold to budget-conscious Nexstar (which has signaled a desire to scale back on pricey scripted series).
But Warner Bros. Discovery may be less interested in pursuing a dual DC strategy that embraces the big and small screens — though HBO Max recently dropped Gunn's "Suicide Squad" spinoff "Peacemaker."
"For Zaslav, DC is a theatrical story," a former HBO Max executive said. "We will enjoy 'Peacemaker' again, but I expect DC to be very focused on theatrical releases and playing a marginal role on the Max side."
Gunn and Safran are well positioned to succeed, but as they untangle the intricate web of projects they've inherited while spinning their own new threads, patience will be needed as they formulate a multi-platform strategy. Despite Zaslav and former Disney Studios chairman turned Warner Bros. consultant Alan Horn's reverence for Feige and the Marvel model, it would behoove the company bosses to judge DC on its own merits as it enters this new phase.
"The DC brand is very different from Marvel," Dergarabedian said. "Comparing them is like comparing The Beatles and The Rolling Stones. Both are rock n' roll, but come at it from a very different point of view."