It'll be good rockin' tonight at HBO Max this awards season, as the streaming platform is ready to unleash lots of Elvis Presley as the Oscars approach. On Wednesday, March 1, they'll be dropping Baz Luhrmann's "Elvis," two documentaries, two concert films and three of Elvis' movies on the streaming site for a two-week period. Those two weeks begin on the eve of final Oscar voting and run through the Academy Awards show itself, where "Elvis" is nominated in eight categories, including Best Picture and Best Actor for Austin Butler.
In honor of those eight nominations – and to give voters a boost if they're considering the film, Butler, cinematography Mandy Walker, production and costume designer Catherine Martin or any other "Elvis" nominees – HBO Max has chosen eight different Elvis Presley projects, from movies featuring him to documentaries and a feature about him. Those eight projects together comprise what the service has dubbed the Elvis Presley Collection.
"Having spent years researching Elvis's life and his life's work, I then had the privilege of telling his remarkable story on the big screen, along with my wonderful crafts teams, Tom Hanks and the phenomenal Austin Butler, who truly brought this rebel to life," Luhrmann said in a release announcing the two-week Elvis-a-thon. "That's why it's really exciting to see HBO Max embracing all that Elvis Presley had to offer, and in turn offering that to its subscribers. Whether you love Elvis the global music icon and incomparable stage performer, or Elvis the actor who attempted to take Hollywood by storm — or if you want to learn what a deeply spiritual, private and complex man he really was — they've made it available all in one place."
Here are the details on what will appear on HBO Max.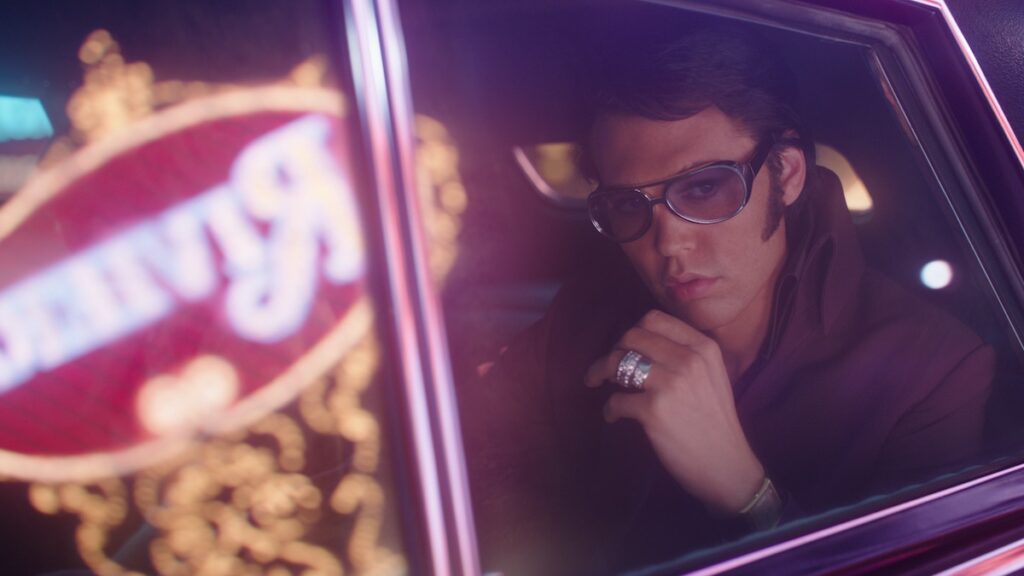 "Elvis"
"I always thought, if you're going to do a movie about a music icon, go big," Luhrmann said when he first spoke to TheWrap about Elvis. And the film does indeed go big, even though the writer-director started with the idea of Elvis as canvas or Elvis as metaphor before realizing that the man was pretty interesting too – particularly when played by an actor as obsessive as Butler, who immersed himself in all things Elvis for years.
In TheWrap's review of the film at the 2022 Cannes Film Festival, I wrote, "The film is part spirited homage to a titanic force in American music, delivered with the brio and extravagance of Lurhmann riffs like 'Moulin Rouge!' and 'Romeo + Juliet'; part sad cautionary tale of a quick rise and a long, slow decline; and part showcase for Austin Butler, who takes an impossible role and does a terrific job even though he, like everyone else on the planet, doesn't really look like Elvis."
"Just a Boy From Tupelo: Bringing Elvis to the Big Screen"
This 30-minute feature about the making of "Elvis" is partly an extended EPK looking behind the scenes at Luhrmann's film, but it also plays as much like a tribute to Elvis as a look at the making of the movie. As it moves chronologically through the events of the film – from Elvis discovering gospel and blues to the 1968 "comeback" special to the Las Vegas shows and the long, slow decline that followed – Luhrmann keeps repeating how impossible it is for us to realize how strange, how revolutionary and how dangerous the singer was in his time.
Naturally, "Just a Boy From Tupelo" also spends a lot of time on the boy from Herons Creek in New South Wales, Australia. Speaking of Luhrmann, costar Tom Hanks says, "At first I thought, 'Is he gonna drive us all insane?' And then I realized, 'Yes, he is, and it's going to be wonderful.'"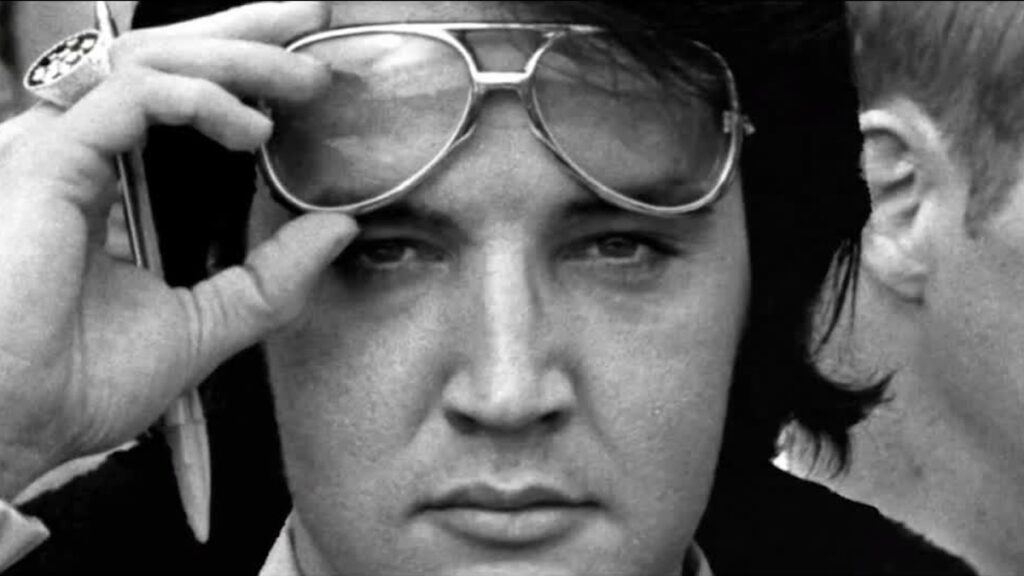 "Elvis Presley: The Searcher"
This two-part 2017 documentary was directed by Thom Zimny ("Springsteen on Broadway") and produced by Jon Landau, with a mission statement that they said was provided unknowingly by one of their final interview subjects, the late Tom Petty. "(Elvis) had no road map and he forged a path of what to do and what not to do," Petty says in the film. "And we shouldn't make the mistake of writing off a great artist because of all the clatter that came later. We should dwell in what he did that was so beautiful and everlasting, which was that great, great music."
"The Searcher" hits the biographical details, including the sad ones, but its focus is on Elvis as a musical force. Priscilla Presley provides a constant voice throughout the four hours, which come pretty close to getting viewers to agree with what former rock critic-turned-rock manager Landau told TheWrap: "I believe he was a genius from start to finish, even when he was recording the soundtrack to 'Clambake.'"
"Elvis: That's the Way It Is"
The first nonfiction Elvis film was shot around a series of Las Vegas shows in 1970, not long after his triumphant return to live performing in that city in 1969. The white jumpsuits are there for the six shows filmed for this movie, but the bloated Elvis of the later Vegas years is nowhere in sight – this is a lean, athletic and playful performer who runs through a hits-heavy show that is a fascinating mixture of the perfunctory ("Hound Dog," "Love Me Tender") and the committed ("You've Lost that Lovin' Feelin'," "I Can't Stop Loving You").    
When it was initially released, the film mixed in rehearsal footage and testimony from fans – but a new edit in 2001 eliminated the fan chats, added additional scenes from L.A. and Vegas rehearsals and refashioned the documentary into 30 minutes of fun setup and an hour of performance by a star who's still trying to figure out how he wants his shows to look and feel. (He still hadn't hit upon his ritual of passing out scarves to the women in the audience; back in 1970, he walked around the room kissing them.)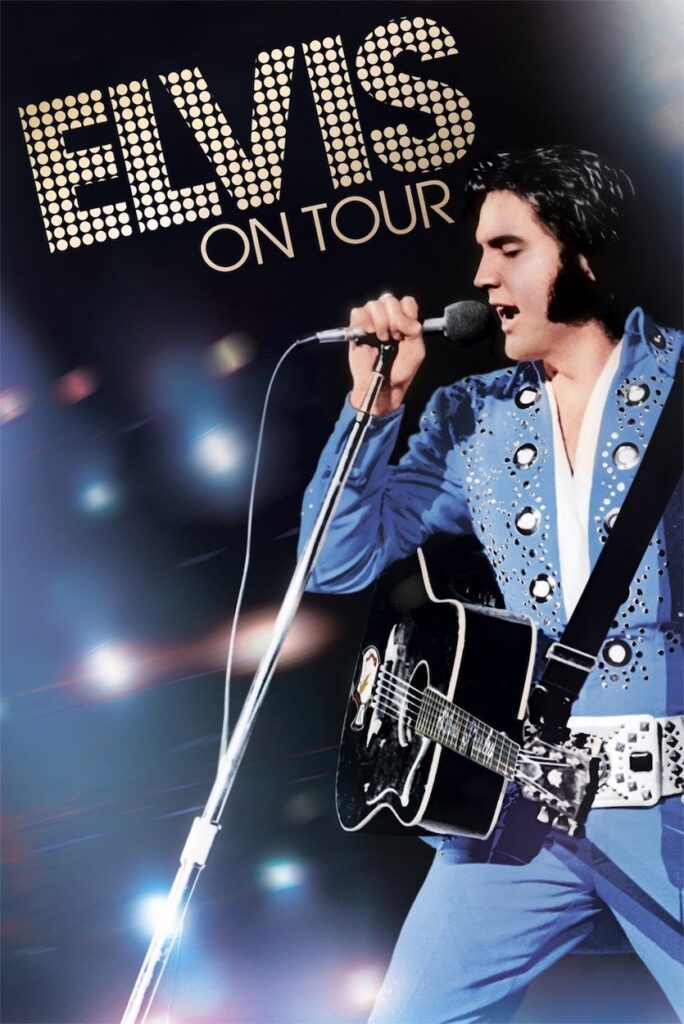 "Elvis on Tour"
This documentary follows Elvis on a short 1972 tour, with much of its running time devoted to performances not of Elvis hits but of rock songs of relatively recent vintage, including "Polk Salad Annie," "Proud Mary," "Never Been to Spain" and "Bridge Over Troubled Water." The King's new hit, "Burning Love," makes an appearance, along with some of the lovelorn ballads that he'd increasingly turn to after his marriage to Priscilla ended. Even this early in his Vegas period, Elvis was beginning to look a bit heavy (he'd slim down for the "Aloha From Hawaii" show the following year), but most of the performances are passionate, as are the backstage gospel singalongs.  
Bonus: Directors Pierre Adidge and Robert Abel made copious use of split screens to capture Elvis in concert, and to oversee their montage sequences they brought in a young filmmaker, Martin Scorsese, who'd just released his second film, "Boxcar Bertha," and was a year away from releasing "Mean Streets."
"Jailhouse Rock"
The 1957 musical drama "Jailhouse Rock" was Elvis' third film and one of the most famous and best of his 31 movies. Apart from giving him one of his signature songs and signature sequences with the title track, the film found Elvis singing gems like "(You're So Square) Baby I Don't Care" and "Treat Me Nice," which along with "Jailhouse Rock" and others were written in one four-hour session by the legendary rock 'n' roll songwriting team of Jerry Lieber and Mike Stoller. Meanwhile, the ballad "Young and Beautiful," written by Aaron Schroeder and Abner Silver, shows Elvis' sensitive side in a movie that mostly finds him working a surly Brando-esque persona.  
The movie was directed by Hollywood vet Richard Thorpe – who, trivia fans might know, was the original director of "The Wizard of Oz" before he was fired after two weeks.
"It Happened at the World's Fair"
By 1963, the Elvis movies were being cranked out on an assembly line that didn't allow for much variation from the formula of a singing, romancing Elvis. Norman Taurog, who won the fourth-ever Best Director Oscar for "Skippy" in 1931, made nine of those films, with "It Happened at the World's Fair" coming two years after he'd pretty much set the Elvis movie template with "Blue Hawaii."
The movie is passable (better than that by Elvis movie standards), with a few things to look for. Singer-actress Joan O'Brien plays Elvis' love interest, a nurse named Diane Warren – no relation to the Oscar-nominated songwriter who was just a kid at the time. A preteen Kurt Russell made his film debut as a kid who kicks Elvis in the shins, 16 years before he'd play Elvis in a TV movie. "One Broken Heart for Sale" is the best song and is pretty good, while "Relax," which Elvis sings during an attempted seduction of future TV Batgirl Yvonne Craig, seemed like fun at the time but now might be a bit creepy.  
"Viva Las Vegas"
Singing race car driver Lucky Jackson falls in love with Vegas swimming instructor Rusty Martin, who initially wants nothing to do with him! Sure it's formulaic, but that doesn't matter when you have Elvis and Ann-Margret, the only leading lady who could stand up to him for sheer dynamism. (Apologies to Nancy Sinatra, Shelly Fabares and Mary Tyler Moore.) Obviously you have to grade the Elvis movies on a curve, but this 1964 highlight is wildly entertaining, and probably the last really good movie the guy ever made. (Plus if you look closely, you can spot Teri Garr as a showgirl.)
Director George Sidney said the script was written in 11 days, but this is an Elvis movie (like many) that works because of the songs and the moves, not the words. The title track is a classic, of course, but "C'mon Everybody" and the supercharged version of Ray Charles' "What'd I Say" are among the best musical sequences in any Elvis movie – even if Elvis' manager, Col. Tom Parker, complained that Ann-Margret got too much screen time.