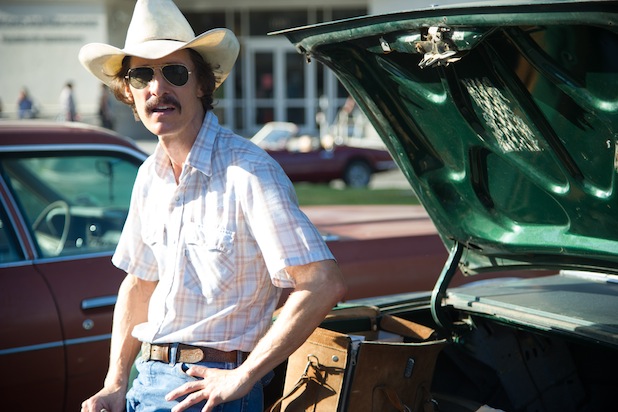 Matthew McConaughey may have become a star as a leading man in major-studio films like "A Time to Kill" and "The Wedding Planner," but in the last few years the laid-back Texan has reinvented and revived his career with a string of sparkling performances in low-budget indies: Richard Linklater's "Bernie," Steven Soderbergh's "Magic Mike," William Friedkin's "Killer Joe," Jeff Nichols' "Mud" and now Jean-Marc Vallee's "Dallas Buyers Club," which has made McConaughey a strong favorite to land a Best Actor nomination.
The film features McConaughey as Ron Woodroof, a bigoted and homophobic electrician from Texas who contracted HIV from drug use and became an unlikely savior for the gay community he disdained when he began smuggling unapproved drugs from Mexico to help treat his own illness (and make some money to boot).
Also read: 'Dallas Buyers Club' Review: Matthew McConaughey Is the Only Reason to See It — But That's Enough
The movie, one of the last to be released by Focus Features under the stewardship of the recently-ousted James Schamus,  is sharp, energetic and rough around the edges, with a skeletal McConaughey – who lost almost 40 pounds to play Woodruff – making a thoroughly unlikable but somehow understandable anti-hero.
You've had a great run in indies the last couple of years. Did you consciously decide to go for smaller films and not chase the studio-film, leading-man roles?
A lot of the leading man stuff that I was interested in, I wasn't on that list to come to. And look, the more interesting characters are in independent films. They never get placated, they never get their edges sanded off. They never get brought back to the center, which is where a lot of studio pictures are coming from. There's an insulation that keeps those pictures in a PG, all-access zone.
And for the amount of money a studio picture costs, I understand why they're doing it. There's not enough money in indies, so they go, "Hey, y'all gonna make it, we trust you. It's a five million dollar movie – go make it." There's a great freedom in that.
For this movie, there wasn't enough money in it that we had people over our backs going, "Wait a minute, he needs to get with Eve [Jennifer Garner's character], and he needs to cry on page 84 and say, 'I'm sorry for calling you a fag.'"
But it must have been a tough sell – I mean, the script has been around for about 20 years.
Yeah. That one liner – period piece, HIV drama – was as far as many studios read before they said, "No, thank you."
See video: Matthew McConaughey, Jared Leto Are HIV Drug Dealers In 'Dallas Buyers Club' Trailer
Even when we thought we had the money, I remember about a week before we started shooting getting a call from Jean-Marc saying, "We don't have the financing to get this made, but I'll be there on day one if you will." And I was like, "I'm f—ing there, man."
We went down to New Orleans, and then that last bit of financing … I don't know how it happened, but we got the money and it was like a wave kinda caught us from behind, and we made it.
Why keep pushing when everybody said no?
It's an amazing story, and it was original. It was from a heterosexual's point of view, and he never raises the flag and says, "Everyone follow me!"
Early on, we said, "Just show who this guy was." He's a bastard, son of a bitch, homophobe, bigot with a seventh-grade education, a two-bit electrician cowboy who gets the HIV and becomes a scientist. Stay with that. Stick with him wanting to make money.
Stick with him being the businessman, and the crusader will emerge. Stick with him being the bastard with crazy conspiracy theories and blasphemous sadistic humor, and the humanity will emerge.
What made you think Jean-Marc Vallee was the right guy to make it?
As soon as Jean-Marc and I started talking, my trust level with him started rising. 'Cause the ideas that he was getting were sticking with the anarchy, and not going for the safe place. That was the first signal for me: OK, this guy's wanting to press on the anarchy, he's not dipping into the sentiment.
Any examples of how he embraced the anarchy?
The scene in the bar where Ron goes, "Who's the girl?" and then they go and screw in the bathroom – Jean-Marc came up with that the morning we shot it. In real life, Ron had a group of girls, and they all partied, and they all had HIV. That's a very human thing, but I didn't know how the hell we could show that.
I remember Jean-Marc going, "I don't think it's too far. It's far, but man…" The fact that he would come up with something like that was a sign that this was so the right guy. He came up with that in the morning, we shot it five minutes later, it took 30 minutes and we were done. And you see what that scene does to the movie. Is it tragic? She's got full-blown AIDS, and they're screwin'. Can you go there? And then you cut back out to the group, and you hear 'em in the background, so you've got humor.
Also read: The New Focus Features: FilmDistrict With a Different Name
I loved the human way that it dealt with things. See, there's a lot of truth in humor. And I think it helped with the humanity of dealing with somebody going through a really horrific situation.
People in this movie are cantankerous and pissed off, but there's not a lot of self-pity.
Yeah. It's an independent AIDS drama – it could be the one where you go to the theater and you say, "It's probably the one I should see, but maybe next time." It sounds like if it's done well, it will at least be good medicine. Entertaining? Probably not. But at least good medicine.
But this is raucously entertaining. I mean, talk about how much rock 'n' roll can you put in an AIDS drama, this is it. I think we got away with making a movie that's good medicine that also tastes good. And that's hard.
You're playing a guy who really existed, but most of the audience has no idea what he looked or sounded like. How much responsibility did you feel to get the details right?
Well, I've done a couple other biographies before. One where I felt a heavy responsibility to emulate that person. The other one, I didn't at all. Didn't want to meet the person, didn't want to see anything, just wanted to talk to my director, who knew him well, and let him be the muse.
"Bernie?"
Yeah. This one, there was enough of an identity already on the page, whether it was a fictionalized character or not, that I was like, "I want to go find out everything I can about the guy." 'Cause I was already flyin' with what's on the page, so I wasn't fearful of that being quelled.
I went and met his family, and got an amazing amount of tapes, which were great. And when I got his diary, that was a big breakthrough. The diary gave me the monologue, his monologue, so I could have the dialogue.
That's helped me with acting overall now – if you know a guy's monologue, you can have a dialogue.