TV news networks are dispersing top talent and resources for the midterm elections Tuesday night.
From broadcast to cable to digital, here's how the top networks will cover this year's midterm elections.
See photos: President Barack Obama Speaks at DreamWorks (Photos)
ABC
George Stephanopoulos will anchor from 7 p.m.-2 a.m. ET online. At 10 p.m. ET and 10 p.m. PT, he will host the ABC broadcast and also provide live updates at 7 p.m., 8 p.m., 9 p.m., 11 p.m., and midnight ET as polls close in various states. Stephanopoulos will be joined by Diane Sawyer, "World News Tonight" anchor David Muir, White House chief correspondent Jonathan Karl, chief global affairs correspondent Martha Raddatz, "Nightline" anchor Dan Harris and Fusion anchor Alicia Menendez. Also on hand will be ABC contributors Matthew Dowd, Donna Brazile, David Plouffe, William Kristol and "The View" co-host Nicolle Wallace.
Bloomberg
On Bloomberg, Mark Halperin and John Heilemann will lead coverage starting at 7 p.m. ET, joined by analysts Kim Alfano, Bill Burton, Lanhee Chen, Fred Davis, Patti Solis Doyle, Anita Dunn, Michael Feldman, John Sununu, Bloomberg View's Al Hunt and J. Ann Selzer.
Also read:  Hillary Clinton's Hollywood Fundraiser Raises $2.1 Million for Democratic Midterms
CBS
Scott Pelley and "CBS This Morning" co-host Norah O'Donnell will lead the network's coverage with updates at 7 p.m, 8 p.m. and 9 p.m. ET. At 10 p.m. ET, the duo will anchor a special one-hour broadcast on CBS which will be livestreamed on CBSNews.com. Joining Pelley and O'Donnell will be "Face the Nation" host Bob Schieffer, "CBS This Morning" co-hosts Charlie Rose and Gayle King, and other CBS personalities.
CNN
Wolf Blitzer and Anderson Cooper will host "Election Night in America" beginning at 5 p.m. ET. "The Lead" anchor Jake Tapper and "Inside Politics" host John King — with his usual "Magic Wall" — will join Cooper and Blitzer. The network will have a wide slew of analysts including Gloria Borger and David Gergen, CNN correspondents Dana Bash and "State of the Union" host Candy Crowley, Michael Smerconish, Paul Begala, Jay Carney, S.E. Cupp, Stephanie Cutter, Newt Gingrich, Van Jones, Kevin Madden, and Ana Navarro.
CNN will also be in an empire state of mind — literally. Somehow, the network has taken control over the Empire State Building for the night, which will be used to show Senate results. A vertical LED-illuminated "meter" at the top of the building will indicate whether the winner is a Democrat or Republican, using either red or blue.
See video: Jon Stewart Slams Democrats for Obama-Based 'POTUS-Partum Depression' 
Comedy Central
For comedic relief, Comedy Central has you covered with Jon Stewart and Stephen Colbert. The duo will host live specials back-to-back. First, Stewart hosts "Democalypse 2014: America Remembers It Forgot to Vote" at 11 p.m. ET. At 11:30 p.m., Colbert hosts his final election special at Comedy Central, simply titled, "Midterms '014: Detour to Gridlock: An Exciting Thing That I Am Totally Interested In — Wait! Don't Change The Channel. Look At This Video Of A Duckling Following A Cat Dressed Like A Shark Riding A Roomba! '014!"
Also read:  Shocking Study! Democrats Willing to Spend More Money Than Republicans
Fox News
Fox News will turn to "Special Report" anchor Bret Baier and "The Kelly File" anchor Megyn Kelly to lead coverage. The duo will begin "America's Election HQ" at 6 p.m. ET. Joining them will be senior political analyst Brit Hume, "Fox News Sunday" host Chris Wallace, "The Five" co-hosts Bob Beckel and Dana Perino, and contributors Stephen Hayes, Charles Krauthammer, Kirsten Powers, Karl Rove, Joe Trippi, George Will and Juan Williams. On Foxnews.com, "The Strategy Room" will air from 9 p.m. to 11 p.m. ET, featuring "spirited discussions" and a casual format.
Also read:  MSNBC and BermanBraun Launch Blog on 'The Celebrity Side of Politics'
MSNBC
Rachel Maddow and Chris Matthew will helm MSNBC's coverage beginning at 6 p.m. ET under the title "Vote 2014!" The MSNBC hosts will be joined by "Up" host Steve Kornacki, "Meet the Press" moderator Chuck Todd, "The Daily Rundown" host Jose Diaz-Balart, "All In" host Chris Hayes, chief foreign affairs correspondent Andrea Mitchell, "Politics Nation" host Al Sharpton, "News Nation" anchor Tamron Hall, and political correspondent Kasie Hunt. At 10p.m. ET, "The Cycle" co-hosts Ari Melber and Krystal Ball will host "Digital Decision 2014" on MSNBC.com with live reports and viewer interaction.
Also read:  Politico Editor Rachel Smolkin Jumps to CNN as Executive Editor, Politics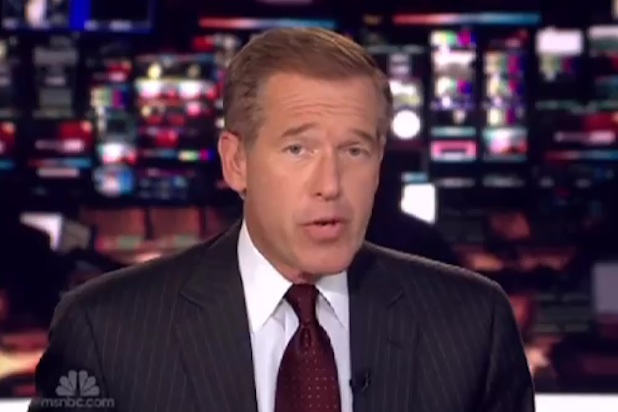 NBC
Brian Williams will anchor two live primetime hours on NBC at 10 p.m. ET and at 10 p.m. PT, while NBCNews.com will livestream the network coverage on both coasts. After the broadcast coverage, it will move online for a live digital-exclusive program through midnight ET. Williams will be joined in New York by "Meet the Press" moderator Chuck Todd, chief foreign affairs correspondent Andrea Mitchell, "Today" co-host Tamron Hall, special correspondent Tom Brokaw, and "Morning Joe" host Joe Scarborough.