Is it unfair to describe a movie as grand entertainment when it deals with drug addiction, alcoholism, suicide and the buried secrets that tear families apart?
It's not when you're dealing with "August: Osage County," John Wells' screen adaptation of Tracy Letts' Pulitzer-winning play about the stupendously dysfunctional Weston family of Pawhuska, Oklahoma, which had its world premiere on Monday night at the Toronto International Film Festival.
With Meryl Streep, Julia Roberts and crew taking bad words and abusive behavior to extremes, the film proved to be one of the festival's biggest crowd-pleasers; not only did the audience at the huge Roy Thomson Hall laugh uproariously throughout the movie, they broke into applause at the end of particularly delicious lines, including a pair of show-stopping speeches from Chris Cooper.
Also read: 'August: Osage County' Trailer: Meryl Streep, Julia Roberts and Family Dysfunction — Are You Watching, Oscar?
You could certainly argue that putting the audience in the mood to laugh and then detonating some of the script's explosive revelations shortchanges the emotional drama and high stakes that should be at the heart of the story, which deals with the death of family patriarch Beverly Weston (Sam Shepard) and the pitched battles between his widow Violet (Streep) and her three daughters, played by Roberts, Juliette Lewis and Julianne Nicholson.
Roberts might have the most screen time, but Streep towers over the entire film, with the most indelible character, the best lines and the grandest performance. Despite early murmurs that the Weinstein Company might be looking to position Streep in the supporting category and go with Roberts for Best Actress, this is Streep's movie, and it's hard to imagine many voters accepting her as a supporting player.
Category placement aside, "August: Osage County" is all about the performances, the lines and the arguments that reach operatic levels of hysteria. And with the untoppable Streep in charge, it's difficult for a viewer not to go along for the ride even if they're a little uneasy (as I was) about the fact that the broad comedy sometimes swamps everything in its wake.
But few people at TIFF appeared to have those quibbles. Instead, the audience was with the film from start to finish. Streep and Shepard weren't on hand for the festivities, but Roberts, Cooper, Nicholson, Lewis, Dermot Mulroney, Ewan McGregor and Abigail Breslin were.
And Wells admitted that his cast was an uncomfortably formidable one in his introductory remarks. "The most frightening day of my entire life was the day we did the read-through, and I looked down the table at this group of people," he said. "I thought of my high-school drama professor, and thought, 'I was actually more talented than you thought I was, or I wouldn't be here.'"
Also read: Toronto: 5 Lessons We've Learned From the Festival So Far
While "August" was an expected display of powerhouse acting chops, it followed an unexpected delight that premiered earlier in the day and showcased two exceptional performances of its own.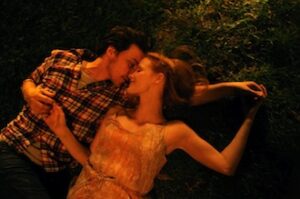 "The Disappearance of Eleanor Rigby: Him and Her" comes from first-time director Ned Benson, is more than three hours long and is in Toronto looking for distribution. It stars Jessica Chastain and James McAvoy as a married couple trying to cope in the aftermath of a family tragedy, and it tells the story twice, in two separate movies that run back-to-back; one is from his point of view and one from hers, and the order in which they are shown varies from screening to screening.
Variations on the gimmick has been used before, but never with this kind of impact. (Remember the 1991 comedy "He Said, She Said?" I didn't think so.)
While "Eleanor Rigby" came to Toronto less heralded than many other TIFF titles, to me it provided the most profound emotional experience of the festival so far. Writer-director Benson has made a beautiful and shattering portrait of a relationship, with stunning performances from Chastain as a woman trying to rebuild herself and McAvoy as a man groping to understand why things are falling apart.
Also read: 'Pacific Rim' Director on Alfonso Cuaron's 'Gravity': 'It's Mind-Boggling' (Exclusive)
The two films include some of the same scenes, shot differently with a few changes in the lines to reflect a different point of view; together they tell the whole tale, with the viewing experience growing richer and more resonant as the story unfolds.
The result is a lovely, haunting and ultimately hopeful film, and one that will require an adventurous distributor and careful nurturing. But distributors like that are in town, and "Eleanor Rigby" is too good to overlook.
"This is the first time any of us have seen it, and we're all very nervous," Chastain told TheWrap before the Monday afternoon screening. Three hours later, she took the stage and tried vainly to hold back the tears after seeing what Benson had done – while Ciaran Hinds, who plays McAvoy's father, admitted, "I'm a little emotionally unhinged right now."
So was much of the audience.