There's never been a better time to launch a film studio from scratch.
The challenge, of course, will be securing untold billions via a corporate parent hot for the content game – and let's face it, there are enough of those around (Amazon, Google … construction magnates, for crying out loud … everybody).
But finding capable, available Hollywood executives?
That'd be easy.
Almost too easy, after a bruising several months of firings, exits and "mutual partings."
To demonstrate just how much talent is out there, TheWrap set out to staff an entire "fantasy" major with nothing but spare parts.
The result is REDEMPTION STUDIOS — a full-service major film (and television, and digital) studio made up entirely of recent Hollywood castaways who definitely deserve another shot.
Frankly, we think this org chart could be the most formidable in Hollywood.
Oh — and for the record — we're officially thrilled.
(**See "press release" below image**)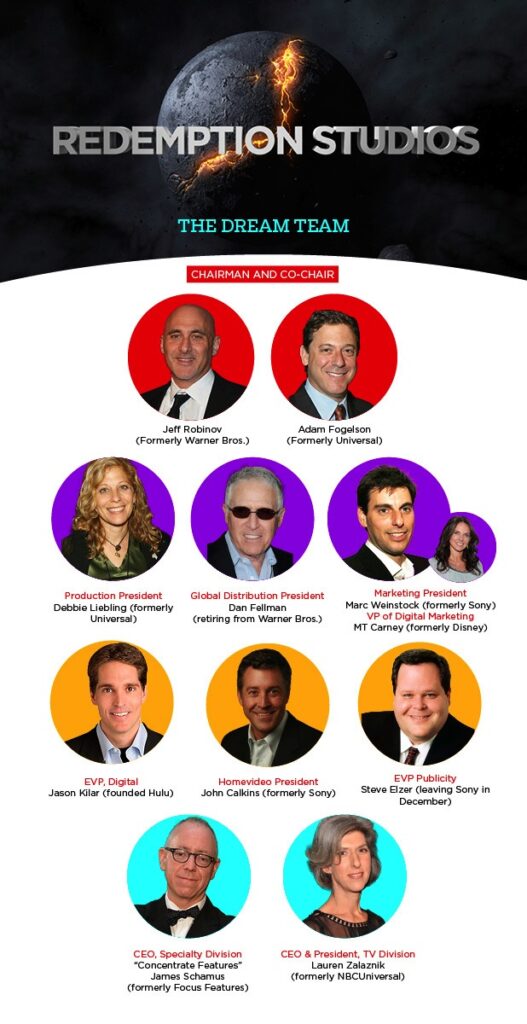 FOR IMMEDIATE RELEASE: THEWRAP LAUNCHES FAKE ENTERTAINMENT VENTURE 'REDEMPTION STUDIOS'
***
Digital news org had unlimited budget, carte-blanched authority to hire any available executive
***
Despite no-poaching rule, this studio owns
***
CHAIRMAN       &       CO-CHAIR
Jeff Robinov        Adam Fogelson
Convincing this prickly pair to work side-by-side wasn't easy, but power and paychecks prevail. And their skills mesh: Robinov focuses on development and production, Fogelson's in charge of talent relationships and marketing. Robinov gets the clean chairman title for his years of experience at big bad Warner Bros.; Fogelson was on fire when he left Universal, but gets his turn wearing the "Co-."
PRESIDENT OF MARKETING       &       VP OF DIGITAL MARKETING
Marc Weinstock                               MT Carney
Weinstock was bounced from Sony in September after a poor summer, but he didn't greenlight "White House Down" or "After Earth" — the eskimoes just weren't buying that ice. One condition of the steady veteran's hire: That he take on MT Carney, the onetime Hollywood outsider who Disney threw to the wolves, as digital marketing head. Carney's bruises will have healed, and we like her social-media chops. Other candidates: Terry Curtin (Relativity), Anne Globe (DreamWorks Animation).
PRODUCTION PRESIDENT
Debbie Liebling
Appointed by Universal in December 2009, Liebling was shown the door less than 18 months later, squeezed by overlapping duties and personality clashes that left her with not enough to do. REDEMPTION STUDIOS needs her comedy chops from "Borat" and "Dodgeball" at Fox and her tenure at Comedy Central. Major challenge: Overcoming lingering hard feelings with Fogelson, who with Donna Langley booted her from Universal. Easy fix: She reports directly to Robinov. Other candidates: Kevin McCormick (Warner Bros.), Bruce Hendricks (Disney).
DISTRIBUTION PRESIDENT
Dan Fellman
Unlike the rest of this motley crew, Fellman was by no means fired — but his plans to retire from Warner Bros. are no secret. And let's be real: There aren't enough Yankee games in the day for a guy like Fellman to sit still for long. Like Alan Horn, it's only a matter of time before the proud, tough and competitive distribution general will want back on the battlefield, and REDEMPTION will be backing a Brinks truck up to his house on his last day at WB. Hey, street cred in the fickle exhibition world ain't cheap.
EVP, PUBLICITY
Steve Elzer
Elzer's impending departure from Sony was announced in September, and the neck-crick from shaking our heads didn't feel better until he signed at REDEMPTION. Like no one else, Elzer rides the razor-thin line between trusting reporter relationships and fierce, tireless protection of the studio's image and assets. Other candidates: Plenty to name, none we wanted more. We weren't taking "no" for an answer, and everyone has a price.
EVP, DIGITAL
Jason Kilar
Digital is taking over Hollywood, and REDEMPTION STUDIOS is f—— dealing with it by hiring Kilar, who founded Hulu but left in January, in part out of frustration with its content partners. He was REDEMPTION's toughest get – Kilar is passionate and proud, and has been eyed for much bigger jobs in Silicon Valley (we promised stupefying stock options, carte-blanche department control and — shhhhh — a shot at one of the top chairs when either Robinov or Fogelson flames out. Get some popcorn.)
HOMEVIDEO PRESIDENT
John Calkins
REDEMPTION STUDIOS believes in the future of UltraViolet, and Calkins, who left Sony "to pursue other opportunities" in March 2012 was one of the cloud-storage services biggest champions. He'll report to Kilar, and be charged with making the digital sell-through window not just a thing – but the thing.
CEO & PRESIDENT, TV DIVISION
Lauren Zalaznik
Zalaznik was a major player in the programming space before NBCUniversal gave her a non-job, which she endured for less than a year before fleeing last month. Though REDEMPTION launched primarily as a film studio, we're no dummies – TV is where the money's at. We promised Zalaznick the resources to scale the business … and won't be surprised when it's the revenue-driver.
CEO, SPECIALTY DIVISION "CONCENTRATE FEATURES"
James Schamus
One does not simply stroll into the indie film business unannounced – A24 was an exception, OK? – and REDEMPTION STUDIOS execs need an excuse to attend Oscar parties. Pushed aside when Universal swallowed FilmDistrict, Schamus needs little more than some office space, a handful of hires and a budget to make this arthouse division – Concentrate Features – a player at Cannes, Park City, Toronto … and the box office.
-30-