The Cannes Film Festival is still going full-force but it's never too early to anoint this year's winners and losers. After reading reams of coverage from across the globe, the verdicts are in from TheWrap's one-man jury. Let's see who will be leaving France with a frown and who will be returning Stateside with a smile.
WINNERS
Team Foxcatcher – This seemed to be the most buzzed about movie at Cannes, which came as no surprise considering Bennett Miller's stellar track record with "Moneyball" and "Capote." It now appears he's 3-for-3, with critics hailing it as an instant Oscar contender. Steve Carell earned the best reviews of his career for his nearly unrecognizable performance as schizophrenic millionaire John du Pont, while Channing Tatum is also said to give a career-best performance that delivers on the dramatic promise that announced his arrival in "A Guide to Recognizing Your Saints." With Sony Pictures Classics and Megan Ellison expected to steer another savvy awards season campaign, you'll be hearing plenty more from this one.
Also read: 'Foxcatcher' Review: Bennett Miller Makes Another Great Film About the American Dream
Robert Pattinson - While neither David Michod's "The Rover" nor David Cronenberg's "Maps to the Stars" drew stellar reviews, Pattinson was singled out for his performances, particularly for his work alongside Guy Pearce in "The Rover." None of Pattinson's post-"Twilight" movies have found great success or acclaim, but judging from his reviews for these two films, he's not going anywhere and will have a feature career for years to come — especially if he continues working with directors who push him as a performer.
Also read: Julianne Moore and Robert Pattinson Lay Waste to Hollywood in David Cronenberg's 'Maps to the Stars'
Harvey Weinstein - The king of the Croisette skipped the premiere of "Grace of Monaco" and it turned out to be a prescient move, as the film was subsequently savaged by the unforgiving Cannes crowd. He swiftly snapped up a string of high-profile movies in multi-million-dollar deals including John Carney's new musical "Sing Street" and the Owen Wilson thriller "The Coup." Ever the showman, Weinstein debuted footage from a slew of prestige pictures that comprise TWC's strong 2014 slate, including "The Imitation Game," which stars Benedict Cumberbatch as Alan Turing, as well as a new take on "Macbeth" that stars Michael Fassbender and Marion Cotillard.
Mike Leigh and Timothy Spall - Leigh (left) may not have arrived on the Croisette with the same fanfare as Ryan Gosling or Tommy Lee Jones but serious cinephiles were more than excited about "Mr. Turner," which earned admiring reviews across the board. Spall, who frequently appears in Leigh's films, stars as painter JMW Turner, and the Guardian called his performance both "outstanding" and "dazzling." They weren't the only smitten publication, though it remains to be seen whether the Academy will consider the film a serious Oscar contender.
Also read: How Mike Leigh Made Cannes' Biggest Hit on an Impossible Budget
David Robert Mitchell - The "Myth of the American Sleepover" filmmaker returned with "It Follows," a low-budget horror movie that critics actually found scary. Genre films aren't usually taken seriously at Cannes but this one made its presence felt, with noted horror buff Drew McWeeny using his Hitfix headline to anoint Mitchell as a "rising indie filmmaking star." Star Maika Monroe appears to have her second straight festival hit following the premiere of "The Guest" at Sundance. Armed with a unique, original voice, Mitchell is certainly a director to watch.
BONUS WINNER: Avi Lerner & "The Expendables" - The Cannes crowd may not be the target audience for "The Expendables 3" but if there's anything the French love more than cigarettes and baguettes, it's movie stars — something Avi Lerner has no shortage of. The Israeli mogul's dream team of over-the-hill action stars (including new additions Mel Gibson and Harrison Ford) arrived in Cannes riding in tanks that stopped traffic on the Croisette over the weekend. The PR stunt certainly made a splash in advance of the film's Aug. 15 release.
LOSERS
Ryan Gosling - His directorial debut "Lost River" sailed to Cannes on a wave of buzz but the reviews have been mostly soggy. IndieWire was particularly divided, with pundit Anne Thompson doling out measured praise, and The Playlist writing that the film "has seemingly already passed into Croisette legend as a 'Southland Tales'-style disaster. That's not entirely unfair, as the film is an indulgent mess and then some. It's a pretty shallow film, undeniably pretty, but without much beneath the surface. The film is ultimately kind of juvenile and dumb." More than one critic called "Lost River" "pretentious," and while the film did receive a round of applause as the credits rolled, there was also a chorus of boos. Gosling will recover, but Warner Bros. will have its hands full trying to sell this decidedly uncommercial film to mass audiences.
Also read: Good Morning Cannes, Day 6: Ryan Gosling's 'Lost River' Has Critics Going Insane, Earns David Lynch Comparisons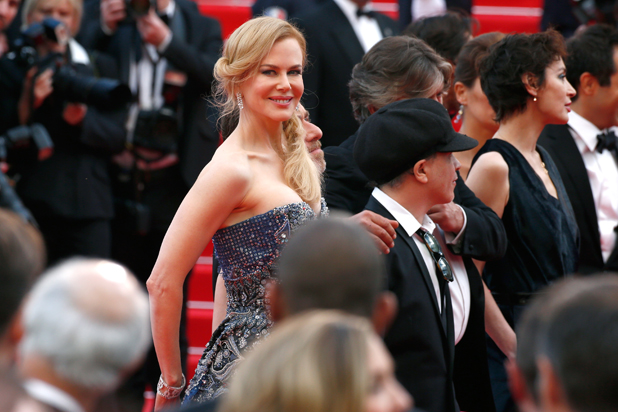 Grace of Monaco - Olivier Dahan's Grace Kelly movie got slaughtered by critics, with Variety devoting nearly 400 words explaining why the film isn't an Oscar contender — as if that's the only reason to make a movie these days. Monaco's royal family had "a legitimate problem" with the film, according to Harvey Weinstein, and while Nicole Kidman escaped with some decent reviews, it was a rough week for everyone else associated with this movie.
Also read: Cannes: 'Grace of Monaco' Ripped Apart by Critics as Harvey Weinstein Misses Premiere
Atom Egoyan - If any movie earned harsher reviews than "Grace of Monaco," it was Egoyan's kidnapping thriller "The Captive," which critics called "ridiculous," "preposterous" and "turgid." Star Ryan Reynolds escaped with his dignity intact, but he reportedly skipped his own after-party following the frosty reception. Between "Captive" and Egoyan's recent misfire "Devil's Knot," the Canadian director may want to think long and hard before he commits to his next project.
Also read: Ryan Reynolds' Cannes Thriller 'The Captive' Draws (and Deserves) Boos
Tommy Lee Jones - The actor-turned-director arrived on the Croisette with "The Homesman," his second film behind the camera after his well-reviewed 2005 drama "The Three Burials of Melquiades Estrada." While "Homesman" was tipped as an early frontrunner for the Palme d'Or, the film received a mixed reception, which was ultimately enough to land him on this section of this list, given the high expectations. At least star Hilary Swank earned strong reviews — she needed them.
Also read: Hilary Swank Saves Tommy Lee Jones' Life in 'The Homesman' Trailer (Video)
Muse Productions - The production company behind "Spring Breakers" sure did look silly this week, boasting to Variety about Pussy Riot flying to Cannes to meet with the producers of "Spring Breakers 2" to discuss a role in the wholly unnecessary sequel. After that head-scratching news made its way around the globe, Pussy Riot released a statement saying there was no meeting and they have no interest in appearing in what James Franco predicted would be "a terrible film," probably because that would be a real sell-out move. Thanks to its war of words with both Pussy Riot and Franco, Muse Productions made headlines this week for all the wrong reasons.
Also read: James Franco Blasts 'Spring Breakers' Sequel: 'It Will Be a Terrible Film'
BONUS LOSER: Jeffrey Wells, Hollywood-Elsewhere - Hollywood's most eccentric movie blogger is famous for complaining about life on the road at film festivals. All we have to say is "wi-fi" and "cowboy hat" and devout readers will know exactly what we're talking about. This year's drama centered on Wells' iPhone, which was totaled when it got crunched between seats at the Salle Debussy during a screening of Alice Rohrwacher's "Le Meraviglie." We genuinely feel for Wells, who seems to be cursed with bad luck at film festivals, but setbacks like these only seem to happen to him. Here's hoping a replacement didn't cost him an arm and a leg or an open-toed shoe.