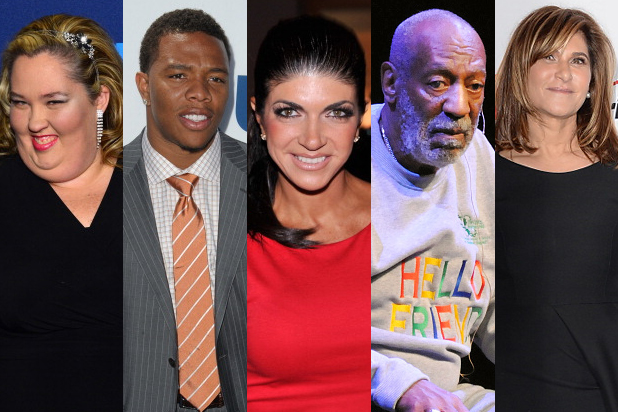 Many of us say we'd like to live life without regrets. But that's a virtually impossible, even for the most carefree of people. So imagine how hard that is for those in the spotlight, with their every angry moment, flippant tweet or huge blowup watched by the world.
Today, social media has made it pretty impossible to make a mistake and then let it pass quietly out of the news cycle without fallout. Inevitably, a boycott, an apology, a show cancellation or a job termination is demanded and then multiplied many times on Twitter, Facebook, Instagram and in the media.
See photos: 15 Movies You Already Forgot About: TheWrap's Best & Worst 2014
TheWrap chose 15 singers, athletes, actors, reality stars, company leaders and public figures (in no particular order) who are not only ready to close out their tumultuous year, but would love a 2014 do-over.
Also read: Hollywood's Boldest Moves of the Year: TheWrap's Best & Worst 2014
1. Michael Phelps
The most decorated Olympic swimmer of all time racked up a second DUI offense this year, which derailed his swimming career for six months and sent him to rehab. That alone is enough for anybody to wish for a time machine. But to top it off, a woman named Taylor Lianne Chandler would not stop talking to the media about hooking up with him on a Tinder date. That alone is creepy, but she was also born with both male and female genitalia, which only gave the press more incentive to cover her claims, which Phelps never confirmed.

Also read: 15 Outrageous Shonda Rhimes Moments: Best & Worst of 2014

2. Robin Thicke

This singer went from the top of the charts to the bottom of the barrel after releasing 2013 summer hit "Blurred Lines," and proceeding to take advantage of his fame by allegedly cheating on his wife, actress Paula Patton. His well-documented butt grab was the beginning of the end of his relationship with Patton, as well as with many of his fans. Thicke's follow-up album and mea culpa, "Paula," had a dismal debut with only 25,000 copies sold in the United States, and only 530 copies the first week it was released overseas. And, let's not forget that time a Twitter Q&A turned into feeding frenzy for his critics.

See video: Watch Scenes From 15 Movies No One Remembers: TheWrap's Best & Worst 2014

3. Justin Bieber

Justin Bieber was plagued by legal problems in 2014. He was arrested for drag racing and a DUI in Miami Beach, for assault in Toronto, and had his Calabasas, California, home raided by police investigating a criminal egging — and that was just during January! If the pop star could take a mulligan and do the year over, we imagine he would.

See photos: 15 Movies You Already Forgot About: TheWrap's Best & Worst 2014

4. Scott Rudin

The big time producer's 2014 took a turn for the awful when his private emails were leaked following the November hack of Sony Pictures Entertainment. In one correspondence, Rudin uses all caps to talk about shutting Angelina Jolie down. In another, he and Sony Chief Amy Pascal swapped race-related jokes about President Barack Obama's taste in movies. Rudin issued an apology for his "thoughtless and insensitive" remarks, but we're guessing he'd rather just start the whole year over.

Also read: Top 5 Media Winners of the Year: TheWrap's Best & Worst 2014

5. Apollo Nida

"Real Housewives of Atlanta's" Phaedra Parks' husband headed back to the big house this year. One would think that a former five-year prison stay and the life afforded Apollo Nida by his reality star/celebrity attorney wife would be enough to deter him from his former criminal life. But, he got himself mixed up with stealing people's identities and using them to create other forms of fraud, which will cost him eight more years in prison and his marriage.

See video: 'Real Housewives' Phaedra Parks Talks Divorcing Apollo Nida, Says Reports She Cheated Are 'Totally Absurd'

6. David Gregory
In August, NBC News abruptly ousted "Meet the Press" moderator David Gregory, ending a 20-year run with the network. Gregory took over as the show's host six years ago, following the death of Tim Russert. For months, Gregory continued on as speculation of his firing from the show circled around him. On his watch, the network's flagship Sunday news show slid to third place in the ratings behind CBS's "Face The Nation" and ABC's "This Week." NBC political editor Chuck Todd took over the show on Sept. 7.

Also read: Ann Curry Comforts David Gregory After 'Meet the Press' Boot

7. Amy Pascal

To be fair to the Sony boss, it's not her fault North Korean hackers took over company computers and got their hands on her entire email inbox. However, Amy Pascal was the one who had to apologize after media picked up on emails in which she and Scott Rudin engaged in racially-tinged jokes about President Barack Obama. All sorts of other dirty laundry came out as a result of the hacking, and the studio has already been sued five times (so far). Pascal would surely give 2014 another go if she could, and we can only imagine she would give early warnings of the company's cybersecurity weaknesses more attention. And while she's at it, she should probably give "The Amazing Spider-Man 2" a little more thought the second time around as well.

See video: Sony Co-Chair Amy Pascal Gets Bombarded by Paparazzi at LAX

8. Allison Williams

Of all the ladies on HBO's "Girls," Allison Williams has the most promising trajectory for mainstream stardom. With a strong red carpet presence, triple-threat-talent and classic American beauty (she's the face of Simple Skincare), her first step into a leading role should've been better than NBC's "Peter Pan Live!" The tradition of casting a female to play the boy who never grows up was lost on modern audiences, and some even accused her of being the reason the musical didn't rate as well as last year's "Sound of Music": She's not as big a star as Carrie Underwood, critics pointed out. Christopher Walken's absurd and occasionally silent turn as Captain Hook didn't play like the foil he should've been to Williams' drama school dedication — not to mention that reviews of her performance mostly contained praise for not slamming into set pieces while flying on wires. Come next year, get this girl a rom-com or indie drama that lets her shine.

Also read: 'Peter Pan Live!' Actually Beat 'The Sound of Music' in At Least One Nielsen Rating Category

9. Mariah Carey

Mimi hasn't been a formidable music presence for quite some time, but 2013 at least saw gainful employment for the singer as a judge on "American Idol." That was not the case for 2014. In the vein of Beyonce, Mariah Carey attempted to drop a secret album that was discovered weeks before release. The record became an instant social media punchline thanks to its title, "Me. I Am Mariah … The Elusive Chanteuse." Followed by a messy split from Nick Cannon, the cherry on Carey's bomb of a year came with a live performance on NBC's Rockefeller Center Christmas Tree Lighting ceremony. After missing a scheduled pre-tape and keeping fans and crew in the New York rain for hours, Mariah showed to belt her holiday hit "All I Want For Christmas Is You." And live she sang — to horrified reactions from fans and media critics. You'll always be our baby, Mariah. Better luck next year.

See video: Mariah Carey Concert Performance Ripped by Fans After Voice Cracks During 'Vision of Love'

10. Bill Cosby

2014 was supposed to Bill Cosby's comeback year, with a Netflix hour-long comedy special and a planned comedy series on NBC. Instead, "America's TV Dad" found himself embroiled in one of the biggest scandals of the year after more than 26 women came forward accusing the him of raping, sexually assaulting or drugging them. Cosby has denied the allegations through his attorneys. While no charges have been brought forward, Netflix and NBC announced they were scrapping their planned projects with the comedian and several shows on his current standup tour have been canceled.

Also read: Judd Apatow Rips Bill Cosby: 'Guys Who Rape a Lot Aren't Cool'

11. Stephen Collins

It's been a rough year for 67-year-old Stephen Collins. The "7th Heaven" star came under fire in recent months following the release of an audio recording in which he admitted to sexual misconduct with minors. That led to his agent dropping him, "Scandal" pulling his scenes from an upcoming episode and "7th Heaven" reruns being pulled from TV Land. On Dec. 19, Collins appeared on ABC's "20/20" to talk to Yahoo! Global News anchor Katie Couric, saying he had at least two inappropriate encounters with underage girls in the '70s and '80s.

Also read: Rosie O'Donnell Rips Katie Couric on Softball Stephen Collins Interview

12. Ray Rice

The Baltimore Ravens running back knocked out his now-wife Janay Palmer in a casino elevator in February before dragging her unconscious body across the floor. Footage of the night first emerged in February, but in September a more graphic video leaked online. The video ignited widespread outrage against the NFL player, resulting in an indefinite suspension from the league. An arbitrator later reversed the suspension.

See video: New Footage of Ray Rice Assault Shows Couple Kissing, Cuffed After Elevator Attack

13. Teresa Giudice

With Teresa Giudice's 15-month prison sentence beginning on Jan. 5, the "Real Housewives of New Jersey" star would probably love to turn back the clock on 2014. It may not have solved the years of bank fraud that put her in this predicament in the first place, but Teresa may have been more astute about the legal decisions being made around her. At any rate, she would definitely keep a closer eye on husband Joe Giudice, who she claims made many of the illegal actions without her knowledge. And possibly, she would've pushed harder for a separate trial.

Also read: Hollywood's Real Life Olivia Pope on Why Teresa Giudice Is More Than Fired (Guest Blog)

14. June "Mama June" Shannon

"Here Comes Honey Boo Boo's" unconventional matron started off 2014 as the face of TLC's reality lineup. But in October, allegations surfaced that she was dating a convicted child molester, Mark Anthony McDaniel Sr. And then, it surfaced that his victim was allegedly one of her daughters. Mama June's show was unceremoniously canceled on Oct. 24.

Also read: The Fall of 'Honey Boo Boo' Is the Death Knell of Trashy Reality TV

15. Jamie Horowitz
NBC News' "Today" morphed from morning show to reality show after the network fired the program's new senior vice president and general manager. Jamie Horowitz got the ax a mere 78 days after being hired. A manifesto, written by Horowitz, was leaked to the press, showing he was about to fire most of the NBC morning show team, including Savannah Guthrie, Natalie Morales, and Willie Geist. His overzealousness led anchors to complain, eventually leading to Horowitz's dismissal.

Also read: 'Today' Show Bombshell: Jamie Horowitz Fired Over Plan to Oust Morning Show's Anchor Team