Recent adaptations include Paramount+'s "Halo," HBO's "The Last of Us" and Universal Pictures and Illumination's upcoming "Super Mario Bros." movie
As Hollywood looks for new content to keep consumers engaged, video games have become an intellectual property gold mine with the number of film and television adaptations consistently growing over the last two decades — especially in the streaming world.
Video game adaptations released within the past several years include the films "Uncharted," "Mortal Kombat," "Sonic the Hedgehog," "Sonic the Hedgehog 2," and "Resident Evil: Welcome to Raccoon City" and TV shows "The Witcher," "Halo," "Arcane," "Resident Evil" and "Cyberpunk Edgerunners."
Become a member to read more.
But on Sunday, HBO debuts "The Last of Us" with the daring goal of elevating the video-game adaptation to prestige TV — something that hasn't truly been accomplished before.
While many past attempts at television and film adaptations of video games have failed to live up to fan expectations, Cowen entertainment, media and gaming analyst Doug Creutz told TheWrap that the current boom differs in that storytellers are taking the medium more seriously and are focused on "creating a quality experience as opposed to just making a cash grab."
"It's not dissimilar to what happened with the comic book genre 20-odd years ago," Creutz said. "When creators started taking it seriously as a milieu to tell broadly relatable stories, audiences beyond fanboys also started taking it seriously."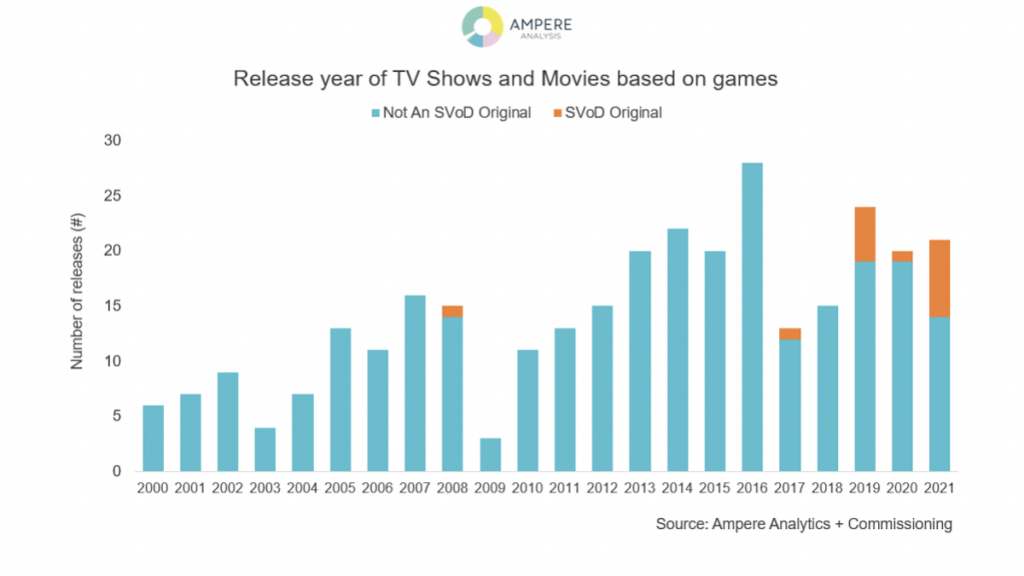 It also reflects an increased willingness on the part of video game developers like Sony Corporation and Nintendo to license their IP, Ampere Analysis research director Piers Harding-Rolls said.
In September, Ampere Analysis estimated that there are about 20 to 25 movies and TV series that are released per year based on video games. The firm noted that an increasing proportion of these releases is attributable to subscription video on demand (SVOD) platforms such as Netflix and Amazon Prime Video, who have been responsible for a number of original releases in the past five years.
"Generally, this increased willingness is due to the growing cost of developing game franchises and the need to generate new revenue streams," he added. "It is also due to the growing popularity of gaming and the realization that game companies can legitimately position themselves more actively as entertainment players."
The video games segment is projected to generate total revenue of $221.4 billion globally in 2023, according to Statista, with the majority coming from the United States ($56.84 billion). The industry's revenue is expected to grow at an annual rate of 6.52% between 2023 and 2027, resulting in a projected market volume of $285 billion by 2027.
When it comes to selecting what IP to produce, entertainment industry strategist at Parrot Analytics Brandon Katz noted that media companies are eyeing cross-platform franchises that span a variety of entertainment mediums, support multiple revenue streams and engage audiences en masse.
"The goal is to keep audiences within an ecosystem for as long as possible," he said. "So to extend engagement, a studio will try to shepherd a fan through its video game and directly into a movie or TV adaptation, and then out into books, comics, merchandise and more."
Katz emphasized that a successful video game adaptation requires "a strategic balance between incorporating what makes the source material popular in the first place and tailoring a story that fits with the passive visual medium of the screen — as opposed to the interactive foundation of games."
According to audience demand data from Parrot Analytics, "Sonic the Hedgehog," "Sonic the Hedgehog 2," and "Mortal Kombat" were in the top 0.2% of all titles in the U.S. and global markets during their first two months of release. Meanwhile, Tom Holland's "Uncharted" and "Resident Evil: Welcome to Raccoon City" ranked within the top 2.7% during their first two months of release.
On the TV side, the Henry Cavill-fronted "The Witcher," and "Arcane" (both Netflix titles) ranked within the top 0.2% of all titles in those respective markets during their first two months of release. "Cyberpunk: Edgerunners" was in the top 0.2% globally and top 2.7% in the United States during its first two months of release, "Halo" was in the top 0.2% globally and top 2.7% in the United States and the now-canceled "Resident Evil" TV adaptation was in the top 2.7% both globally and in the United States."
Even with successful adaptations like "The Witcher" and "Arcane," many still hold the belief it's impossible for a video-game adaptation to rise to prestige TV level — the so-called "video game adaptation curse."
But on Jan. 15, HBO's adaptation of Naughty Dog's critically acclaimed video game "The Last of Us" premieres with the goal of breaking the curse once and for all and proving that the medium can be a part of the genre-leaning prestige television circle dominated by shows like "Game of Thrones," "House of the Dragon," "Westworld" and "The Lord of the Rings: The Rings of Power."
So far, "The Last of Us" has received overwhelmingly positive reviews from critics, with some lauding it as "the best video game adaptation ever made" and "the beginning of a new era for live-action video game adaptations." But it remains to be seen whether "The Last of Us" will resonate just as favorably among audiences.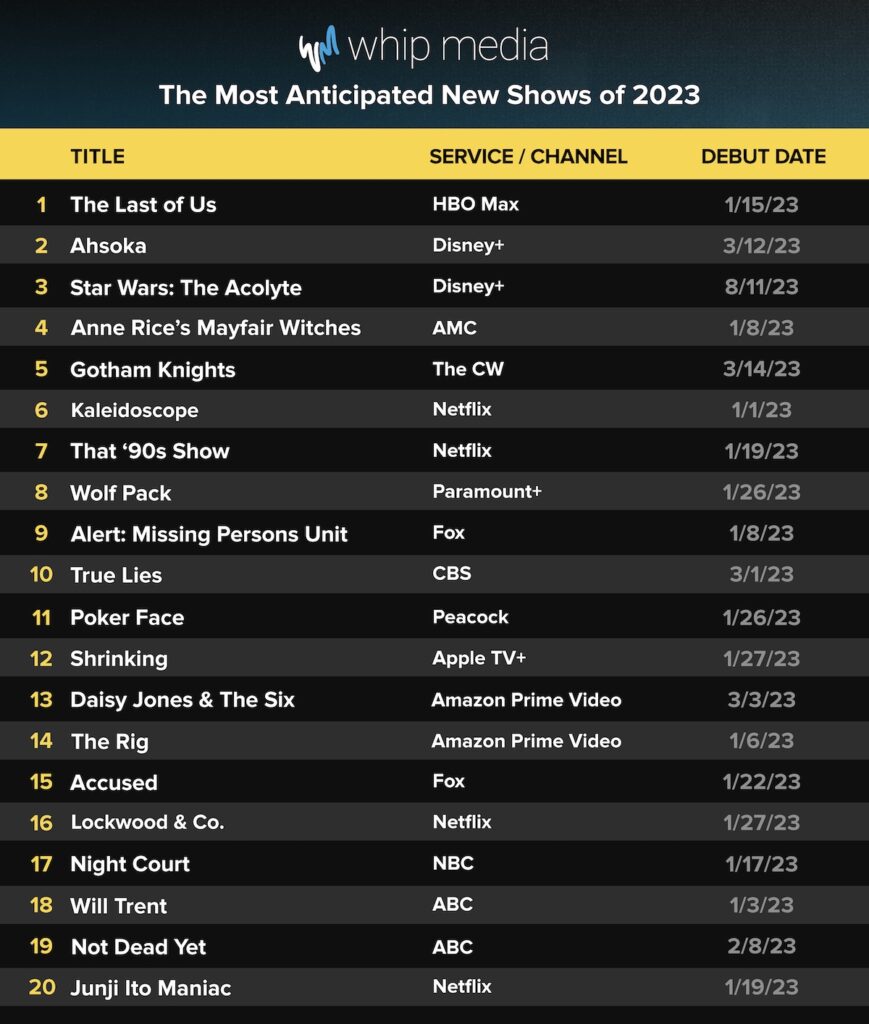 Whip Media's TV Time app, which has more than 24 million global users, finds that "The Last of Us" is the most anticipated new TV series of 2023. The show is poised to have the second strongest opening for an HBO series in more than two years, trailing only "House of the Dragon," according to the firm's anticipation data.
Neil Druckmann, the creator of "The Last of Us" franchise and an executive producer on HBO's adaptation, told TheWrap that turning the 2013 action adventure game into a television drama series required some deviation from the source material.
"We really didn't want to duplicate the game. I think that would have made for a poor adaptation had we tried because it would always be lesser than," Druckmann explained. "Any time you try to copy something, at best you're going to match it. And more likely than not, you're not going to reach that at that same high."
While changes to the source material of the coveted franchise could understandably make the game's fans uneasy about the adaptation, Druckmann pointed out that they are being made where it "makes sense."
"There's certain things that work in the games that just don't work in the show and they have to kind of evolve," he emphasized.
Co-executive producer and "Chernobyl" creator Craig Mazin added that every decision in the show was made with "care, thought and deliberation."
"There is nothing that we did cavalierly at all, ever. You may not agree with every choice we made, but I want you to know it was a choice. We discussed it and thought about it and we did so from the point of view of love of those characters and that experience and that game," he said. "So I want [fans] to know we have them in the front of our mind all the time."
In addition to "Last of Us," Universal Pictures, Illumination and Nintendo will release the animated "Super Mario Bros." movie on April 7. Other adaptations of video games in the works include Netflix's "Assassin's Creed," a "God of War" series at Prime Video and "Fallout" from "Westworld" creators Jonathan Nolan and Lisa Joy — also at Prime Video.
On the film side, Francis Lawrence ("Hunger Games: Catching Fire") is directing Netflix's "BioShock" and Eli Roth's "Borderlands" is (mostly) in the can.
Though Creutz predicted video games will continue to grow their presence in television and film in the coming years, he argued their popularity among audiences won't be different from any other genre.
"Good will succeed and bad will fail, regardless of the underlying IP," he said.