Another year in Hollywood is rapidly coming to a close, which means it's time to once again look back at a busy year to determine what the boldest moves in the entertainment industry were.
From a studio wasting millions of dollars on a movie no one will ever see to a network completely dismantling a daytime television staple, there was no shortage of surprises on the big and small screen, as well as in music and media.
Also Read: Top 5 Media Winners of the Year: TheWrap's Best & Worst 2014
The dice don't always favor the roller, but at least the industry's biggest gamblers can go home bragging that they went big this year.
In no particular order, here are TheWrap's picks for the boldest moves of 2014:
1. Sony produces "The Interview."


Sony paid Seth Rogen $8.4 million to make a hard-R comedy, starring James Franco and Rogen, about the fictional assassination of real-life North Korean leader Kim Jong-un. Sure, it didn't work out too well for them in the end, but come on, it takes a serious set of corporate cojones to commit to a project with such a controversial logline. Despite threats from cyber terrorists that have been tied to the historically ill-tempered communist, the studio has decided to move forward with a limited theatrical release and VOD release.
Also Read: President Obama: Sony 'Made a Mistake' in Canceling 'The Interview'
2. Marvel bets big on little-known comic book heroes named "Guardians of the Galaxy."
Anyone out there ever hear of Marvel's "Guardians of the Galaxy" before it was announced as the Disney-owned company's next major movie? A few comic book enthusiasts, for sure, but the vast majority of people who helped make it the highest-grossing blockbuster of the year never did. That's a pretty big gamble for an industry that is increasingly reliant on sequels, prequels, reboots and adaptations of familiar franchises, like "The Smurfs" or "The LEGO Movie," for example. An even bigger gamble? Casting the fat doofus who plays Andy Dwyer on "Parks and Recreation" to take the lead as ripped intergalactic outlaw Star-Lord. Kudos to the casting director, Sarah Finn, who knew Chris Pratt's acting ability ranged from dumb dude to dashing superhero. Extra kudos for realizing Vin Diesel's acting ability ranged from "I am" to "Groot."
Also Read: Marvel Announces 'Black Panther,' 'Captain Marvel,' 'Inhumans' Movies
3. Netflix gives Chelsea Handler a late-night comedy show.
Chelsea Handler Netflix Uganda be kidding me" width="618" height="412" />
Late-night variety programs have been a television staple since the dawn of the technology, but streaming services like Netflix and Amazon are quickly stealing audiences away from cable. Netflix took its next step toward dominance by snatching up former E! late-night host Handler to bring the subscription service its first "late night talk show for the on-demand generation," as chief content officer Ted Sarandos described it. But how exactly does one produce a late-night comedy program that can be watched any time of day? We don't know, but can't wait to find out if it's a revolution for the format, or an experiment destined to fail.
Also Read: 'Marco Polo' Review: Netflix Series Takes Viewers on a Sluggish but Sensual Journey
4. ABC overhauls "The View" for Season 18.
Barbara Walter's retirement and Sherri Shepherd's departure must have gotten ABC thinking that it's time for an even bigger change, because the show received a dramatic makeover that ousted Jenny McCarthy and brought back outspoken panelist Rosie O'Donnell, along with newcomers Rosie Perez, an actress, and Nicole Wallace, a conservative political pundit. Behind the camera, longtime executive producer Bill Geddie exited after ratings began to decline over the summer. Despite the major shakeup, ratings have remained relatively the same (with just a 2 percent fall year-over-year in its key demographic Adults 25-54), but at least there is no shortage of controversy this season to keep Rosie yelling. And Whoopi farting.
Also Read: 'The View's' Rosie O'Donnell Won't See 'The Interview' Due to Terror Threat: 'It's Supposedly Not Even That Funny' (Video)
5. Stephen Colbert drops his act to replace David Letterman.

It was a no-brainer for CBS to go after one of the funniest comedians currently on TV, but it must have been a difficult decision for the "Colbert Report" host to wave goodbye to a successful Comedy Central show, and drop his faux conservative act that is beloved by millions in order to play himself on "The Late Show." The pressure is on for the real Colbert to be funnier — or at least as funny — as his fake alter ego, and we can't wait to see if he can pull it off.
Also Read: Stephen Colbert Cheats Death in Star-Studded Final Episode of 'The Colbert Report' (Video)
6. Taylor Swift shirks Spotify.

The country-turned-pop star yanked her music from streaming service Spotify in an effort to move more physical and (paid for) digital copies of latest album "1989." The maneuver worked, it seems — as the album named for her birth year sold a highly impressive 1.2 million-plus copies in Week 1. That said, to achieve platinum status right out of the gate, Swift is giving up an estimated $6 million in revenues per year. To be fair, the numbers comes from Spotify, which claims to pay about half a penny per listen to an artist's songs. If it's true that "fortune favors the bold," it's unclear which side Swift came out on financially.
Also Read: 11 Lessons Music Artists Can Learn from Taylor Swift's Massive '1989' Sales
7. Hollywood sets up a superhero arms race that will rage for years.
First, Warner Bros. blew up the Internet with the news that Ben Affleck would be the Caped Crusader in its upcoming "Batman v. Superman: Dawn of Justice" with Henry Cavill. Then, it tapped "Breaking Bad" director Michele MacLaren to direct Gal Gadot in "Wonder Woman." Fox jumped back into "Deadpool" with Ryan Reynolds, set Channing Tatum as a Marvel mutant in "Gambit," fired up a "Fantastic Four" reboot and said it was recasting the original "X-Men." But Marvel capped it all by unveiling Phase 3 of its cinematic universe. In addition to sequels to "Captain America," "Thor," "Avengers and "Guardians of the Galaxy," Marvel rolled out new films based on Black Panther, Captain Marvel, Doctor Strange and the Inhumans. The bottom line: there will be at least 29 superhero movies in the next six years. They're not cheap to make, so Hollywood is betting big that spandex will be in style for the foreseeable future.
Also Read: 'Batman v Superman' Extra Risks $5 Million Fine Over Revealing Movie Spoilers (Video)
8. Weird Al drops a hit a day.

Weird Al Yankovic First World Problems" width="618" height="412" />

Weird Al Yankovic also employed a unique marketing strategy for his 2014 release, "Mandatory Fun." The king of song parodies released one music video per day for eight days to promote "Fun," scoring his first-ever No. 1 album on the Billboard 200 in the process. Yankovic sold 104,000 copies in his opening week, so it was also good planning on his label's part to not take on someone like Taylor Swift in a busier week. Still, credit where credit is due: Yankovic, who has been at it for nearly 35 years, scored the first comedy album to top the rest since 1963.
Also Read: Weird Al Yankovic Gives TV Theme Songs the Lyrics They Deserve at Emmys (Video)
9. Paramount makes "Transformers 4" for China, and grosses more there than in the U.S.
Paramount gave Hollywood a glimpse of its future when it targeted the People's Republic with the fourth installment of its rampaging robot series. It wasn't easy. The studio had Michael Bay film the $210 million action epic in Hong Kong and filled it with Chinese product placements, which led to a local hotel chain threatening to block the opening. But at the end of day it worked. "Transformers 4" became the highest grossing film in China's history with more than $301 million. The battling bots were busy elsewhere too, and with $245 million from the U.S. and another $540 million from other foreign markets, it became the 2014's only $1 billion blockbuster.
Also Read: Jimmy Kimmel Makes Movie Critics Say Something Nice About 'Transformers' Director Michael Bay (Video)
10. Netflix games on making movies with 'Crouching Tiger' and Adam Sandler.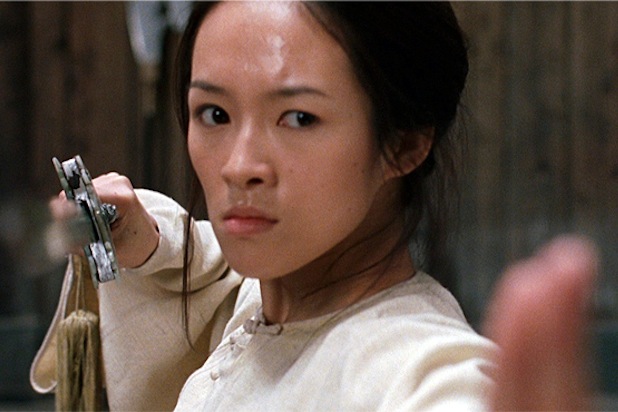 Netflix got into the moviemaking biz with a bang. After saying it would partner with Miramax and IMAX to fund a sequel to "Crouching Tiger: Hidden Dragon," it unveiled plans to make a series of films with Adam Sandler. Irked at the idea of Netflix and IMAX rolling out the "Crouching Tiger" sequel without them, several major U.S. theater chains said they wouldn't release it. It may still fly abroad, but that's a major hitch. The Sandler movies are a go, even if we don't know if they'll be more "Punch Drunk Love" or "Happy Madison." And if Netflix does to the movie biz what it has done for TV, it will be a game-changer.
See video: Adam Sandler's Shower Quest to See Shaq's Penis Gets Cartoon Treatment
11. CBS (and other networks) launch SVOD, streaming network.

Traditional TV networks do not love to change, and none are more stuck in their ways than the oldest-skewing broadcast one, CBS. That's not a slight at the network, it's working for them — or have you missed every commercial (accurately) referring to CBS as America's most-watched network? So it would take a big shift for CBS to throw its hat into the SVOD, streaming ring, one that has been dominated by Netflix and Amazon. Even bigger, CBS forced other media companies to at least address the idea of launching their own subscription pay service.
Read More of TheWrap's Best & Worst 2014
Also Read: 15 Outrageous Shonda Rhimes Moments: Best & Worst of 2014 (Video)
Also Read: The Jawdropping Year of Shonda Rhimes: Cell Phone Penis Pics, Bitch Babies, Ice Cream Orgasms (Video)
Also Read: 15 Movies You Already Forgot About: TheWrap's Best & Worst 2014 (Photos)
Also Read: Top 5 Media Winners of the Year: TheWrap's Best & Worst 2014
Also Read: Watch Scenes From 15 Movies No One Remembers: TheWrap's Best & Worst 2014 (Video)
Also Read: 19 Best & Worst Moments From the Grammy Awards (Photos)